Form an LLC in Texas in five simple steps
1. Name Your Texas LLC
2. Choose a Registered Agent in Texas
3. File the Texas Certificate of Formation
4. Create an Operating Agreement
5. Obtain an Employer Tax ID Number EIN
As per IRS norms, every state is free to create its own regulations regarding establishing an LLC. You must first check out your state's requirements and guidelines if you are interested in establishing an LLC.
If you're looking for the complete procedure to form an LLC in Texas, we have created this guide, which details every step you'll have to take to answer every question you might have about this process successfully.
Visit Our Top 7 Best LLC Filing Services 
Our #1 Pick for best LLC Formation is Northwest Registered Agent
---
How much is the Texas LLC filing fee?
The filing fee in Texas is $300. To form an LLC in Texas, you need to file a "Certificate of Formation" with the Texas Secretary of State.
How long does it take to get an LLC in Texas?
If you file online, it takes about 2-3 business days.  If you file by mail, it takes about 7-10 business days.
Texas Secretary of State 
Mailing address:
Corporations Sections
Secretary of State
PO Box 13697
Austin, TX 78711
TX Secretary of State
TX Corporations Section
512-463-5555
8:00am – 5:00pm, M-F
corpinfo@sos.texas.gov
Form An LLC In Texas 
Step One – Give Your Texas-based LLC a Name
Firstly, you must ensure that the name you select for your Limited Liability Corporation is unique, which hasn't yet been adopted by any other company, business, or LLC throughout Texas.
This can be checked quickly and easily by simply running your business's potential name through the Texas Secretary of State's SOSDirect site or the Texas Comptroller of Public Accounts Taxable Entity Search.
Texas Taxable Entity Search
https://mycpa.cpa.state.tx.us/coa/
By paying $40 at the SOS site, you can reserve your company's name for around 120 days. To do so, you must submit the official 'Application for Reservation or Renewal of Reservation of an Entity Name form.'
To ensure that your LLC's name complies with Texas laws, your firm's name has to end with an abbreviation 'LLC' or 'Limited Liability Company.' You also have to avoid using any words that suggest your LLC has any affiliation with government agencies.
A comprehensive list of all business naming regulations is available on the Texas Secretary of State page.
---
Northwest Registered Agent
LLC Formation and Registered Agent Service $54/mo (Includes $300 Texas State. Fee)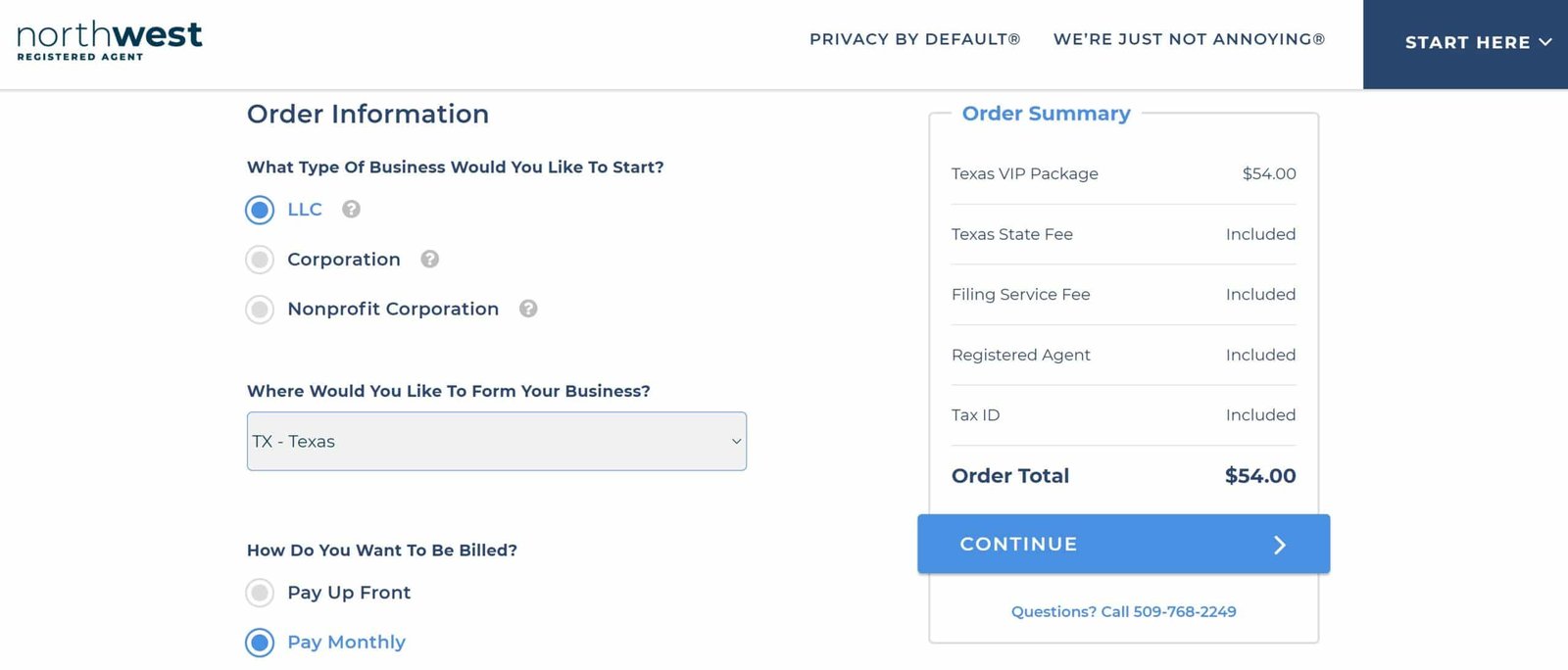 ---
Step Two – Get a Registered Agent Licensed in Texas
Texas state laws mandate that every LLC must engage the services of a registered agent while carrying out their registration processes.
This means that your LLC has to have a registered agent capable of physically accepting legal papers and documentation on behalf of the company if the business was to be sued in a court of law.
This registered agent doesn't always need to be just an individual; any Texas resident qualifies as well. Any business entity authorized to carry out business within Texas state limits is qualified, too, as long as this agent possesses a physical address within Texas.
Step Three – File the Company's Certificate of Formation in Texas
To officially form your LLC within Texas, you'll have to fill out and submit a Certificate of Formation to the State Secretary's office. By paying $300, this submission can be made by mail, online, or in person.
To fill out this application form, you must have these details in order:
The name you have chosen for the LLC.
The official address of the registered agent of the company.
Whether the LLC is going to be a manager-managed firm or a member-managed firm.
The address and name of all governing individuals associated with the LLC.
The address and name of your LLC's chief organizer.
Step Four – Draft An Official Operation Agreement
Consider preparing a concrete operating agreement beforehand for outlining the operating procedures and ownership of your LLC. Although any State law doesn't officially require this, operating agreements can establish guidelines, which can be helpful in the smooth running of the company.
It does not have to be submitted to state authorities at all. However, it will play a vital role in ensuring that your company operates without any internal disturbances.
Step Five – Submit The Application To Obtain an EIN
An EIN or Employer Identification Number issued by the IRS is necessary to form your LLC unless you establish an LLC with only a single person with zero employees.
However, gaining an EIN isn't a complicated process and only requires applying filled out on the IRS website.
Most LLCs and corporations have to be registered with Texas' Comptroller of Public Accounts. However, unlike most US states, Texas doesn't require a single-member LLC to file reports annually with the State Secretary.
| | |
| --- | --- |
| Agency: | Internal Revenue Service (IRS)  |
| Form: | IRS Form SS-4 |
| Filing Method: | Mail, phone, fax, or online. |
| IRS fee: | $0 |
| Turnaround: | Immediately online or by phone. 4 business days by fax. 4-5 weeks by mail. |
| Notes: |  Print your EIN before closing your session. For additional guidance, see IRS Pub 1635: Understanding Your EIN. |
| Reference: | IRS website |
Yet, the LLC has to file franchise tax reports annually by Texas laws. Computing this franchise tax can be a complicated matter, which is why it's essential to go through the Comptroller of Public Accounts site for updated and accurate information.
If your LLC is in the business of selling physical products, you have to obtain an official sellers' permit by registering with the Comptroller of Public Accounts in Texas.
This can enable you to charge sales tax when you make taxable sales. Also, if you employ workers, you must sign up for the Unemployment Insurance Tax via the Texas Workforce Commission's site.
Other Important Considerations
Business Licenses, DBAs, and Foreign LLCs
Foreign LLCs
If your firm happens to be a foreign-based LLC or an out-of-state LLC, which intends to carry out business in Texas, the steps outlined here must be followed with some minor variances.
The only difference for foreign LLCs is that they must also submit the Application for Registration of Foreign Limited Liability Company to ensure their LLC can operate legally. Once these requirements are fulfilled, foreign LLCs can carry out operations as usual.
DBA (Doing Business As)
A DBA lets you use a business name that is different from your legal given name. In Texas, corporations, LLCs, limited partnerships, limited liability partnerships that do business in Texas by a name other than its legal name are required to file a DBA. This is done with the Secretary of State. 
Visit this ZenBusiness article or this post on filing a DBA in Texas for more info.
Business Licenses
A few industries mandate that you secure local, state, or/and federal licenses to operate legally in Texas.
The type and location of the business will be responsible for determining the further course of action. You can visit the official Texas Department of Licensing and Regulation site to find appropriate licensing requirements at the local and state levels.
The US, Small Business Administration site can also help you understand the conditions prevailing at the federal government level. You may also hire professionals to learn more about your licensing obligations and requirements.
For more information, visit how to start a business in Texas
and do a business name availability search in Texas.
---
Disclaimer – This website does not provide tax or legal advice. It is for general informational purposes only. The business formation services mentioned on our website are Document Filing Services and CANNOT provide you with legal or financial advice.  If you need legal or tax advice,  please consult with a competent attorney and/or accountant. Features, pricing, and service options on our website are subject to change without notice.