Best Online Sites for Ordering Business Checks
#1. Deluxe Business Checks
#2. Checks Unlimited
#3. Carousel Checks
#4. CheckAdvantage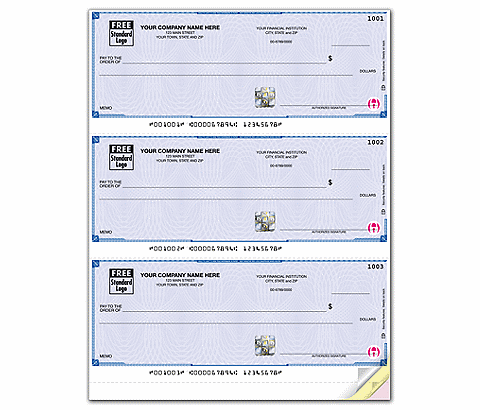 Operating a company can be rewarding, but it warrants ongoing vigilance to regulate expenses properly.
Business owners happen to be reminded of this fact each time they need to cut a check.
Ironically enough, those checks serve as reminders of the costs that come with running a company. They can also represent an opportunity for business owners to save a lot of money.
Online services for check ordering offer companies an approach to cutting costs significantly without sacrificing security or quality.
Actually, by having checks ordered on the Internet, companies can save between one-third and half the cost that would come with purchasing checks directly from a financial institution.
There are other advantages of purchasing checks from online providers, in addition to unique features that differ per service provider.
It is prudent to contrast the services of different check printers before checks are ordered to determine who offers the biggest bang for your buck.
Key Features of Check-Order Services
Review Add-Ons and Variety
Establishing which ordering services to use starts with selecting which check type you require for your company. There are several business check varieties, including the following:
Software-Compatible laser Checks
These types of checks can be inserted into printers and automatically filled out by accounting programs. Make sure that a check provider's services are compatible with the software used by your company, whether that is Quicken, QuickBooks, or a different program.
Manual Checks
Checks like these can be filled out by pen. They take various forms, including a page containing three individual checks which fit into binders. Manual checks also come in compact travel sizes.
Payroll Checks
Payroll checks are specifically designed to pay staff. They come in laser, and manual form, and deduction captions are preprinted on them, as well as state, federal, and local taxes.
High-Level Security Checks
Although any company check will have fraud prevention features on it, these particular checks go above and beyond safety measures.
They may include anti-replicating technology, a paper that is chemically sensitive, watermarks, and fluorescent fibers that have invisible ink and are heat-sensitive.
Further, check services provide each one of the features listed above with unique approaches to tracking them, including duplicate register copies and side stubs.
It is also prudent to find out if they come with accessories like binders, deposit tickets, or endorsement stamps.
Several services provide additional personalization options like unique designs or a choice to imprint a business logo on them.
Cost
Although you will save a lot of money by ordering checks off the Internet (rather than from a bank), you should be mindful of the distinctions between various services and check types.
As a frame of reference, laser checks are a lot costlier than manual ones are. Checks that come with additional features – high-level security checks, for example – will warrant a higher cost.
When contrasting rates, be sure to find out the number of checks that come with a set to make a proper comparison.
Be mindful that several services provide bulk discounts – the cost of each check goes down based on the quantity you order.
Satisfaction Guarantee
Getting a refund needs to be on the table if any aspect of an order hasn't been executed properly, or if false information is listed on your check.
Cost and Shipping Time
Shipping times differ per service. More often than not, you'll have individual shipping choices and costs with each provider.
Durations can range between 2 and 14 days or more. Prices are usually contingent on your order's weight, along with where you are situated.
Be mindful that personalized orders – like the addition of your logo – may lengthen the amount of time it takes for your package to get to you.
Security
When sensitive information is being dealt with – like your business' finances or bank account details – make sure that a check printing company you're ordering from safeguards your info.
Although it can be quite convenient to display your banking details on checks, you should only do so if your business has taken security measures and encrypted all of your private information.
Further, make sure that all the checks you get follow security specifications set forth by the CPSA (Check Payment Systems Association).
If you have sensitive transactions and require higher security assurances, you are encouraged to order high-level security checks.
The following is a list of the leading service providers of business checks for 2021
Deluxe Business Checks
Synopsis
Deluxe provides a vast selection of quality and professional commercial checks. They include high-security and standard security features.
Whether your business is large or small, Deluxe's packages can be as small as 50 checks or as big as 3000. The company's offerings are impeccable. Customer service can be accessed by phone and live chat.
Advantages
Quick shipping options.
Satisfaction guarantee.
Smart security features for high and standard security checks.
Sample products are available upon request at no charge.
Vast selection of secure and professional business checks.
Deluxe happens to be a popular check company, one that companies everywhere turn to for commercial checks.
They offer fast and simple online ordering, as well as cutting-edge security wrapped into a friendly and convenient service that you can rely on.
You have the option to order business or personal checks from Deluxe. The business choices they offer are expansive. Compatible computer checks are available, including ones that can be used with QuickBooks and Quicken, among other programs.
Accounting and payroll books are available through the service, too. It won't take any longer than a couple of business days for printed checks to be delivered, and as such, there is no need for payroll to be delayed for anyone.
The satisfaction guarantee offered by the company makes things more impressive than they already are.
As far as safety goes, Deluxe takes care of its customers, especially ones who draft checks to businesses.
Business checks will contain security details that are CPSA-approved, which includes visibly embedded fibers, watermarks, chemically-altered detection, and heat sensitivity ink.
There is also a hologram feature to ensure that copies cannot be made, no matter how state-of-the-art a printer or laser copier is.
Deluxe provides customers with personalization features for business checks. Monograms, logos, and impressive fonts can be used, as can background images.
Personalization Features
Deluxe's personal checks are completely customizable. Besides printing your bank information and company name, you also have the option to include a logo or business imprint at no extra charge.
Although check theme selections are lacking, you do have the option of choosing the typeface and color of the checks.
Check Add-Ons and Styles
It is easy to lose yourself on Deluxe's website, as there is no shortage of selections when it comes to check customization. Although there are several primary categories, each one features different check types.
As such, if you are ordering checks for the first time from this company, you shouldn't do so until you have gone through each of the options they offer.
There are four primary check categories, along with different types included with each one:
Laser Checks – you can print these checks from a laser printer. Before these types of checks are ordered, first find out if they are compatible with the accounting software your company uses.
Deluxe's laser checks can be used with more than 80 different kinds of accounting programs. Types of checks include accounts payable, three per page, wallet, and voucher. These types of checks can be printed from a laser printer as well.
Manual Checks – these types of checks are filled out by hand. They include checks that are single-write, payroll, and three per page.
eChecks – these are online checks and have just as much security as conventional paper checks do.
You have the option to produce, send, and email checks from a mobile device or computer, as well as integrate them with programs like QuickBooks to make your bill payments seamless.
High-Level Security Checks For Manual & Laser Business Checks
If the four categories above aren't sufficient for you, you'll be happy to know that each kind of check per category comes with either high or standard security features.
Whichever one you select will be contingent on the budget and needs of your business. Checks with high-security are costlier than checks with standard security, and with good reason.
They contain industry-exclusive and patented security features capable of preventing fraud and copying.
To establish if high-level security checks will be a worthwhile investment for the business you run, Deluxe provides a complimentary assessment to help you determine if your company is susceptible to fraud, and by how much, if so.
Costs
Since the business check selection is varied, costs differ per security feature, quantity, type, and category.
The list below contains check prices, though they are only approximate costs. These figures should only be used to give you an idea of what you can expect to pay.
Deluxe's checks are on the higher side of the cost spectrum in comparison to its competition. Having said that, the quality you get for your money is on par with the company's professionalism.
Laser Checks
Whether you order 50 laser checks or 2500 of them, the price you pay will be based on the accounting software you use and the kind of checks you order.
Here are some sample rates for the software known as "Microsoft Money," keeping in mind that sales are often held that don't require promotional codes.
The company's charity checks contain logos of various non-profit organizations that Deluxe supports.
Note: packages of various sizes contain differing quantities of checks. The chart below is a sample only.
High-Level Security Laser Check – Microsoft Money Compatible
| | | |
| --- | --- | --- |
| | 100 Checks | 500 Checks |
| Original | $149.99 | $273.99 |
| Duplicate | $212.99 | $502.99 |
| Triplicate | $253.99 | $611.99 |
High-Level Security Laser Checks – Three per Page – Microsoft Money Compatible
| | | |
| --- | --- | --- |
| | 150 Checks | 300 Checks |
| Original | $138.99 | $203.99 |
| Duplicate | $249.99 | $378.99 |
| Triplicate | $313.99 | $456.99 |
              3/page laser checks
Continuous Checks
These types of checks are to be used for a dot matrix printer. The costs for a continuous check is contingent on the kind of accounting program your company uses.
For example, if you use Microsoft Money, you can expect to pay about $280 for 500 checks.
Manual Checks
These types of checks tend to come three per page. Packages range between 250 checks and 3000 of them.
Also, manual disbursement/payroll checks, security desk books, and compact checks are available in addition to the three per page option.
Here is what 500 and 1000 standard manual checks with high-level security features would cost.
| | | |
| --- | --- | --- |
| | 500 Checks | 1000 Checks |
| Original | $164.99 | $293.99 |
| Duplicate | $276.99 | $488.99 |
Security
Deluxe happens to be a CPSA member, so there are high-level and standard security details on their checks. The standard security features have highly advanced technology on their own.
Standard Level Security Checks
These types of checks include several security features, including the following:
Warning box
Security screen
Erasure protection
Fluorescent invisible fibers
Microprint border
Chemical sensitive paper
High-Level Security Checks
These types of checks include the same features that standard level security checks do, in addition to the following:
Features like heat sensitivity ink, true watermarks, chemically washed detectors, and fibers that are visibly embedded.
Safety hologram
Copy-prevention technology
Payment Choices
Besides standard checks, the company also provides eChecks, which happen to be a lot like regular paper checks, though they have one key distinction – a recipient gets them by email.
Upon contacting Deluxe's customer support team, you can speak to a real person who will explain things thoroughly.
Usability
Just because Deluxe's checks are "elite" doesn't mean they are hard to use. With that said, the company's commercial checks are no different than the ones you would get from a financial institution or another check printer – after you receive them, you can use them quite easily.
If manual checks are ordered, they can be filled out whenever you want with a pen and your hand.
If continuous or laser checks are ordered, you must make sure of their compatibility with whatever accounting program you use.
This should not be a problem, as Deluxe supports more than 80 different software types.
You will need to be sure that an employee of yours understands how checks are to be inserted in a printer in order for them to be filled out properly.
Regardless of whether you own a large or small business, when checks are ordered from Deluxe, you'll be getting a product of high quality. Just be mindful that such quality doesn't come cheap.
In fact, Deluxe's rates are significantly higher than their competitions'. If you are okay with the price, then you won't have any shortage of business check selections, all of which come with security features that are quite impressive.
Checks Unlimited Business Checks
Checks Unlimited
Provides comprehensive security choices for every business owner.
The number of check designs for personal checks isn't as vast as other companies.
This company sells commercial checks that contain many security features – 15 of them, in fact – to keep them protected from fraud.
Also, the company's checks adhere to CPSA standards. Because these business checks have Securiguard on them, they will be protected from erasures.
Checks Unlimited also adds holograms and micro-printed signature lines on them.
Lastly, their checks contain chemicals that fasten their paper fibers to laser toner, which will reveal if they have been tampered with.
A border in high-resolution and watermark are also apparent, which are difficult to replicate.
Carousel Business Checks
Carousel Business Checks
Ultrafast shipping
Various check formats
Both check deposits and registers are available
Vast selection of designs for business checks
When looking at all that they offer, it is hardly a surprise to see that Carousel Checks have been in business for the length of time that it has.
Checks can be ordered for accounts payable, payroll, multipurpose options, and mid-or top laser checks.
Best of all, you can get each one of these things from one place. Other choices at your disposal include ink stamps (such as "paid" and "void"), top stubs, balance sheets, duplicates, and single sheets.
Carousel Checks also happens to be the quickest check printer out there. They also offer one-day shipping options for a majority of orders.
And if that wasn't enough, Carousel Checks' prices are competitive – you'll receive as much as 80% off in contrast to what banks charge.
The company has a vast array of design choices for commercial checks, also, which can make them stand out.
You can add scenic shots, motivational quotes, or fun colors, as well as logos printed directly on the checks at no extra charge.
You can personalize the checks even further by uploading a photo to be printed on them.
There are over 100 different cover designs for your checkbooks, too, which include stylish colors and materials to impress your customers.
The business checks offered by Carousel Checks adhere to standards set forth by the CPSA. As such, you will know that the checks can't be tampered with.
Further, the company has a variety of security features on their checks, including a micro-printed security line that prevents copying.
Reproduction of reverse sides is thwarted thanks to a convenient check backer.
CheckAdvantage Business Checks
Advantages
Satisfaction guarantee.
Complies with CPSA standards.
2500 different design choices.
Disadvantages
Costly.
Browsing offline isn't an option as there is no catalog available.
Minimal options for popular characters.
CheckAdvantage provides one-of-a-kind design choices that were created by third-party licensed artists. Choose from over 300 different check covers that can complement the check pattern chosen. Customized fonts are also an option.
This online service for ordering checks doesn't have a lot of popular characters.
As such, you might have to think about using another provider altogether if you need a picture of a well-known cartoon character or superhero on the checks.
CheckAdvantage lets owners of small businesses add a logo on their commercial checks.
The company also provides checks for payroll computers that have compatibility with Peachtree, Great Plains, Microsoft Money, QuickBooks, and Quicken.
You have the option to buy commercial checks in packages that come with deposit records and endorsement stamps.
If you are someone who prefers to write checks by hand (as opposed to computer software), CheckAdvantage will offer you three-per-page manual versions that include either side-tear or top-stub formats.
If the quality of the printed checks or the fast shipping doesn't impress you, then the satisfaction guarantee offered by CheckAdvantage will.
Every order is manually inspected to ensure that both your personal information and bank details are as they should be.