Gusto Payroll Review: What is Gusto?
Gusto stands out in a sea of established payroll service providers. Gusto is still relatively young. It offers a comprehensive set of payroll tools that small businesses can use. The user experience is exceptional, which should appeal to payroll managers not used to it. 
Gusto's functionality has been steadily improving over the years. Recently, Gusto added new functionality in areas such as employee onboarding, payroll run flexibility, and employee paycheck administration. It is a great tool that provides outstanding support in all areas it covers.
Gusto is our #1 pick for small business payroll service this year. This award was given because of its flexibility, usability, customizability, and mobile access. It also has comprehensive setup tools that allow for easy management of payroll runs. 
Gusto software is highly recommended for new payroll managers as well as small businesses (between 1 and 10 employees). 
| | | | |
| --- | --- | --- | --- |
| | | | |
| Gusto | PAYCHEX | OnPay | ADP |
| | | | |
| Direct Deposit? Yes | Direct Deposit? Yes | Direct Deposit? Yes | Direct Deposit? Yes |
| Trial Period? Yes, 30 days free trial | Trial Period? No | Trial Period? 30 days | Trial Period? 3 months |
| $39, plus $6 per employee | $59, plus $4 per employee | $36, plus $4 per employee | Custom |
Visit Gusto
https://gusto.com
Gusto Review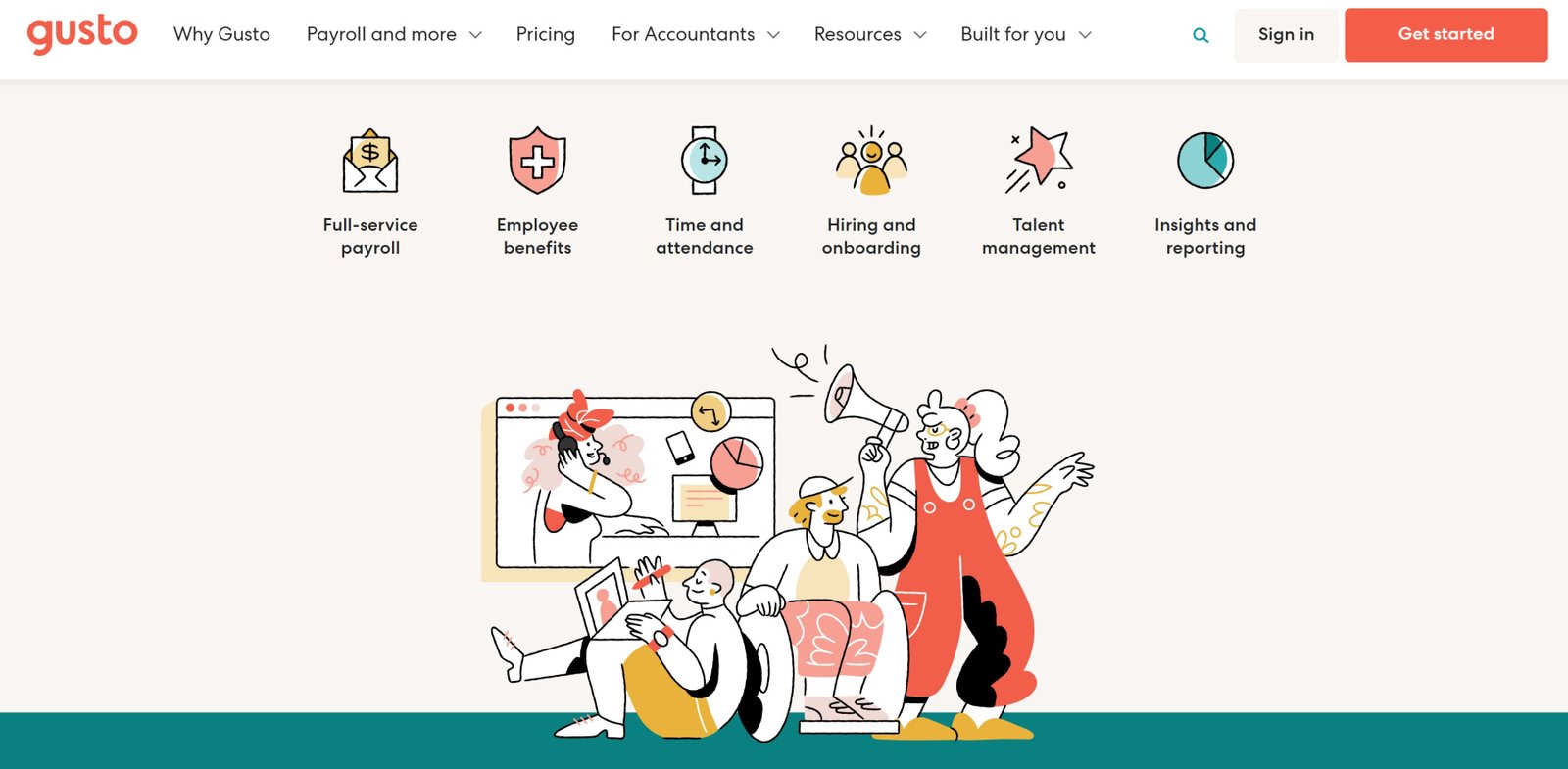 Three options are available. They all have distinct prices and can be customized to your requirements. It's priced at $39 per month plus $6 per employee. While it isn't the most affordable plan we reviewed, however, it's still a great value and includes everything you'll need to manage your payroll. 
The three plans offered by Gusto include payroll automation for salaried employees Unlimited payroll runs, direct payment, tax filings 1099s and W-2s, as well as many more. Gusto offers health insurance in most states.
It also allows you to make use of it to design benefits packages for your employees. Gusto's pricier plans also come with time tracking and other HR and administrative functions.
Gusto offers the Contractor Plan to companies without W-2 employees. The monthly cost is $6 per employee.
Is Gusto Right for Me?
Gusto Is Best For:
Businesses that must pay taxes in more than one state
Tech lovers
New businesses
Companies that are only paying independent contractors
People who dislike extra charges
Gusto Is Not Recommended For:
Businesses searching for the most affordable self-service software for payroll
Individuals who would like to manage the household payroll
Users who require professional assistance in the evening or on the weekend
Gusto is a good option if you are fascinated by UX and love to download the most up-to-date apps. Gusto was founded in Silicon Valley, and it's got a very contemporary feel. You can not only manage payroll, but you can also track your employees' coffee purchases or even send them digital birthday cards, signed by their colleagues.
Gusto Pros and Cons
Pros
Management and employees will appreciate the simple, clean and intuitive layout

Numerous other services and features are also offered such as vacation, early-pay, benefits, vacation, or owners draw options.

Direct deposit options are available for even small businesses, even those that aren't making big profits. This was so useful.

Extremely helpful and prompt customer services

Amazing user experience
Employee records that are flexible and thorough
Payroll processing is easy and intuitive, even for complete novices
There is a version for contractors only
Set of good customizable reports
Exemplary employee versions
Access to mobile services in a comprehensive manner
Cons
The fees are a little higher on the upper end

Paystubs have to be more formal looking than the current minimalist look.

The bank statements don't include the business name of the actual company, so it is hard to verify small amounts.

Some screens load slowly
The Core plan includes no time tracking features
Gusto does not charge additional costs for state taxes in multiple states in contrast to some of the rivals we examined. The pricing is listed on its website, and should you find that extra costs drive you mad, then it could be a good fit. 
It's also an excellent alternative for startups as you can set up payroll, create a benefits package, and onboard your staff all in one location and at a reasonable cost.
Gusto's self-onboarding software makes it easy to start your new job. You only need to enter the necessary information about your employees and Gusto sends employees an email to instruct them to sign in to their account and complete the rest.
Another advantage when you sign up for Gusto is the possibility to upgrade or downgrade your plan at any time.
If you're only paying independent contractors, you may be interested in Gusto. It offers a plan with no monthly fee beyond $6 per payee, however, it does not provide household payroll.
Gusto is not the best choice suitable for you if you're someone who prefers to be capable of calling and having your questions answered immediately. You can reach live support between 7 a.m. until 4 p.m. PST. 
However many competitors on our list provide 24/7 support, whereas others provide weekend or evening hours, depending on the location you're in. Gusto lacks a mobile app to manage payroll, however, you can log in using a web browser on your smartphone or tablet.
In the end, Gusto isn't the most expensive payroll program in our rating of the Best Payroll Software in 2021, but it's not the most budget-friendly. 
With self-service options from Patriot or SurePayroll. You'll have to file your own tax returns and you won't get an abundance of HR tools, but you'll likely save money.
Gusto Payroll Cost
Core
The Core Plan costs $39 per month and $6 per employee. The Core Plan includes everything you need to manage payroll which includes direct payment pay reports, payroll, unlimited payroll runs, and unlimited payroll runs.
Gusto will also manage your tax filings, whether they're state, federal, or local. It also lets you manage benefits and employees have access to their W-2s as well as pay stubs with Gusto Wallet. Gusto Wallet App.
It is worth upgrading to Gusto's complete or Concierge plan if you require additional HR features such as software provisioning, time tracking, and anonymous surveys.
Although this plan is the most cost-effective of the options offered by Gusto you should consider other options such as Patriot and SurePayroll in order to get a self-service and low-cost payroll software.
Complete
The Comprehensive Plan offered by Gusto costs $39.90 per month, with an additional $12 per employee. The Core Plan includes everything, plus more. The Complete Plan provides next-day direct deposit, which is the biggest difference in payroll management.
When you go through the features beyond payroll, there are big distinctions. The Complete Plan has added functions such as the option of e-signing documents, customized onboarding checklists, and time tracking PTO requests as well as the capability to send anonymous surveys and even review the results in the course of time.
You may want to upgrade to the Concierge Plan if you want greater HR support. It not only comes with unlimited access to a certified HR professional via phone or via chat and also an exclusive phone number you can call for customer support.
Concierge
Gusto's Concierge Plan costs $149 per month plus the cost of $12 per employee. Although it is the most expensive of plans we reviewed, it offers tons of benefits, including everything you require to manage your payroll and benefits administration.
You get the same features as the Complete and Concierge plans when it comes to managing payroll. The latter comes with the HR Support plan, which is premium. Gusto's HR Resource Center will give access to.
This includes job descriptions and templates to help you implement employee policies. You can also get alerts about changes in laws to ensure you're in compliance. 
The Concierge plan offers you also get unlimited access to HR experts and a phone number so you can call Gusto to request assistance.
Gusto vs Competitors
Gusto vs Onpay
Both are excellent products, however, there are some things you need to think about before deciding which one is the best one for you.
Both provide professional support, plus everything you need to run payroll and administer workers' compensation. Gusto and OnPay also support a variety of integrations. At $36 per month, plus $4 per employee, OnPay is a little cheaper than Gusto's core Plan. 
OnPay offers health insurance for every state in the US in contrast to Gusto doesn't offer the same coverage in all states. If this is something you're looking into, make sure to verify the current list prior to deciding to sign for it.
OnPay could take as long as four days for employees to receive direct deposits. Gusto, however, offers a next-day direct deposit when you enroll in its Complete or Concierge plans. The plans of Gusto also come with federal state, local, and federal tax filings. OnPay only fulfills federal and state tax obligations.
OnPay provides only one plan, and it's obvious that there's an enormous price difference between it and Gusto's concierge option however, there's an enormous difference in the services. Gusto is a great option when you require access to HR specialists who have been certified.
Gusto vs Square
In our 2021 Best Payroll Software Ranking, Square and Gusto rank fourth and fifth. Both provide all the payroll tools you'll need like direct deposit, unlimited payroll runs, W-2s, and much more. They also take pride in offering straightforward pricing without extra charges.
There are, however, some important differences between Square and Gusto. Square also has a plan that costs $29 per person per month. It's slightly cheaper than Gusto Core Plan. Square is well-known for its Point of Sale systems (POS). Users whose employees already use the POS system to log in and out have said it makes payroll easy. 
Square also has tools for managing your employees, running an online store, creating loyalty programs, controlling inventory, and many other features.
Gusto provides a fantastic option for businesses that need additional HR support. Square is a good choice for business administration. Gusto's Concierge plan is quite more expensive than Square however users will have unlimited access to accredited HR experts via phone or chat.
In all plans, Gusto will prepare your federal, state, and local payroll taxes, whereas Square just takes care of your federal and state filings.
Square as well as Gusto also offers a plan that allows you to pay contractors who are independent without monthly charges. Take a look at these products if are interested.
Gusto vs Paychex
Gusto was awarded a score of 4.3 according to our evaluations for the Best Payment Software in 2021. This placed Gusto at no. 1 as the best payroll software. While, Paychex scored a 3.6, coming in eighth. All it boils down to is the needs of your business. Both offer everything the features you require to manage your payroll, there are big differences.
If you're looking to compare costs between Gusto and Paychex, you'll need to think about what features you want and then get a quote from Paychex.
Gusto's Core plan begins at $39 per month including $6 per employee while the base plan from Paychex starts at $59 per month, with a fee of the cost of $4 per person. These are the same cost per month for 10 people, but there's a chance that the costs could vary due to Paychex having add-ons available.
Meanwhile, Gusto boasts transparent pricing.
Gusto integrates with a variety of software, but with Paychex, you'll have to shell out extra money to integrate the accounting program, unless you opt for the most extensive plan. Gusto's Complete Plan is reasonably priced at $39 per month plus $12 for each employee. It also includes other features like time monitoring, employee surveys, and a set of customizable permissions, without a major price hike.
Paychex offers health insurance benefits across all 50 states, which Gusto isn't able to match at present. Paychex also provides 24/7 expert support by phone. It can also accommodate large-scale businesses, while Gusto is designed for small firms. Paychex is a good option when you think your business will grow quickly.
Both Paychex, as well as Gusto, have a wide range of HR functions, however, the ones offered by Paychex are more effective if you're willing to be able to pay for them.
Gusto FAQs
Gusto is cloud-based, so you can sign up online, and there's no obligation to sign up for a contract. Remember, Gusto provides three plans which vary in cost and features, as well as an option for companies that only pay independent contractors. 
If you're struggling to decide which plan is for you or have any queries regarding Gusto, contact its sales representatives via phone or via chat. You'll need your EIN number, as well as the addresses and wages of your employees along with the records of any payroll taxes you've already paid.
How to Sign Up for Gusto
1. Select the plan you want to sign up for. Consider which plan is right for you before signing up. The Core Plan includes everything you require for payroll, and Gusto will pay your local state, state as well as federal taxes. 
The Complete Plan comes with added tools to help run your business better, including time tracking. The Concierge Plan gives you access to certified HR professionals whenever you require them.
2. Register. After you have selected the plan you want to sign up for, click the "Get Started" link on Gusto's site. You'll be asked to sign up for an account on Gusto Account.
3. Create an account. There are 10 steps to set up your account. You'll need to enter your address, some information regarding your employees, tax information, and bank account details. Select a calendar and input your previous payroll data. Fill out a few forms and verify your bank account details. Add your unpaid taxes.
Gusto Question & Answers
Does Gusto Offer a Trial Period?
Gusto doesn't offer a free trial this is different from other reviews for payroll software. But keep in mind there are no contracts, and you are able to cancel Gusto at any time. Gusto has a demo available on its website, which you can utilize to gain an understanding of the service prior to deciding to sign up.
Does Gusto Offer Direct Deposit?
Gusto offers direct deposit with the three plans, meaning you can directly transfer funds to employees without printing and signing checks. 
Gusto's Core Plan requires that you run payroll at least 2 days before the date of payday. Gusto Complete and Concierge plans allow direct deposits on the next day. 
On payday day your employees will be sent a thank you email from Gusto with a link to their paystub.
Certain customers are also eligible to use Gusto Cashout Gusto Cashout is a useful tool that allows your workers to ask for an advance in order to pay for emergencies.
Does Gusto Offer Automated Tax Filing?
In all three plans, Gusto will be able to file and pay your federal, state, and local taxes. Gusto will also create your W-2s and 1099s at the close of the year and electronically gives them to your employees. Gusto is a great choice for companies that need to file tax returns in several states. Multistate filings are offered in all three plans - that's not something every payroll software will say.
Does Gusto allow Time Tracking?
Gusto's Complete and Concierge Plans allow you to track the time of hourly and salaried employees. You can also track projects and let employees make PTO requests. This is automatically synced to your calendar.
Gusto supports integrations with much time-tracking software. This is fantastic if your current one isn't performing well or you select Gusto Core Plan that doesn't include time tracking.
Does Gusto Support Integrations?
Gusto supports a bunch of integrations. The ability to sync your accounting software with Gusto will save you time and allow you to be precise. Gusto lets you integrate all of the top accounting software, such as Intuit QuickBooks and FreshBooks. Gusto supports integrations with time-tracking software such as Tsheets and Homebase.
Plus Gusto does a lot more. It can also be integrated with many different Points of Sale, business administration, analytics, hiring, and other software.
Does Gusto Have a Mobile App?
With Gusto Wallet, the Gusto Wallet app, your employees can access their pay stubs as well as tax documents, create cash accounts, and many more. It's available for Android as well as Apple devices.
Gusto does not have a mobile app for running payroll, but you are able to perform the task on your phone or tablet. Simply sign in to your Gusto account with your internet browser. To alter benefits, clock in/out, or request PTO, among other functions, employees will need to log into Gusto through a browser on the internet.
How do I reach Gusto's Customer Service?
All three Gusto plans include customer support. For help, you can make a call, chat or send an email. Support is available from 7 a.m. to 4 p.m. PST. 
Customers who have Concierge plans are able to access priority support as well as a team of experts. 
Additionally, all customers can take advantage of Gusto's Help Center to troubleshoot issues on their own.