This ZenBusiness review examines the ZenBusiness online LLC formation service including prices, plans, customer satisfaction, support, and their registered agent service. We compare ZenBusiness with competitors and ZenBusiness alternatives.

ZenBusiness BBB Reviews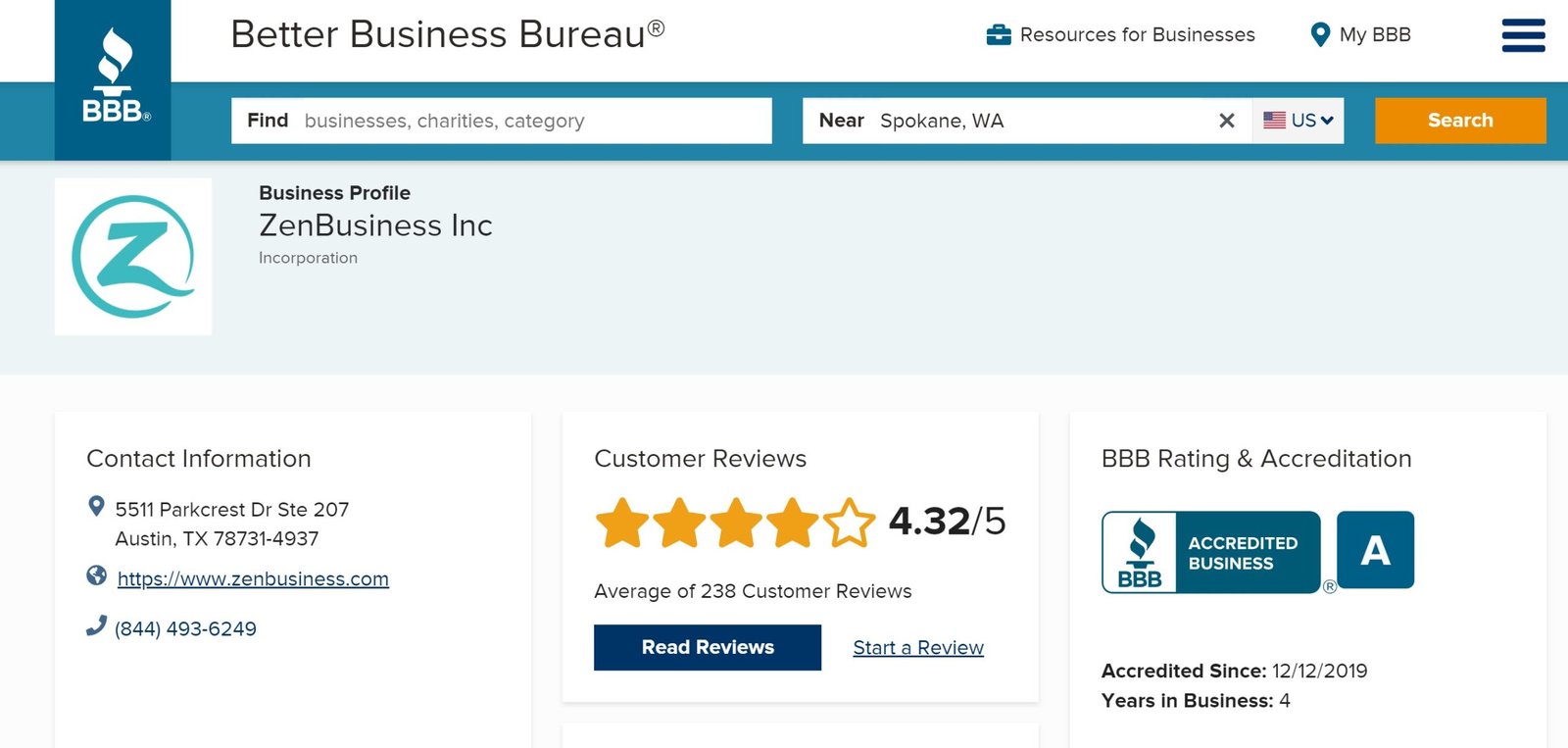 ZenBusiness has 238 BBB reviews with an average score of 4.3/5 and a BBB rating of A.
---
ZenBusiness Review: Overview
LLC stands for limited liability company. An LLC is a business entity and ZenBusiness provides an orderly process for online business formations. ZenBusiness offers this online service from Austin, Texas.
Within the past 5 years, ZenBusiness has quickly become one of the online LLC formation services leaders in 2023.
If you are a business owner or about to become one, you should know about online LLC filing services being offered to assist business owners and entrepreneurs with the business formation and startup process. One of those leading business formation companies is the Texas-based LLC service ZenBusiness.
ZenBusiness provides an affordable and quick filing service that can make your new business dreams a reality. After you allow them to file documentation to launch your business, you will receive a customized dashboard and dedicated support at no extra cost.
ZenBusiness Review: Main Features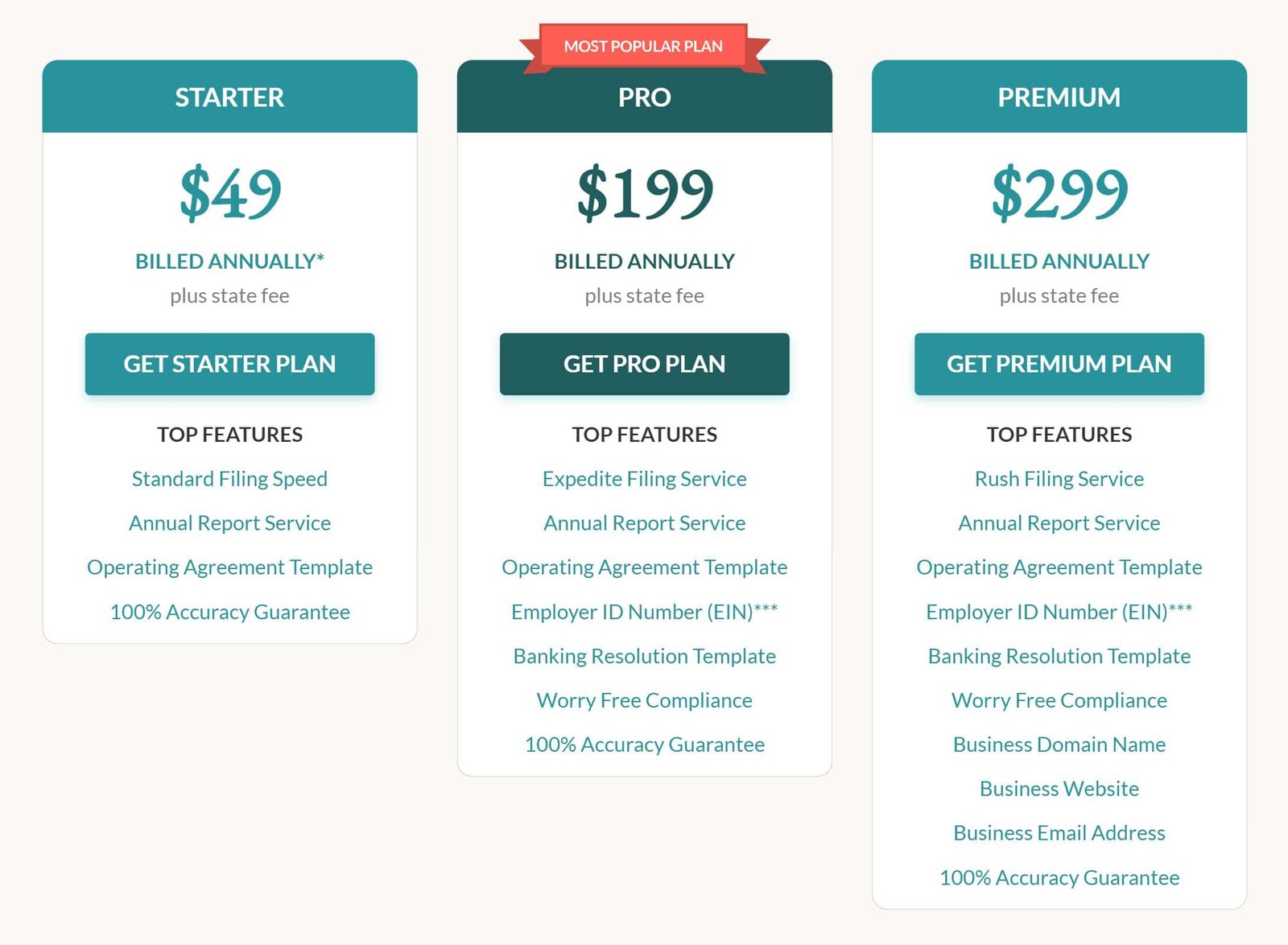 ZenBusiness offers three business formation packages:
1) Starter Plan
2) Pro Plan
3) Premium
Here are the features that come with each formation package that ZenBusiness offers:
ZenBusiness Starter Plan: $49 and a state fee.
ZenBusiness Will Do a Name Search: ZenBusiness can comb through your state's formation business database to determine if the name you've picked is available.
ZenBusiness Provided Articles of Organization: Your state will require this documentation to establish your LLC formally. They will draft and file the Articles of Organization on your behalf with your formation state.
ZenBusiness Registered Agent Service: Each LLC that operates in the USA must have one Registered Agent designated. This will be either a business entity or individual that obtains important documentation from your formation state. The Registered Agent will accept these documents on your behalf before they are forwarded to you. The first 12 months of the service are free. You are welcome to renew for just under $120 annually after that.
ZenBusiness Provided Operating Agreement: This document establishes your business' ownership structure, as well as the way it operates. ZenBusiness will present you with a template you can personalize to create an Operating Agreement of your own.
CPA Assessment: You will be given a free tax and accounting assessment from one of ZenBusiness's licensed CPAs to figure out what your accounting, tax, and bookkeeping needs are. The staff is handled in-house (as opposed to an independent party, which some companies use).
ZenBusiness Customer support: The ZenBusiness customer support is known as the 'Customer Success Team,' and ZenBusiness support can be reached by chat or phone 7 days a week
ZenBusiness Pro Plan: $199 + state fee
It comes with everything included in the first package, along with:
EIN (Federal Tax Number): think of an EIN as a business entity's SSN. This numerical nine-digit code gives your LLC the ability to file taxes, hire employees, open bank accounts, and more. ZenBusiness will obtain an EIN on your behalf.
The ZenBusiness Worry-Free Guarantee: Not only will your business' annual report be prepared and filed by us, but you'll also get to make a couple of amendments to it each year as well. Also, if you forget to file with the state by a certain deadline, ZenBusiness will do the work necessary to get you back in their good graces.
Banking Resolution: you'll be presented with a Banking Resolution form you can personalize, indicating authority levels in your LLC (to determine who can open a bank account for the business).
ZenBusiness Premium: $299 and a state fee
It comes with everything included in the Pro (middle) package, along with:
Domain Name: ZenBusiness will register your domain so that you can create a website for your company. This service includes a dashboard management tool for your domain.
Rush Filing: your LLCs filing documents will be prioritized over users using the Pro and Starter packages.
Domain Privacy: stop your private information from being seen publicly after the domain name gets filed.
Business Email: Premium customers are provided with email accounts for their business (with a storage space total of five gigabytes).
Website: Besides registering a company domain name on your behalf, ZenBusiness can also help set up your business' website.
ZenBusiness Review: Pros and Cons
ZenBusiness

Pros

ZenBusiness

Cons

Good Pricing
Quick Turnaround Time
Rated 4.8/5 by Trustpilot
Extended Support Hours
Worry-Free Compliance Guarantee

ZenBusiness Registered Agent Service is a $99 addon
In business for only 5 years
The website builder is limited
ZenBusiness Has Over 7000 Trustpilot Reviews
Reddit Reviews: There are not many ZenBusiness reviews on Reddit, but the majority are positive.
---
ZenBusiness Review: Business Formation Packages
ZenBusiness Starter Package: $49 + state fees
ZenBusiness' bare-bones starter plan serves your basic formation needs. This plan is recommended if you want your LLC to be formed as quickly as possible, and are able to handle compliance.
These are the main features of the plan:
Basic Business Filing Services: Filing articles with the Secretary-of-State.

 

Unlimited name searches for any business name.

 

This package does not include an expedited filing, but this can be added to separately.

Operating Agreement Template: This is the most important document you will need for your LLC.

 

It protects your personal assets against potential lawsuits.

Registered agent service: All LLCs and corporations are required to appoint a registered representative as soon as they are formed.

 

The role of the registered agent is to obtain certain legal documents for the business.
ZenBusiness' online dashboard allows you to track the status of your order and receive electronic copies of finalized formation documents as soon they become available.
You may also find the starter plan useful by including a few other services.
ZenBusiness offers a free consultation to assess your company's accounting needs and suggest further steps that will be tailored to your specific needs.

An annual report service: ZenBusiness, like many other service providers, can assist you in meeting your state's reporting requirements. We will alert you to the filing deadlines and file the paperwork for you.
The ZenBusiness Starter plan does by default not include any order expediting. The turnaround time for orders can vary greatly depending on where the LLC was formed. It could take anywhere from a few days up to several weeks.
---
ZenBusiness Pro Plan $149 + state fees
The majority of new business owners should consider the Pro plan.
This plan is ZenBusiness' most popular and offers many additional features over the ZenBusiness Starter plan. Mostly, it offers compliance and expedited formation.
ZenBusiness Pro includes everything you would get with the Starter plan plus:
The expedited filing service: This allows you to skip the line and speeds up processing. It varies from one state to another but generally takes between four and two weeks for the low end and up to two weeks for the high end.
Employer Identification Number, (EIN), is your federal tax ID issued by the IRS. It is your company's social security number. It is required to open a bank account for your business, hire employees, and file tax returns.
ZenBusiness provides worry-free compliance. ZenBusiness will take care of all ongoing compliance filings with the state, and ensure that your company is in good standing. This service allows for up to two amendments each year.
ZenBusiness will also supply you with a Banking Resolution Template, which you will use to open a bank account for your LLC.
This plan is renewed at $149/year. It covers the annual filings of your LLC and compliance monitoring service.
---
ZenBusiness Premium Plan $249 + state fees
The Premium plan provides the fastest turnaround possible and includes many basic web-related services. If you need a basic website and want your LLC to be formed quickly, the Premium plan is an excellent option.

ZenBusiness Premium includes everything Pro has plus more
Rush Filing Service – You will get the fastest turnaround times with rush filing. The exact timeframe depends on the state, but it is usually only a few days. Premium plan customers may receive a response within one day in some states.
Business Domain Name: ZenBusiness can obtain a domain name for your chosen LLC name, if it's available.
Business Website: ZenBusiness will quickly create a basic website that can be customized using your domain name and business information.
ZenBusiness will create a business email address using your domain name. For professional correspondence, you will have access up to 5GB of storage.
This upsell can be ignored by most business owners and they can tackle website creation later. When building your website, we recommend that you use other services.
This plan is renewed at $249/year. It includes Pro + all of your website services.
ZenBusiness Review: Customer Service
ZenBusiness provides extended customer support hours:
ZenBusiness Extended Customer Support Phone Number Email Chat
Monday to Friday 8 am until 8 pm central time + Sundays, 10 am to 7-midnight central time.
Chat: Chat with zenbusiness.com during extended support hours.
Phone Contact: Call ZenBusiness at 1-844-493-6249 during the ZenBusiness extended hours of support.
Email: Get in touch at support@zenbusiness.com and expect a reply within one business day.
---
ZenBusiness vs. Competitors
ZenBusiness vs LegalZoom
|   | ZenBusiness | LegalZoom |
| --- | --- | --- |
| Basic Formation | $49 | $178 |
| Registered Agent  | $99/yr | $249/yr |
| Formation and 1/yr Registered Agent | $148 | $427 |
ZenBusiness scores better than LegalZoom. LegalZoom was lacking in many categories compared to ZenBusiness.
LegalZoom's costs for formation are too high. It is one of the most expensive services we have ever seen. However, it offers no significant added value when compared with other options.
ZenBusiness is a more efficient and affordable option that delivers a higher level of customer satisfaction.
---
ZenBusiness vs Swyft Filings
|   | ZenBusiness | Swyft Filings |
| --- | --- | --- |
| Basic Formation | $49 | $84 |
| Registered Agent  | $99/yr | $149/yr |
| Formation and 1/yr Registered Agent | $148 | $233 |
Swyft Filings is a good option for those looking for a low-cost service with a faster turnaround time than most. ZenBusiness is much more affordable than Swyft Filings and offers the same or better performance.
Swyft Filings also offers many of its services through third parties, upselling a lot unnecessary add-ons services. ZenBusiness's more simplified approach is better.
---
ZenBusiness vs Incfile
In virtually every category except price and experience, ZenBusiness scores better than Incfile. ZenBusiness does not offer a free LLC. ZenBusiness customers seem more satisfied than Incfile's customers, despite both offering easy-to-use online forms.
|   | ZenBusiness | Incfile |
| --- | --- | --- |
| Basic Formation | $49 | $0 |
| Registered Agent  | $99/yr | $0 (1st Year Free With Formation) |
| Formation and 1/yr Registered Agent | $148 | $0 Silver Package |
Additional Comparison Table
 

ZenBusiness 

Incfile

Experience/Formations

100,000+

500,000+ Winner!

BBB Rating
A-   Winner!
Not Rated
16 Years A+ rating with BBB, but due to Covid and govt delays, BBB recently downgraded Incfile. This hasn't stopped ZenBusiness' rapid growth.  

Cost
$49 – $299+
$0 -$299+  Winner!
Compliance

Worry-free Guarantee
Winner!

Email Reminders
Transparency
Faces and Names on the website. Winner!
Stock photos and artwork
Incfile provides email reminders for compliance dates, and they have the best experience and pricing! If you are thinking Incfile vs. ZenBusiness for LLC formations, we consider both of these companies great choices! If you are considering LegalZoom LLC services, visit our LegalZoom comparison with ZenBusiness.
Incfile is a cheaper formation service. Incfile's Silver formation plan is $0 with one year of registered agent service. How do you beat that?
ZenBusiness is the winner in everything else! 
---
Canceling ZenBusiness Services
Their cancellation policy states that you can "discontinue any or all of your paid service at any time by contacting support.
You can cancel your annual subscription at any time, as we have mentioned. Send a message to ZenBusiness support. You may be charged a $25 cancellation fee in certain cases.
A significant distinction applies to cancellations of registered agent services. If they are acting as your registered agent, ZenBusiness will require you to appoint another registered agent.
---
Incfile provides email reminders for compliance dates, and they have the best experience and pricing! If you are thinking Incfile vs. ZenBusiness for LLC formations, we consider both of these companies great choices! If you are considering LegalZoom LLC services, visit our LegalZoom comparison with ZenBusiness.
The ZenBusiness Team: Austin, Texas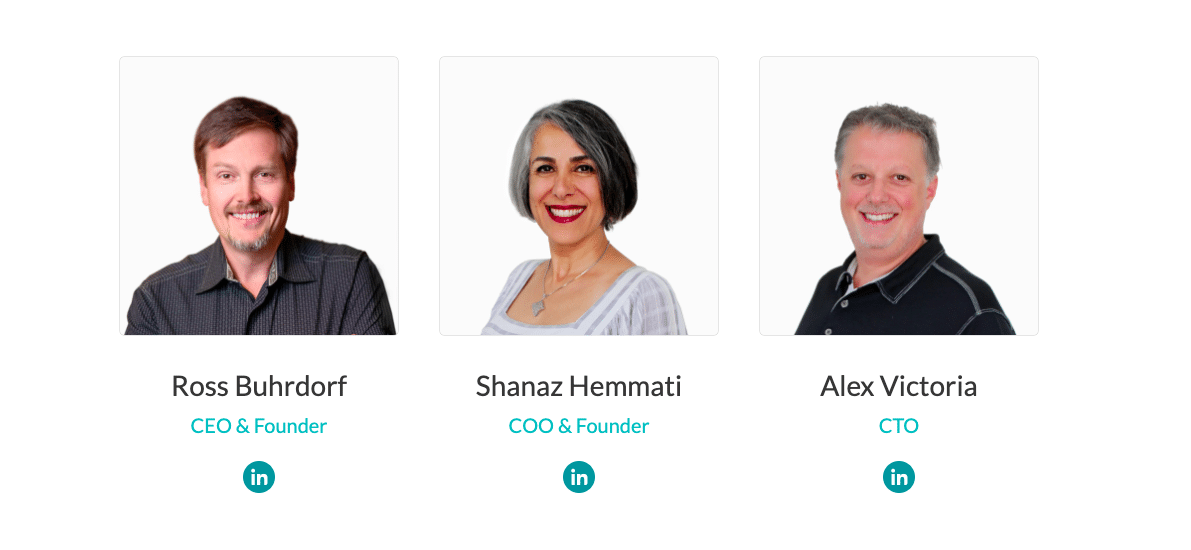 The following review of ZenBusiness will go over what you can anticipate if you use their services. You will learn about their advantages, disadvantages, costs, and features to determine if they are a worthwhile option for you to use.
ZenBusiness Pros
ZenBusiness offers one of the cheapest LLC service rates out there. Pricing for their services begins at $49. With registered agent service included with every ZenBusiness plan, even the $49 formation plan, it is cheaper than LegalZoom. After the first year, their registered agent service is $119 a year.
ZenBusiness is good at forming LLC formation feel exciting and manageable. In contrast to other service providers attempting to trick or scare users into buying additional services, ZenBusiness tastefully upsells optional services and features.
Customer input is what fuels ZenBusiness. The company's positive reviews from verified buyers total in the thousands.
As part of their services to aid you in the beginning and operate your business, ZenBusiness can also handle yearly report filing and other regular LLC maintenance services. This is an aspect of a "Worry-Free Guarantee" that comes with their Pro package.
ZenBusiness happens to be socially conscious. The company concentrates on helping people, not just their company. ZenBusiness has partnered up with an organization called Kiva to help people become poverty-free through loan money and financial lending. Its purpose is to help minority-operated businesses – as well as women – get up and running.
ZenBusiness Cons 
Pinning down a turnaround time can be a challenge. For instance, the ZenBusiness Starter package claims that LLCs formed in Colorado will take up to two weeks. To test out ZenBusiness's turnaround time, we decided to see how long it would take us to form a company in that state on our own. Three days was all it took us to do. As pleased as we were that the formation process was quicker than advertised, we believe timelines should be accurate.
ZenBusiness does not provide legal service from an attorney, like LegalZoom and Rocket Lawyer offer. LegalZoom and Rocket Lawyer both offer these phone consultations but for a steep hourly price.
---
Commonly Asked Questions
Are ZenBusiness Customer Reviews Any Good?
Although ZenBusiness has been in existence only for 4 years or so, they already have an impressive amount of positive customer feedback. Overall, ZenBusiness's customers seem to be quite happy with their services and rave about how easy their platform is to use. ZenBusiness has an average score of 4.8/5 on Trustpilot based on more than 7000 reviews.
Is It Safe to Have an LLC Formed with ZenBusiness?
There are plenty of great things offered by ZenBusiness, but not every entrepreneur will have use for their services:
An LLC Should Be Formed with ZenBusiness by those in search of a company offering inexpensive LLC services, as well as a company that provides strong value overall. ZenBusiness is run by people who are socially conscious and emphasize customer satisfaction.
An LLC Should Not Be Formed with ZenBusiness by people in a rush to get a business formed. Other formation services for LLCs claim to be a lot quicker than ZenBusiness is.
Is ZenBusiness a good option?
ZenBusiness is on our list for the best LLC formation services. You will find good prices and everything you need to start your LLC with ZenBusiness.
What is ZenBusiness?
ZenBusiness offers LLC and Corporation formation services. They will handle all administrative and filing requirements for your LLC/Corporation so that you can concentrate on your business growth.
What does ZenBusiness cost for an LLC?
LLC formation is as easy as $49. For most business owners, we recommend the $199 ZenBusiness plan. ZenBusiness is one of the more affordable companies in the LLC formation market.
Which ZenBusiness LLC package is best?
Most founders should consider the ZenBusiness Pro plan. This plan covers everything you need to get your business started immediately.
Why do I need ZenBusiness every year?
ZenBusiness charges an annual fee to use their registered agent service. To receive legal correspondence, companies must appoint and keep a registered agent. Your registered agent can be changed at any time.
Where Is Zenbusiness located?
Zenbusiness offices can be found at 5900 Balcones Dr. Suite #5000 in Austin, Texas.
What is the average time it takes to get EIN with ZenBusiness?
ZenBusiness will request your EIN from the IRS immediately after registering your business entity. Most people receive their EIN within a matter of hours after they register.
How can I get in touch with my ZenBusiness agent?
ZenBusiness is the registered agent. Call them at 1-844-493-6249 or contact them via email at support@zenbusiness.com.
Does ZenBusiness have a refund policy?
ZenBusiness will refund your payment minus any expenses. Contact ZenBusiness immediately if you make an error. State fees cannot be refunded if they have been sent.
Is ZenBusiness able to provide excellent customer service?
ZenBusiness offers excellent customer service. ZenBusiness is one of few companies that offer extended support hours in addition to live chat, phone, and email.
What is included in ZenBusiness Worry-Free Guarantee?
ZenBusiness offers a worry-free guarantee that covers your annual report as well as up to two amendments. You don't need to worry about meeting deadlines or making mistakes.
Are customers required to use services for business formation?
You don't have to use a formation company. All services offered by ZenBusiness are available at a standalone price. You have the option to choose and customize the service package that best suits your needs.
Is ZenBusiness a good value?
ZenBusiness is the best value. The best formation packages on the market are offered by ZenBusiness, starting at $39 + state fees.
Are ZenBusiness Customer Reviews Any Good?
Trustpilot rates ZenBusiness at 4.8 out 5. ZenBusiness reviews are consistent and excellent on all review sites. Customers highly praise them for their fast filing turnaround, great prices, and friendly customer service.
What's the difference between ZenBusiness & other business formation companies
ZenBusiness offers more for less. Prices for LLC formation start at $49 + applicable state fees. These prices are among the most competitive on the market. Turnaround times for formation/incorporation are very quick, and ZenBusiness customer support is excellent.
Is there a better alternative to ZenBusiness?
Yes, alternatives exist. As an alternative to ZenBusiness, we recommend Incfile and Northwest Registered Agent.
Is ZenBusiness legal?
Yes, Zenbusiness is legit. Zenbusiness was established in 2015. It has created thousands of LLCs, corporations, and non-profits.
In Closing
After we reviewed and ranked the best business formation services available, ZenBusiness stood out superior to the rest based on customer feedback and competitive rates, among other factors. They provide a lot more features than the ZenBusiness counterparts and are significantly cheaper, to boot.
Whether you need to form an LLC, incorporate, and require a good registered agent service, ZenBusiness is a leader in the LLC formation business, with pricing and service.