This ZenBusiness review examines their online LLC formation service including prices, plans, customer satisfaction, support, and their registered agent service.
LLC stands for limited liability company. An LLC is a business entity. This ZenBusiness LLC service review examines this online business formation service from Austin, Texas, and how it has quickly become one of the leaders in online LLC formation services in 2022.
In addition to quick and easy LLC formations, the ZenBusiness 'Premium Plan' provides a professional website that includes hosting, your choice of templates, a company email address, and a customized domain name.
This package includes a lot of features, along with a very affordable price. 
ZenBusiness Pricing and Plans
ZenBusiness Customer Support
Phone or Chat, Monday – Friday, 8 am – 8 pm Central time, or Sunday from 10 am – 7 pm Central time.
ZenBusiness Address
1511 Parkcrest Drive Suite 207
Austin, Texas 78731
If you are a business owner or about to become one, you should know about online LLC filing services being offered to assist business owners and entrepreneurs with the business formation and startup process. One of those leading business formation companies is the Texas-based LLC service ZenBusiness.
ZenBusiness offers a formation service at a low cost for those starting a business.
They provide an affordable and quick filing service that can make your new business dreams a reality. After you allow them to file documentation to launch your business, you will receive a customized dashboard and dedicated support at no extra cost.
18 Reasons To Form An LLC With The ZenBusiness 'Premium Plan' In 2022
Rush Filing Speed

Registered Agent Service Optional add-on $99/yr

Operating Agreement Template

Employer ID Number (EIN)

Banking Resolution Template

Customer Success Team aka Customer Support 7 Days a Week

Worry-Free Compliance

Business Domain Name

Business Website

Business Email Address

100% Accuracy Guarantee

Headquarters Austin, Texas

Simplicity

4000+ Positive Reviews From Verified Shoppers

Inexpensive

Quick

Service In 50 States

Friendly Folks
We don't know of another LLC formation company providing this much service for just $299.
---
ZenBusiness Business Formation Packages
ZenBusiness 'Pro Plan' Features
Prepare and File LLC

Expedite Filing Speed

Business name availability search

Operating agreements and bylaws

Registered Agent Services $99/ optional add-on

Worry-free compliance guarantee

EIN

Banking resolution

Phone and Email Customer Support

Online Document Access

Special Credit Offer

Free Accounting Consultation
Services and Products to Grow and Run Your Business
After it is up and running, you can buy extra services at a low cost to help expand and manage your company.
ZenBusiness 4 Tenets for Services and Products
Simplicity

Professional service

Inexpensive

Quick
Let us paraphrase from the ZenBusiness website,
Simplicity
"We take care of the jargon and red tape to simplify your endeavors to begin, operate, and grow a business."
Professional Service
"Our staff of formation professionals is on hand to assist you during regular business hours. Best of all, they'll do so for as long as your company is around."
Inexpensive
"Completed business documentation is filed and returned on your behalf at a low cost."
Quick
"Automation and technology are utilized to minimize expenses mistakes and form your LLC at a relatively fast rate."
There are countless services out there that can form an LLC on your behalf, but our company has a track record for being one of – if not the – best at it.
ZenBusiness Website Builder
The ZenBusiness 'Premium Plan' Includes a Business Website, Website Builder Templates, Domain Name, Email, and Dashboard.
A website can also be added to the Pro Plan or Starter Plan




Website $100/year




Domain Name $25/year
ZenBusiness offers all customers a personalized dashboard to set up and customize their domain name and website at any time from a computer or mobile device.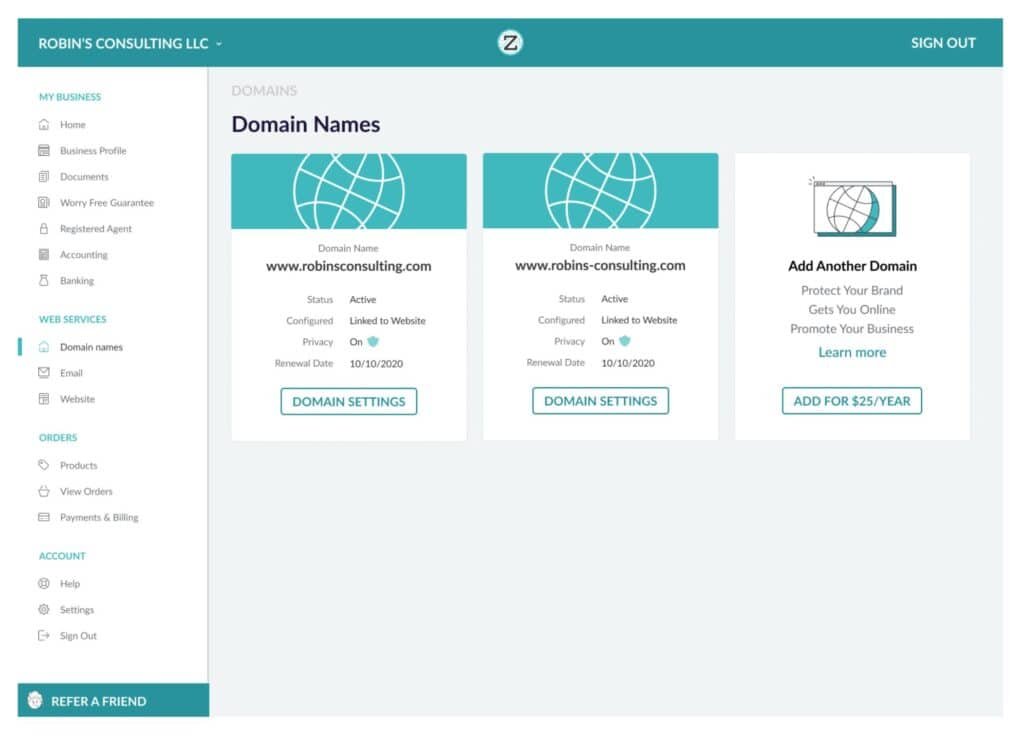 ✅ Set up your domain name
✅ Select a website template
✅ Customize your content and designs
✅ Generate new leads and customers
✅ Take payment from your website
ZenBusiness vs Incfile
 
ZenBusiness
Incfile
Experience/Formations

100,000+

500,000+

   

Winner!

BBB Rating
A 

Winner!

16 Years A+ rating with BBB, but due to Covid and govt delays, BBB recently downgraded Incfile.

This hasn't stopped their tremendous growth in 2022.  
Cost

$49 – $299+  

$0 – $299+

Winner!
Compliance

"Worry-Free Guarantee"

Winner!

 

Email Reminders

Transparency/People

Names/Faces

 

Winner!

Stock Images, Nice Graphics
Incfile provides email reminders for compliance dates, and they have the best experience and pricing! If you are thinking Incfile vs. ZenBusiness for LLC formations, we consider both of these companies great choices! If you are considering LegalZoom LLC services, visit our LegalZoom comparison with ZenBusiness.
The ZenBusiness Team: Austin, Texas
The following review of ZenBusiness will go over what you can anticipate if you use their services. You will learn about their advantages, disadvantages, costs, and features to determine if they are a worthwhile option for you to use.
ZenBusiness Pros
ZenBusiness offers the cheapest LLC service rates out there. Pricing for their services begins at $49. With registered agent service included with every plan, even the $49 formation plan, it is cheaper than LegalZoom. After the first year, their registered agent service is $119 a year.

ZenBusiness is great at endeavoring LLC formation feel exciting and manageable. In contrast to other service providers attempting to trick or scare users into buying additional services, ZenBusiness tastefully upsells optional services and features.

Customer input is what fuels ZenBusiness. The company's positive reviews from verified buyers total in the thousands.

As part of their services to aid you in the beginning and operate your business, ZenBusiness can also handle yearly report filing and other regular LLC maintenance services. This is an aspect of a "Worry-Free Guarantee" that comes with their Pro package.

ZenBusiness happens to be socially conscious. The company concentrates on helping people, not just their company. ZenBusiness has partnered up with an organization called Kiva to help people become poverty-free through loan money and financial lending. Its purpose is to help minority-operated businesses – as well as women – get up and running.
ZenBusiness Cons 
Pinning down a turnaround time can be a challenge. For instance, the Starter package claims that LLCs formed in Colorado will take up to two weeks. To test out ZenBusiness's turnaround time, we decided to see how long it would take

us

to form a company in that state on our own. Three days was all it took us to do. As pleased as we were that the formation process was quicker than advertised, we believe timelines should be accurate.

No legal service from an attorney, like LegalZoom and Rocket Lawyer offer. LegalZoom and Rocket Lawyer both offer these phone consultations but for a steep hourly price.
ZenBusiness LLC Formation Packages
ZenBusiness offers a few formation package choices:
1) Starter 
2) Pro
3) Premium
For specifics of every package, look at ZenBusiness's official website and read about each option.
Here are some interesting features that come with each formation package that ZenBusiness offers:
Starter: $49 and a state fee.
Name Search: ZenBusiness can comb through your state's formation business database to determine if the name you've picked is available.
Articles of Organization: This documentation will be required by your state to establish your LLC formally. We will draft and file the Articles of Organization on your behalf with your formation state.
Registered Agent Service: Each LLC that operates in the USA must have one Registered Agent designated. This will be either a business entity or individual that obtains important documentation from your formation state. The Registered Agent will accept these documents on your behalf before they are forwarded to you. The first 12 months of the service are free. You are welcome to renew for just under $120 annually after that.
Operating Agreement: This document establishes your business' ownership structure, as well as the way it operates. ZenBusiness will present you with a template you can personalize to create an Operating Agreement of your own.
CPA Assessment: You will be given a free tax and accounting assessment from one of ZenBusiness's licensed CPAs to figure out what your accounting, tax, and bookkeeping needs are. The staff is handled in-house (as opposed to an independent party, which some companies use).
Customer support: The ZenBusiness customer support is known as the 'Customer Success Team,' and they can be reached by chat or phone 7 days a week
Pro: $199 and a state fee
It comes with everything included in the first package, along with:
EIN (Federal Tax Number): think of an EIN as a business entity's SSN. This numerical nine-digit code gives your LLC the ability to file taxes, hire employees, open bank accounts, and more. ZenBusiness will obtain an EIN on your behalf.
Worry-Free Guarantee: not only will your business' annual report be prepared and filed by us, but you'll also get to make a couple of amendments to it each year as well. Also, if you forget to file with the state by a certain deadline, ZenBusiness will do the work necessary to get you back in their good graces.
Banking Resolution: you'll be presented with a Banking Resolution form you can personalize, indicating authority levels in your LLC (to determine who can open a bank account for the business).
Premium: $299 and a state fee
It comes with everything included in the Pro (middle) package, along with:
Domain Name: ZenBusiness will register your domain so that you can create a website for your company. This service includes a dashboard management tool for your domain.
Rush Filing: your LLCs filing documents will be prioritized over users using the Pro and Starter packages.
Domain Privacy: stop your private information from being seen publicly after the domain name gets filed.
Business Email: Premium customers are provided with email accounts for their business (with a storage space total of five gigabytes).
Website: besides registering a company domain name on your behalf, ZenBusiness can also help set up your business' website.
---
ZenBusiness Address
5511 Parkcrest Drive Suite 103
Austin, Texas 78731
Customer Support: Phone or Chat, Monday – Friday, 8 am – 8 pm Central time, or Sunday from 10 am – 7 pm Central time.
Are ZenBusiness Customer Reviews Any Good?
Although ZenBusiness has been in existence only for three years or so, they already have an impressive amount of positive customer feedback. Overall, ZenBusiness's customers seem to be quite happy with their services and rave about how easy their platform is to use. ZenBusiness has an average score of 4.8/5 on Trustpilot based on more than 4600 reviews.
Is It Safe to Have an LLC Formed with ZenBusiness?
There are plenty of great things offered by ZenBusiness, but not every entrepreneur will have use for their services:
An LLC Should Be Formed with ZenBusiness by those in search of a company offering inexpensive LLC services, as well as a company that provides strong value overall. ZenBusiness is run by people who are socially conscious and emphasize customer satisfaction.
An LLC Should Not Be Formed with ZenBusiness by people in a rush to get a business formed. Other formation services for LLCs claim to be a lot quicker than ZenBusiness is.
---
ZenBusiness Introduces "ZenBusiness Money" Payment & Invoicing Service
ZenBusiness Money is an all-inclusive payment and invoicing platform that makes it fast and simple for small business owners to get paid. You can send custom invoices, accept credit card and bank transfer payments, and manage your customers and clients in an easy-to-use dashboard.

ZenBusiness Money is available for download later this year.
Who offers the best services for LLC formation? We are more lenient towards the former option after comparing several LLC formation services, including ZenBusiness and LegalZoom. We felt that their deals were better than others, and their rates were better, too.
We spent a lot of time researching ZenBusiness and other LLC services like it. When we compared ZenBusiness to LegalZoom, we asked basic questions to determine which one of them was the best one to start your business with:
Are their deals worthwhile?

Are other company's deals better?

Who is this LLC formation service used by, and what were their experiences like?
Based on these questions, which of the two services is the better option to get a company?
Which is Better For LLC Formations, LegalZoom, or ZenBusiness?
Pricing and Plans
ZenBusiness: the plans are straightforward, and the pricing is competitive. ZenBusiness has convenient packages to accommodate your business needs. Prices start at $49 (along with state fees). They can file Articles of Organization, your business' Operating Agreement, and provide you with a year's worth of registered agent-related services.
LegalZoom: the formation packages happen to be a lot costlier and complex. Plans start at $99 (along with state fees). Upon speaking with LegalZoom's customer service agents during the sign-up process, the upselling we were exposed to stressed out and confused us.
Customer Service and Verified Reviews 
ZenBusiness: the integration of outstanding customer service, great reviews, competitive rates, and simple-to-follow plans for LLC formation makes them the superior option.
LegalZoom: if you would prefer to utilize the services of a company more recognized, LegalZoom is who you should choose. Having said that, other options are available to launch your business quickly, affordably, and reliably.
Who is this LLC formation service used by, and what were their experiences like?
ZenBusiness: this company is mostly used by the following types of entrepreneurs –
Those who desire premium level support and service without spending an arm and a leg for it.

Those who want to have an LLC formed quickly without paying a premium.

Those who want regular reminders and alerts about filing deadlines on the horizon.

Those who like the benefits of yearly filing and submission, in addition to the Worry-Free Guarantee the company offers.
LegalZoom: this company is mostly used by the following types of entrepreneurs –
Those who prefer to use the services of a recognized brand to get their LLC formed.

Those who are open to paying more for premium features and services.

Those who aren't in a hurry to have their LLC formed; or are open to paying a higher premium to have their order expedited.

Those who need more than just company formation services.
The best choice for LLC services is ZenBusiness, particularly if value, affordability, and top-notch customer support are important to you.
LegalZoom to be considered if you would rather use a more recognized brand and require regular legal services – and more than just LLC formation services.
Customer Service
The customer support offered by ZenBusiness was superior to all other LLC formation services we tried out, LegalZoom included.
There is no shortage of positive reviews online about ZenBusiness. We were rather impressed by the company's thoughtful, thorough, and professional responses seen on the BBB (Better Business Bureau) site.
Features Included
ZenBusiness has no equal, as far as features go.
The organization provides LLC formation services, with plans starting at $49 a year (along with state fees). Each of their three packages comes with an Operating Agreement, Registered Agent-related services, and a CPA assessment.
The latter is comprised of a company finance evaluation, as well as referrals to licensed CPAs that can accommodate your needs. Such services are an ideal approach to tracking your business's financial flow. They can also help you remain organized and file your taxes better.
The Worry-Free Guarantee happens to be a wonderful choice for very busy entrepreneurs.
The Worry-Free Guarantee includes the following:
Annual alerts for report filing.

Documentation submitted for you (you'll only have to take care of the state fees).

Change your filings for free twice a year (fees for state filing may apply).

Covers necessary expenses to remain in good standing if your company misses a state requirement or deadline.
A company email, domain privacy, and website are extra features that come with the Premium package. These products are capable of helping your company gain visibility, safeguard private information, and allow customers to contact you.
Cost of LegalZoom LLC Services
LegalZoom provides a basic plan starting at $99 (along with state fees). Besides customer support that lasts a lifetime, there aren't any other beneficial features offered, at least in contrast to the packages offered by ZenBusiness. For instance, an EIN is included with a couple of ZenBusiness' packages. Conversely, LegalZoom charges for an EIN no matter which plans you select.
Easy to Use
Each LLC service is simple to use. Also, they come with efficient checkup times.
The whole order process for LegalZoom doesn't take any more than 20 minutes. If you cannot complete your order in a single sitting, LegalZoom will email you a link. Clicking it allows you to resume the process from where you last left off.
The advantage ZenBusiness has over LegalZoom is the customized online dashboard they provide. It serves as the main area where important documentation is accessible by the user whenever they log into their account.
Value
ZenBusiness's LLC services were created for owners of small businesses.
The company offers quality packages for business formation services. They provide the same LLC formation services that their competitors do, but at a substantially lower rate. Further, ZenBusiness offers other features with small budgets in mind. Ultimately, businesses big and small can benefit from the LLC services offered by ZenBusiness.
Commonly Asked Questions
Is ZenBusiness a good option?
ZenBusiness is on our number 7 list for best LLC formation services. You will find good prices and everything you need to start your LLC with ZenBusiness.
What is ZenBusiness?
ZenBusiness offers LLC and Corporation formation services. They will handle all administrative and filing requirements for your LLC/Corporation so that you can concentrate on your business growth.
What does ZenBusiness cost for an LLC?
LLC formation is as easy as $49. For most business owners, we recommend the $199 plan. ZenBusiness is undoubtedly the most affordable company in the LLC formation market.
What LLC package is best for ZenBusiness?
Most founders should consider the ZenBusiness Pro plan. This plan covers everything you need to get your business started immediately.
Why do I need ZenBusiness every year?
ZenBusiness charges an annual fee to use their registered agent service. To receive legal correspondence, companies are required to appoint and keep a registered agent. Your registered agent can be changed at any time.
Is Zenbusiness located where?
Zenbusiness offices can be found at 5900 Balcones Dr Suite #5000 in Austin, Texas.
What is the average time it takes to get EIN with ZenBusiness?
ZenBusiness will request your EIN form the IRS immediately after your business entity has been registered. Most people receive their EIN within a matter of hours after they register.
How can I get in touch with my ZenBusiness agent?
ZenBusiness is the registered agent. Call them at 1-844-493-6249 or contact them via email at [email protected]
ZenBusiness has a refund policy
ZenBusiness will refund your payment minus any expenses. Contact ZenBusiness immediately if you make an error. State fees cannot be refunded if they have been sent.
Is ZenBusiness able to provide excellent customer service?
ZenBusiness offers excellent customer service. ZenBusiness is one of few companies that offers extended support hours in addition to live chat, phone, and email.
What is included in ZenBusiness Worry-Free Guarantee
ZenBusiness offers a worry-free guarantee that covers your annual report as well as up to two amendments. You don't need to worry about meeting deadlines or making mistakes.
Customers are required to use services for business formation?
You don't have to use a formation company. All services offered by ZenBusiness are available with a standalone price. You have the option to choose and customize the service package that best suits your needs.
Is ZenBusiness a good value?
ZenBusiness is the best value. The best formation packages on the market are offered by ZenBusiness, starting at $39 + state fees.
Are ZenBusiness Customer Reviews Any Good?
Trustpilot rates ZenBusiness at 4.8 out 5 Their reviews are consistent and excellent on all review sites. They are highly praised by customers for their fast filing turnaround, great prices, and friendly customer service.
What's the difference between ZenBusiness & other business formation companies
ZenBusiness offers more for less. Prices for LLC formation start at $49 + applicable state fees. These prices are among the most competitive on the market. Turnaround times for formation/incorporation are very quick and their customer support is excellent.
Is there a better alternative to ZenBusiness?
Yes, alternatives exist. As an alternative to ZenBusiness, we recommend Incfile and Northwest Registered Agent.
Is ZenBusiness legal?
Yes, Zenbusiness is legit. Zenbusiness was established in 2015. It has created thousands of LLCs, corporations, and non-profits.
In Closing
After we reviewed and ranked the best business formation services available, ZenBusiness stood out superior to the rest based on customer feedback and competitive rates, among other factors. They provide a lot more features in comparison to their counterparts and are significantly cheaper, to boot.
Whether you need to form an LLC, incorporate, and/or need a good registered agent service, ZenBusiness is a leader in the LLC formation business, with pricing and service.
To form an LLC online, visit Zen Business.
---