We compare the LLC formation services of LegalZoom and ZenBusiness. This comparison examines the pros and cons of these two leading LLC formation services. We like ZenBusiness; they made our list again for best LLC service for 2022.
Summary & Results




Best LLC Service
Overall Winner = ZenBusiness!
Trustpilot Reviews (April 2021)
LegalZoom Total Score = "Great."
ZenBusiness Total Score = "Excellent"
Winner = ZenBusiness
ZenBusiness vs LegalZoom LLC Formation Packages
Plans, Prices & Features
Expedited Filing, Formation, 1-Year Registered Agent, Operating Agreement, Employer Identification Number (EIN), State Compliance 
Express Gold $1037
vs


Premium Plan $299
---
LegalZoom Express Gold Plan
What About These Services?
Registered Agent Service?
Operating Agreement with EIN?
Ongoing Compliance Assistance?
Not Included with the $349 Plan? 
These are the prices and features LegalZoom displayed on its website after I began the process and selected the state of Texas.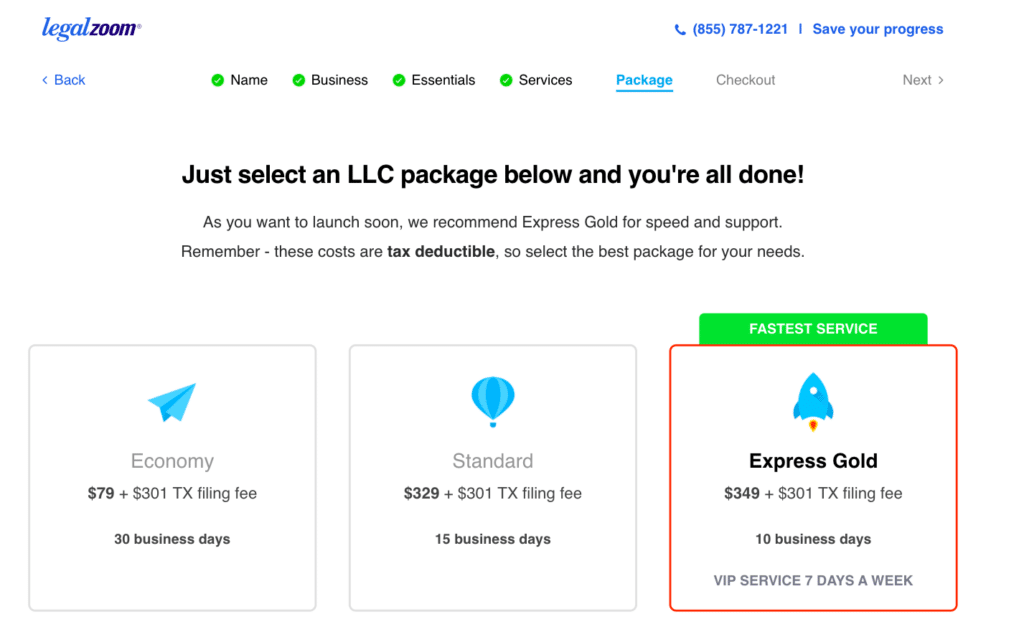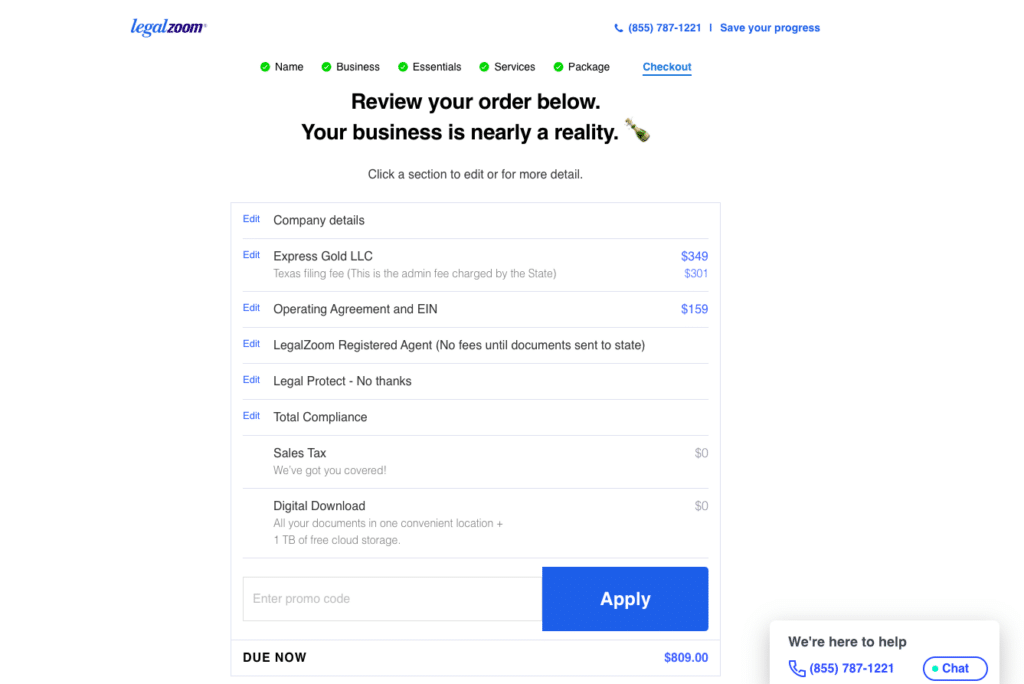 $349 Express Gold processing 10 business days
$249 Registered Agent 1 year (Charged when documents sent to state) 
$159 Operating Agreement and EIN
$280 Total Compliance

=

$1037 + state fee, taxes…  LegalZoom Express Gold LLC

LegalZoom's Express Gold plan seems to charge extra for Registered Agent Service, Operating Agreement with EIN, and "Total Compliance." Still, it was not easy to find any details about these services.
LegalZoom has a "Compliance Calendar" feature to remind customers of due dates, compliance, and requirements. They charge $69 per year. I have recently read that this was replacing "Total Compliance." Still, on July 12, 2020, LegalZoom continued to attempt to charge me $280. for "Total Compliance" as I was attempting to order the "Express Gold Plan" for an LLC in Texas.
ZenBusiness wins with having the best formation packages
BTW – Both Incfile and ZenBusiness provide this type of service at no additional charge in their popular LLC packages.
Note – These LLC services can change their pricing and features at any time; we suggest readers visit the websites today.
---
ZenBusiness Premium Formation Package
Expedited Filing  (Form an LLC 2-4 business days), Registered Agent $99 optional add-on, Operating Agreement, EIN, Worry-Free Guarantee, Business Website




= $299  ZenBusiness Premium Formation Package


Winner = ZenBusiness
These prices above were gathered from the LegalZoom and ZenBusiness websites in June 2020, and this information, including prices, may change at any time. We recommend our readers do their own due diligence.
---
ZenBusiness wins with having the best formation packages
The ZenBusiness 'Premium Plan' Includes a Business Website, Domain Name, and Website Dashboard
A website can also be added to the Pro Plan or Starter Plan




Website $100/year




Domain Name $25/year
ZenBusiness offers all customers a personalized dashboard to set up and customize their domain name and website at any time from a computer or mobile device.
✅ Set up your domain name
✅ Select a website template
✅ Customize your content and designs
✅ Generate new leads and customers
✅ Take payment from your website
LegalZoom Customer Support:

(800) 773-0888
Mon-Fri: 5 a.m.-7 p.m. Pacific Time  Weekends: 7 a.m.-4 p.m. PT
ZenBusiness Customer Support: (844) 493-6249
Phone or Chat, Monday – Friday, 8 am – 8 pm Central time, or Sunday from 10 am – 7 pm Central time.
---
Creating a Limited Liability Company (LLC) offers tax advantages for many small business owners. Whether you plan to keep your business small or grow it to be as large as possible, it all starts when you fill out the paperwork to form an LLC for your business formation.
However, the paperwork alone can be complex, with certain requirements that may not be fully understood or appreciated. Plus, each state has its own set of requirements which may not be obvious to those setting up a business or LLC.
For many, the biggest hurdle is either making mistakes or not filling out the forms correctly, which leads to delays and additional costs.
The advent of the internet and the digitalization of legal documents have led to a revolution in information sharing.
What once required a visit to the courthouse is now readily available at the touch of a computer or mobile device.
This is where online legal companies such as LegalZoom and ZenBusiness come in to help.
While both companies offer considerable advantages, there are certain differences that you need to know to make the best-informed decision. Comparing their services before choosing the right company will help you get started the right way.
LegalZoom LLC Services
One of the first online legal technology companies, LegalZoom, was formed in 2001. The company became quite well-known thanks to its extensive advertising campaign that featured famed attorney Robert Shapiro.
They started by providing many of the basic legal forms used by individuals and businesses. That includes wills, living trusts, copyright registration, trademark applications, and LLC formations.
The company has focused on business formation services, including limited liability companies and corporations.
Over the years, LegalZoom has expanded its services that are non-business formation-related. However, they do retain a considerable focus on individuals who want to create their own companies.
This is particularly true for those who want to form an LLC as part of their company formation efforts.
ZenBusiness LLC Services
The company started as a small business designed to help entrepreneurs make their dreams come true when creating their companies.
The goal was to make its LLC formation service faster and simpler across all 50 states. As a result, ZenBusiness became a public benefit corporation which helps keep their overhead low so they can charge less for their services.
When the company was pitched to Ross Buhrdorf, he coordinated with the founding members to focus on LLC formation and incorporation services.
Not only in getting started but in supporting businesses with an expert team along with improving technology. The result has been shaping services into packages, not unlike LegalZoom, in terms of content.
There are certain similarities and differences in reviewing ZenBusiness vs. LegalZoom. Understand them will help you make the best-informed decision.
ZenBusiness vs. LegalZoom: LLC Creation Comparison
As you might expect, there are several similarities that both LegalZoom and ZenBusiness offer in terms of LLC formation services and beyond. This is because the demands of LLC formation services fall along the same lines, so there is some crossover in terms of types of services for both companies.
Fast Execution of Services

Customer Support

Additional Services

Clear Package Pricing

Knowledge & Experience
Both LegalZoom and ZenBusiness will indeed work quickly to help set up your business.
This means that depending on the package you choose; they will register your business within a matter of weeks or even days.
This will largely depend on how fast the state you live in moves to complete the registration process, but both companies are similar in their speed.
In addition, the customer service offered by both businesses is similar in setup. You have a range of choices in how to contact either LegalZoom or ZenBusiness.
However, there is a significant difference in how effective each company is in customer service, explained in greater detail below.
Another area of similarity is the additional services that each company provides. This ranges from annual report services to providing a registered agent.
A registered agent is a legal representative that receives official documents from a government or private source. You must have a registered agent, although you can act like one in most states if you desire.
The advantage of having a registered agent is that either LegalZoom or ZenBusiness will always be available to ensure that they are received.
There are no hidden fees or surprise charges with either service. You will know in advance what is required for payment for all the services that are being provided.
This means that you can choose the one that best suits your budget regarding the needed services.
Finally, one of the most important areas that both companies excel in is providing information, tips, and insight into the running of your business.
This means that you can find basic information on the legalities of running your business on both sites.
While ZenBusiness has not been around as long, they have plenty of experience to provide an easy-to-understand language.
Although the similarities are many, certain differences separate the companies.
For those who are looking to choose between the two, understanding the differences is important.
Comparing The Differences Between ZenBusiness and LegalZoom
The most obvious difference is that LegalZoom is one of the world's most established online legal services.
Founded in 2001, the company is easily the best-known and highly recognized thanks to its widespread advertising campaign.
ZenBusiness was only formed in 2015, which means that they are the new kid on the block in many ways. But all things considered, being a young company does have its advantages.
Overall Services: If LegalZoom has a definite advantage over ZenBusiness, they offer services beyond company formation.
This means that if you need legal services that extend beyond the creation of your business or LLC, then you'll want to check out LegalZoom. However, ZenBusiness is not that far behind and perfect for LLC formation.
Who Has Better Registered Agent Services LegalZoom vs. ZenBusiness?
The registered agent services of LegalZoom are at least $100 higher per year compared to ZenBusiness. LegalZoom charges $299 per year, while after the first year, ZenBusiness charges only $119.
The difference is actually greater since ZenBusiness does not charge for its first year of registered agent services.
Who has Better Prices, LegalZoom vs. ZenBusiness?
While comparing LegalZoom and ZenBusiness, one of the most notable differences is the price between identical services from both businesses.
While you should always choose the company that offers the right services at the best price, the difference in price between both companies is quite noticeable.
LegalZoom is one of the more expensive online companies that specialize in business formation services. They charge $99 for their basic package, which does not include state fees.
ZenBusiness charges just $49 plus state fees for their LLC formation services. And this includes the first year of being a registered agent on your behalf.
When you throw in the customizable operating agreement that is the same for all their packages, this is a far lower price to pay compared to LegalZoom.
Who Has Better User Reviews, LegalZoom vs. ZenBusiness?
Another area where ZenBusiness has excelled in the service provided to its customers.
While LegalZoom has generally received average to poor reviews from many customers, mostly due to not addressing customer questions, being difficult to contact after a sale is made, and the vagueness of some of their procedures, ZenBusiness enjoys a solid reputation thanks to the many positive customer reviews it has received.
---
Verdict
In the end, both LegalZoom and ZenBusiness offer exceptional advantages in helping you fill out and file the proper paperwork to form an LLC. However, ZenBusiness will be the choice for most people due to its pricing and benefits. There are good reasons why ZenBusiness stands out as the best LLC service compared to LegalZoom.
While one of the most important factors in choosing ZenBusiness is the pricing of their packages, it is complemented by how the services are shaped to help business owners grow their companies.
This means that in terms of pricing, support, and services, ZenBusiness offers what you need. While LegalZoom does offer an arguably larger range of services that fall outside creating a business.
ZenBusiness, however, has a strong support team that helps business owners every step of the way. The reputation they have earned for exceptional customer service is second to none.
That is another reason why more people are choosing ZenBusiness for their LLC formation service and support needs.
For those who are creating an LLC or engaging in business formation services, ZenBusiness offers more directed services for less money. In addition, they offer the type of services that can be customized to your needs.
This makes them a better choice overall compared to LegalZoom, which is why they are one of the more popular online companies specializing in LLC formation services.
---
ZenBusiness Introduces "ZenBusiness Money" Payment & Invoicing Service
ZenBusiness Money is an all-inclusive payment and invoicing platform that makes it fast and simple for small business owners to get paid. You can send custom invoices, accept credit card and bank transfer payments, and manage your customers and clients in an easy-to-use dashboard.

ZenBusiness Money is available for download later this year.
---