Are you frustrated by the complexity of the DIY route and need to set up an LLC?
Although many companies like Northwest Registered Agent and LegalZoom offer LLC services, it can be hard to choose the right one for your company.
Compare Northwest Registered Agent and LegalZoom to find all the information you need in an easy-to-understand format that will assist you in making your decision.
LegalZoom vs. Northwest Registered Agent
Their Cheapest Formation Plan with One Year of Registered Agent Service
LegalZoom = $328
Northwest  = $39
 

LegalZoom

Northwest
Registered Agent

Notes

LLC Price
$79 + state fee
$39 + state fee
Northwest's filing fees cost $110 less

Registered Agent 
Price

$249
For the first year, it's free. Then, $125 per year
Many LegalZoom clients say that it is difficult to cancel.
Approval Time
30 Business days unless otherwise agreed
3-5 business days (in most states)
Northwest is, on average, three weeks quicker
Google Reviews
LegalZoom is rated 3.7 stars
Northwest gets 4.5 stars
Northwest receives better reviews
Customer Support
They can be challenging to reach. Sometimes, they will try to sell you more products.
Industry experts who are willing to share their expertise. Friendly. No sales pitches.
Northwest provides better customer service. And no "pushy" salespeople.
Data Privacy
LegalZoom sells customer data.
Northwest never sells customer data.
 
Which LLC company is right for you?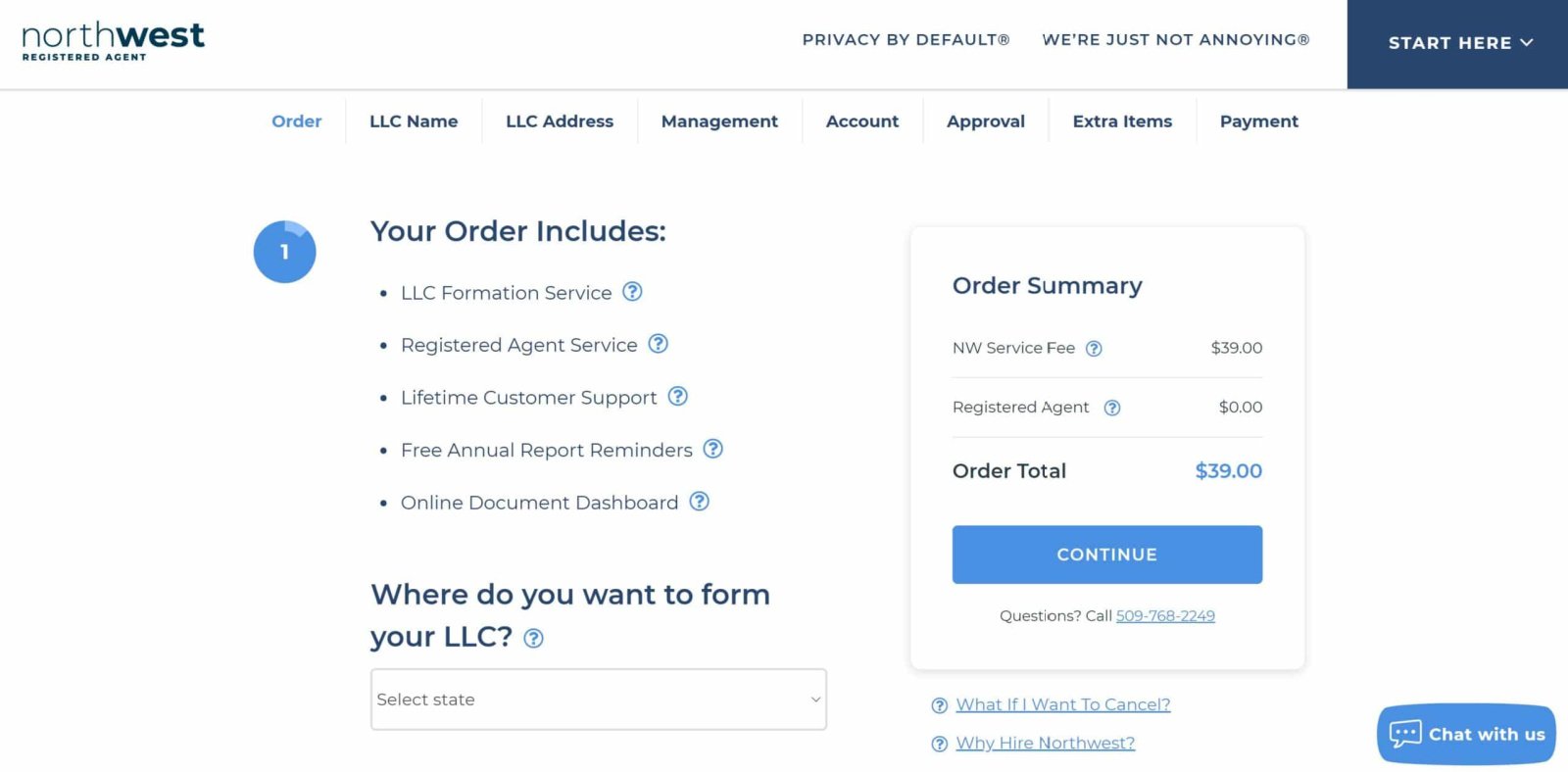 Visit Northwest Registered Agent
https://www.northwestregisteredagent.com
Visit LegalZoom
https://www.legalzoom.com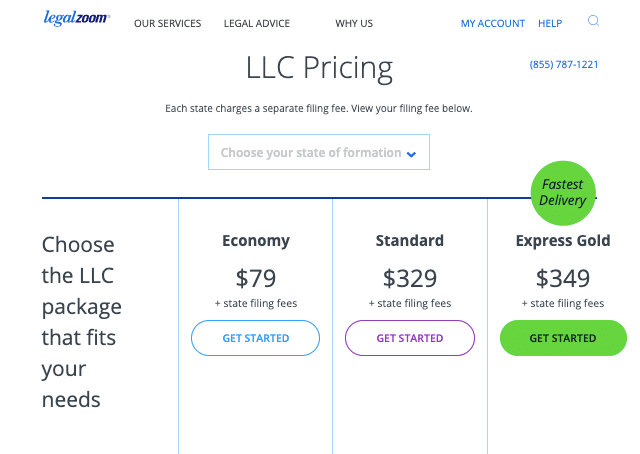 Before we go into the detailed comparison of Northwest Registered Agent and LegalZoom, let's briefly outline some of Northwest's benefits that make them our preferred choice.
First of all, Northwest provides a full year of registered agent support with every LLC service purchased, while LegalZoom does no such service in any of its LLC formation packages. LegalZoom offers only adequate support, while Northwest provides the best customer care in the industry. These benefits outweigh LegalZoom's lower price for LLC formation.
LegalZoom BBB Reviews
---
Northwest Registered Agent BBB Reviews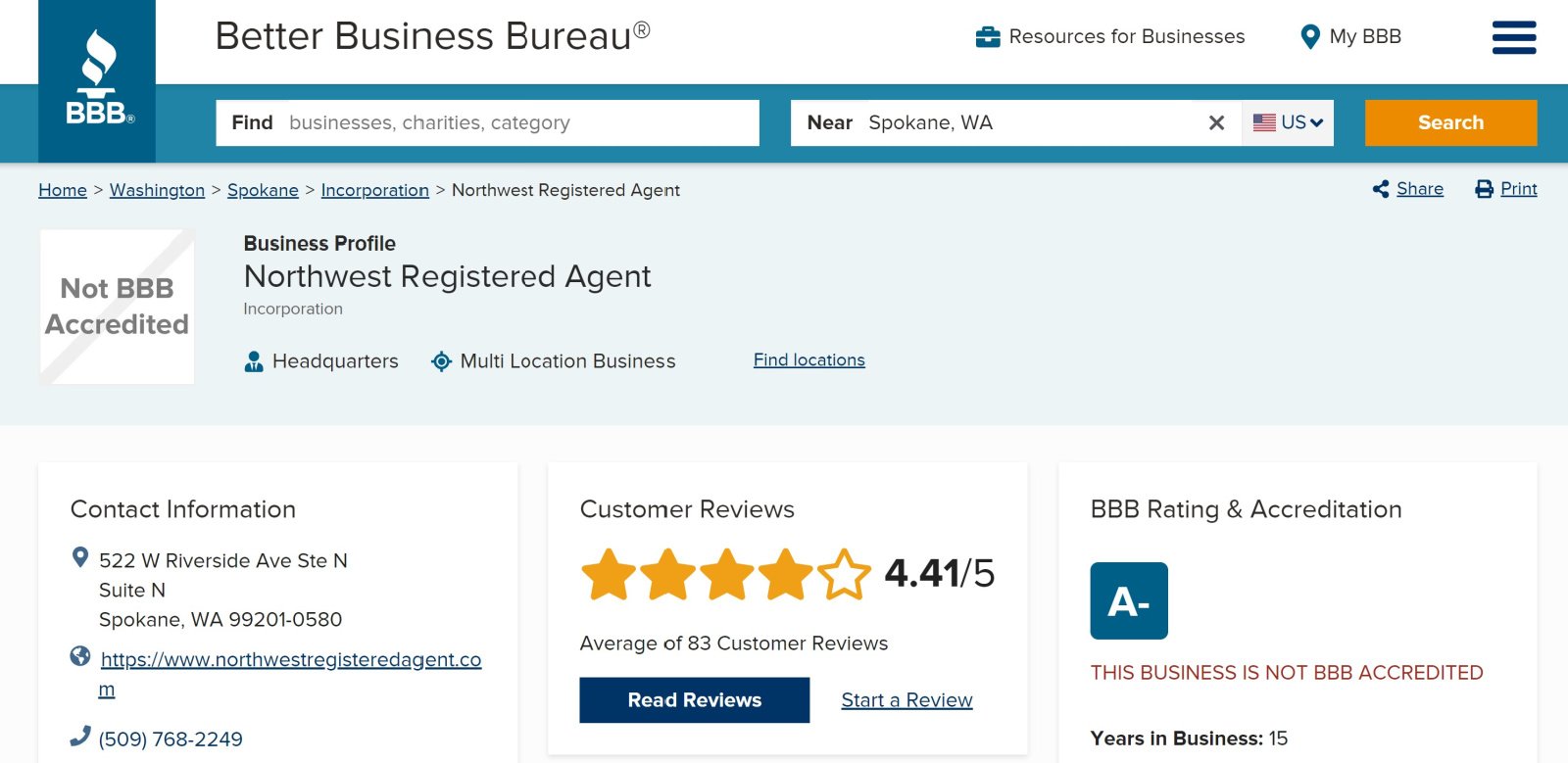 LegalZoom has many more BBB reviews than Northwest R.A. but they both have an average BBB review of 4.4/5.
LegalZoom BBB rating is A and Northwest BBB rating is A-
---
6 Things They Have in Common
1) Affordable: LegalZoom or Northwest Registered Agent can help you form your LLC without hiring a business attorney.
2) Customer support: These services can provide a considerable benefit. If you don't want to tackle the problem yourself, you can call their customer service department for help and get answers from qualified professionals.
3) Experience. LegalZoom has thousands upon thousands of happy customers. Northwest Registered Agent has the experience to earn your trust.
4) Additional services: Even after your LLC is formed, these companies still have much to offer. These business services provide comprehensive solutions for all ongoing compliance requirements.
5) Educational. Their websites offer many free tools to help entrepreneurs learn more about the business world and run an LLC. They provide extensive information about many business owners' issues, including licensing, asset protection, permits, and more.
6) Efficiency: LegalZoom, Northwest Registered Agent, and LegalZoom offer expedited services that dramatically accelerate your formation process. These services can often reduce the time to form your company from weeks or months down to days. Although it is an additional cost, it can be well worth it if urgent matters.
Price Comparison
Northwest Registered Agent only offers one LLC formation package for $39 (plus a $55 state fee). LegalZoom's lowest pricing starts at $79 and offers two higher-priced packages for $329 or $349.
Everybody would prefer to pay $39 instead of $79+. You might be surprised to learn that Northwest has managed to surpass LegalZoom's significant pricing differences to become our preferred choice. (See Details)
Features
These companies offer similar LLC services. The difference is that Northwest Registered Agent provides a full year of registered agent support. This includes their premium packages. LegalZoom does NOT have registered agent services with any of its LLC packages.
Consider this: Let's suppose you're determined to use LegalZoom for your LLC formation but want all the same features that you would get with a Northwest LLC Package.
LegalZoom will charge at least $249 more for one year of registered agent services if it is added to your LLC package. If purchased separately, the total cost would be $299.
Experience
Northwest Registered Agent, a mid-sized firm with lots of experience and expertise, is Northwest Registered Agent. They've been in existence since 1998 and have formed thousands of companies over the years. LegalZoom serves millions of businesses every year and is an enormous operation. They are both highly respected companies. It all depends on the type of business you want to do.
Customer Support
Northwest's customer service is exceptional. Their premium customer service is provided in-house by a team that includes professionally trained Corporate Guides. The first person we call with any questions regarding complicated state rules or the formation of an LLC can immediately answer our questions.
LegalZoom has its advantages. Although their support agents don't have the same level of knowledge as Northwest, they offer extended support hours. They're available for calls and emails every weekday from 8 AM to 10 PM ET and are even available Saturdays from 10 AM to 7 PM ET.
Turnaround Times
The difference is that Northwest Registered Agent's turnarounds are different by state. LegalZoom's depend on the level of service purchased: Economy ($79), Standard ($329) takes fifteen days, and Express Gold ($349) takes seven to ten days.
Both companies offer quick turnaround times. However, LegalZoom is slower in some states, and Northwest Registered Agent is faster in others. We like Northwest's process. This is because we aren't a fan of companies that charge a fee to speed up or slow you down in your formation.
Order tracking
Both services allow you to track your orders online and receive real-time updates. It is an easy way to see which stage your formation is in. We believe these companies are comparable in this area.
Registered Agent Service
Every LLC in America must select a registered representative. This is someone or a business that receives essential documents from the state government. They inform you of the receipt and then forward the documents to them. This is essential because the state should have a reliable method of reaching your company at all times.
Northwest Registered Agent provides a year's service as a registered agent with any LLC. After that, it is $125 per annum. Northwest is also the only primary national service that scans every document received on your behalf. Other services only scan government docs.
LegalZoom does NOT include registered agent service in any of their formation packages. However, they charge $299 annually. If you add this to your LLC package, you will get the first year for $249.
Customer Reviews
Northwest Registered Agent scores high in reviews, but only around 270 reviews online. LegalZoom, however, has more than 4000 reviews, but the feedback is more mixed. While they have more positive thoughts and fewer negative reviews, their customer satisfaction reputation is better. However, they still don't have some competitors' highest average review scores. Northwest's overall score is higher than average.
Easy to Use
The difference is not significant, so we will say that LegalZoom's website was a bit easier to use than Northwest Registered agent. LegalZoom's website has one problem: they can oversell you when you purchase.
Additional Services
They offer many similar services. Both can provide registered agent service and foreign registrations. LegalZoom, however, offers many personal services that Northwest Registered agent doesn't.
LegalZoom can help you draft an estate plan and a pet agreement. Northwest does not offer clients consultations with an attorney. LegalZoom's Northwest doesn't offer some services, including mail forwarding and virtual office.
Are you looking for the best LLC formation service?
While they are both excellent LLC formation services, there are many differences between LegalZoom and Northwest Register Agent. But some features make Northwest's service even more appealing and offer more excellent overall value.
Northwest provides a full year of premium registered agent services at no additional charge. This will add $249 to your LegalZoom package. Northwest offers consistent customer support.
But you might prefer one to the other for different reasons. With this in mind, let's look at some examples to help you choose.
Why Choose Northwest?
Do you seek the best customer care in the business? Perhaps you are a registered agent who places a lot of importance on customer service. Northwest Registered Agent may be the right choice.
When is LegalZoom Right for You?
Do you prefer the more popular service with high customer volume and lots of brand recognition? If so, choose LegalZoom.
Visit Northwest Registered Agent
https://www.northwestregisteredagent.com
Visit LegalZoom
https://www.legalzoom.com
---
FAQs
How does LegalZoom compare to other LLC services like Incfile
Incfile is a much cheaper option than LegalZoom for LLC formation.
Is Northwest able to handle additional state requirements like New York Publication?
Although Northwest offers great assistance in meeting state-specific requirements, such as publication, it does not provide a complete solution.
New York allows their clients to use the Albany address as their principal office, or "address of service of process." This will enable them to provide you with a step-by-step guide for completing the rest.
LegalZoom also doesn't offer a publishing service. BizFilings or ZenBusiness can handle this on your behalf.
Which service offers fewer upsells?
This is a significant difference between Northwest and LegalZoom. LegalZoom uses upsells in a way that Northwest doesn't. LegalZoom requires you to navigate $1,080 worth of upsells before choosing your LLC formation package.
How do you decide which features you require before you purchase your package? The short answer is that you don't. LegalZoom doesn't attractively present its upsells.
Do these services share my information with third parties?
Northwest does not sell private information. They are privacy by default' are both solid companies in this respect.
Ask LegalZoom or Northwest about this question to get up-to-date policies. Many of their competitors may share your information with as many third-party partners as possible. 
Does a refund policy cover these services?
LegalZoom's extensive satisfaction guarantee is a testament to their confidence in the quality and reliability of their products. They will refund your money within five business days if you request a return within 60 days after your purchase.
Northwest has a solid return policy, but it is not as good as LegalZoom. Northwest offers refunds too, but they charge a $25 fee for processing.
Which LLC formation website is faster in processing filings?
Because LegalZoom and Northwest both have different processing speeds, the answer to this question will depend on where you form your business.
The state's capabilities determine the turnaround times for Northwest. LegalZoom's turnaround times, however, are determined by which service level you choose. Their cheapest package takes the most extended (Economy, 30 days), while their mid-tier Standard package can speed things up to 15 days. The Express Gold package takes 7-10 business days.
Can I Register an LLC by myself, without needing a Service?
This is an option that entrepreneurs have, and many start their own LLCs.
This is why we don't usually recommend it. Each state has its interpretations of the LLC formation process. If you want to form your LLC, you will need to be familiar with the rules and regulations in your state.
We also love the peace of mind that comes from hiring a reliable service such as LegalZoom or Northwest because we know that each step was done in compliance.
What does it cost to create an LLC using LegalZoom?
LegalZoom offers formation packages starting at $79 and ending at $349. This does not include state fees. LegalZoom's packages do not have an Operating Agreement drafting or registered agent service. These services are pretty standard among other packages.
Is LegalZoom legit?
LegalZoom is a business that has been around since 2001. They have a decent average of reviews across multiple platforms and are BBB-accredited.
Is LegalZoom suitable for LLC formation?
LegalZoom's LLC formation packages may not be as comprehensive and are more costly than those offered by its competitors. The company has a strong track record and highly supportive customer service staff. LegalZoom is an excellent option if you are willing to spend more on support and expertise.
Is Northwest Registered Agent legit?
Yes, Northwest Registered Agent can be trusted. Northwest Registered Agent is a family-owned company with over 200 employees. They have been in business since 1998. They are located in Spokane, Washington.
What exactly is Northwest Registered Agent?
They offer corporate and LLC services. Northwest Registered Agent can help you form an LLC, act as your registered representative, and ensure that you comply with reporting requirements.