Summary: While comparing both companies, we think Inc Authority is a better choice for LLC formations; this is based on comparing prices,  services, and user reviews. Consider using LegalZoom if you want a better-known brand or need ongoing legal assistance.
We think Northwest Registered Agent offers better pricing, more features, and a long history of experience, compared to Inc Authority.
LegalZoom did not make our top 7 list this year.
Visit Our Top 7 Best LLC Services

One of the most interesting changes is that the internet has provided us access to legal services online. Such services as forming an LLC, writing a will, or filling out standard legal documents can now be accomplished quickly and inexpensively.
What was once an exercise in hiring local attorneys now can be performed using legal service companies that you can access through your computer or mobile device.
Two of the most prominent online companies are LegalZoom and Inc Authority. Over the years, both companies have established strong reputations for the online services they provide.
This means that choosing the best one for your needs will come down to the exact services needed, the prices offered, and the support that is included when you need questions answered.
However, before deciding between either company, it is important to understand what business formation services entail. This means knowing how LLC formation services work.
Incfile: An Alternative LLC Service 
Incfile vs. LegalZoom
LLC Filing, Formation, EIN (Tax ID), Operating Agreement, One-Year Registered Agent, Compliance Reminders, Express Shipping
Incfile $149 + state fee 
VS
LegalZoom $826 + state fee
$349.  LLC Filing
$249.  One-Year Registered Agent
$159.  Operating Agreement, EIN
$69.    Compliance Calendar
= $826 + state fee
Visit Our Top 7 Best LLC Services 
---
What exactly is an LLC?
If you consider creating a business, you will need to choose the type that best fits your needs. This means either creating a corporation or LLC. There are differences between them, so you will need to understand the basics before making your decision.
An LLC is a Limited Liability Company that basically places the tax burden of the profits onto your individual tax form.
That way, you are not paying business taxes and the taxes that you collect from the profits or salary you earn separately. By putting it all in one, it simplifies your tax situation.
LLCs are perfect for small businesses, especially those with relatively few employees. They are a popular choice because of their flexibility, tax management, and ease of requirements.
Corporations are formed primarily when business owners are looking to have investors participate in the company itself.
This means obtaining outside money often through the company going public. Corporations are rather complex in that they require issuing stocks, creating bylaws, and forming a Board of Directors to run the company.
For the most part, LLCs are the most popular choice. This is because the advantages of creating a corporation are not nearly as good compared to an LLC for small business owners.
What follows are basic descriptions of both companies, followed by their similarities and differences. This will help you make the best-informed decision about which company to choose if you consider forming an LLC.
LegalZoom
There is little doubt that LegalZoom is the most well-known online legal service company. It's also one of the first companies of its type to go online.
LegalZoom Reviews on Trustpilot March 23, 2021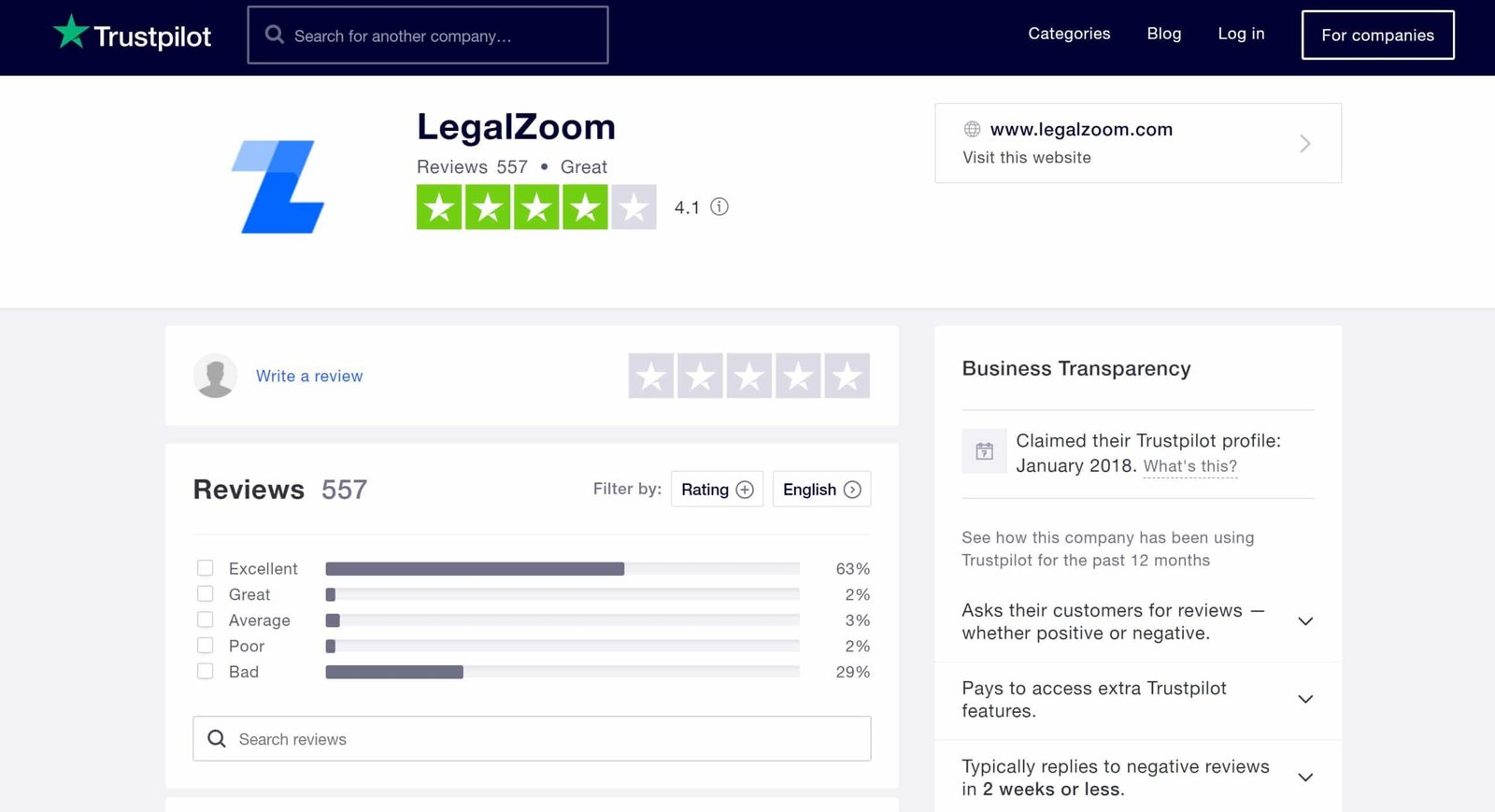 Established in 2001, LegalZoom has built a vast client base thanks largely to its prolific use of advertising. Although the company specializes in business formation services, it also offers wills, copyright registrations, and other legal documents.
LegalZoom offers business and LLC formation services depending on the type of company that you want to run. The basic features of the services providing include the following.
Business Name Check

Registered Agent

Essential Document Services

Advice, Tax & Legal Compliance

LLC Package Services
Three basic packages range from the cheapest at $79 for basic LLC formation services. The other packages include hiring a registered agent, VIP processing, and providing share certificates. The more expensive the package, the faster your paperwork will be delivered.
The package services allow you to choose the right collection of services you want for your needs. LegalZoom offers more services when you pay a higher fee than most companies.
For additional information on LegalZoom, visit this website's article.
Inc Authority
Founded in 1989, Inc Authority has helped form more than 130,000 businesses in the US. However, business, corporation, and LLC formation are just part of the services they provide.
---
Inc Authority Reviews On Trustpilot January 10, 2021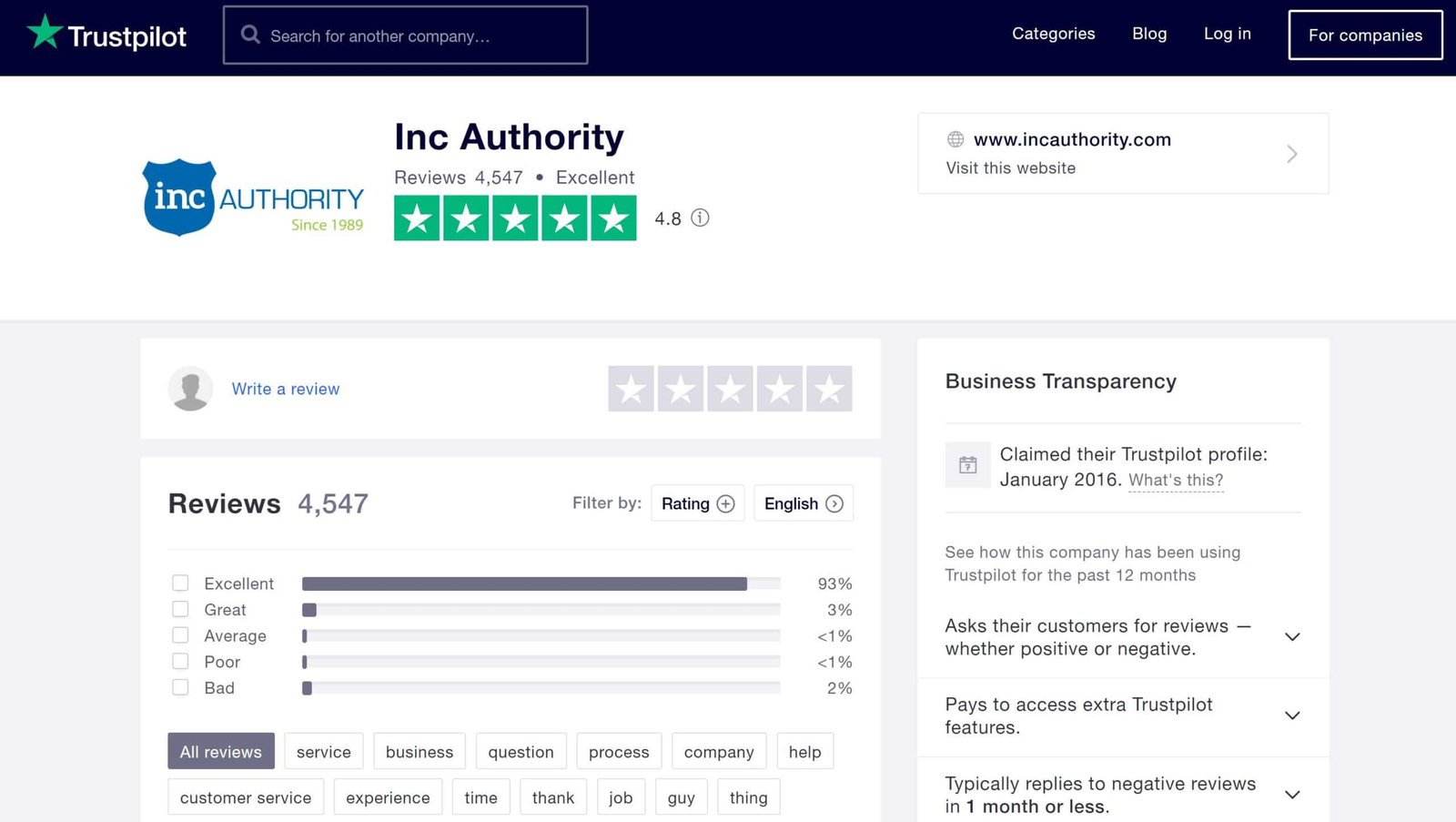 Inc Authority put their services online after LegalZoom was established, and today they serve the entire US.
In creating an LLC, Inc Authority offers several services associated with this type of business formation.
Business Name Check, Preparation & Filing

Registered Agent, Digital Storage & Delivery

S-Election Form, Checking & Merchant Services

Tax Planning Consultation, Business Funding Analysis, and INC CARE Support
As you can see, many of the services operate in support of businesses well after being formed. This includes consultation for tax planning, analysis for business funding, and checking and merchant services for retail shops and the like.
The INC CARE Support is a special phone line and email address to send in questions about the services provided.
Similarities & Differences
Business Formation: Here, both LegalZoom and Inc Authority offer similar services in terms of the following.
Registering a Business: Including business name

Preparing Formation Documents

Registered Agent

Obtaining an EIN

Ensuring All Proper Documents are Filed
In addition, both companies offer similar services for creating Limited Liability Companies or LLCs. However, this is where the similarities end.
Registered Agent: One of the more overlooked services with forming a business is having a registered agent.
This is the person who takes legal documents from local, state, and federal authorities. While some business owners act as their own registered agents, most rely on a separate agent to receive such legal documents.
LegalZoom charges for registered agent services depending on the package that you have selected. The charges vary, but for the most part, they are more expensive compared to Inc Authority.
At Inc Authority, you get registered agent services for free for up to one year when you sign up for the LLC package. After that, there is a fee for each year the registered agent is used.
Pricing: There are differences in the pricing that both companies offer similar services. The most obvious is the formation of LLCs, which have become a cornerstone of both companies.
LegalZoom charges $79 plus state fees to file the paperwork to create an LLC. Conversely, Inc Authority does not charge you, but you must pay the state fees associated with creating an LLC. As you can see, you save $79 right away using the services of Inc Authority.
Many have a question about Inc Authority's free LLC formation: how does the company make money if they do not charge for such a service?
The answer is that Inc Authority offers several other services that many business owners use, so the free LLC formation could be considered a lead or enticement to try other services that Inc Authority provides.
It is important to note that Inc Authority does not provide a catch or condition to use its LLC formation services. You only have to pay the state fees and any postage required.
Customer Service
Arguably the most significant difference between LegalZoom and Inc Authority is the reputation each company has earned with its customers.
Independent sites such as Trustpilot gather reviews from customers to better understand how each company responds to inquiries and solves issues.
Unfortunately, LegalZoom has garnered a strong reputation for being difficult to contact regarding questions and complaints about their services.
While the reviews listed on TrustPilot are undoubtedly harsh, it is essential to remember that five to ten or more do not write a review for every customer that does write a review.
LegalZoom, based on customer reviews from an independent source, is sorely lacking in customer service.
Conversely, Inc Authority has a stellar reputation for customer service. From answering the phones to providing the right information quickly, to delivering the promised services, Inc Authority has delivered.
While some of the reviews seem too good to be true, and even the best companies will falter now and again, the emphasis that Inc Authority has for its customers is unmatched in the industry.
Of course, you should make customer reviews as part of the process of choosing the right company.
What can be said is that Inc Authority has established a strong pattern of effective customer service reflected in their reviews.
While LegalZoom does have some issues, you should also consider their services to make the best-informed choice.
Which One is Better For LLC Formation, LegalZoom, or Inc Authority?
While there are advantages to both LegalZoom and Inc Authority, it is true that in terms of overall services, pricing, and the reputation the company has built with its customers, Inc Authority edges out LegalZoom.
When you see the user reviews on independent platforms such as TrustPilot, Inc Authority does have the advantage.
While your needs may vary and LegalZoom does offer some excellent choices, Inc Authority beats it out when considering the total package of services available. You should do your own research and compare LegalZoom and Inc Authority in terms of the services that you need.
But in the end, both companies enjoy strong reputations for what they provide. At that point, you can base your decision on what you need at the prices which fit your budget. And that is where Inc Authority has the edge.
Northwest Registered Agent is another company to consider for LLC formations and incorporation services. Check them out in this article, LegalZoom vs. Northwest.