We have listed 7 of the best payroll services for our readers to consider.
Our top 7 picks for best payroll service in 2022 are,
Gusto 

Editor's Choice!

  www.gusto.com
Paychex   
Quickbooks Payroll  
OnPay
JustWorks
Wave
ADP
Both the tax obligations and payroll processing for employees can be stressful tasks for HR managers and business owners. Mismanagement of payroll can lead to employee disillusionment and even tax penalties.
This is the best way for you to manage your risks. Automate your payroll using an online payroll service. Each solution on my list was chosen for a different reason.
Best Payroll Services: Comparison Table
| Brand name | Starting monthly cost | Payroll type | Payroll tax administration | Get started |
| --- | --- | --- | --- | --- |
| Gusto | $39.00 + $6.00/payee | Full-service payroll software | Yes | See Plans |
| Paychex | Contact for quote | Full-services payroll software | Yes | See Plans |
| QuickBooks | $36.00 + $5.00/payee | Full-service payroll software or PEO | Yes ( extra fee applies) | See Plans |
| OnPay | $36.00 + $4/payee | Fully outsourced bookkeeping | Yes (extra fee applies) | See Plans |
| Justworks | $35.00/mo. + $5.00/payee | Full-service payroll software | Yes | See Plans |
| Wave | $20/mo.+ $6.00/payee | Full-service payroll software | Yes | See Plans |
| ADP | Customized plans. Ask for a quote | Full-service payroll software | Yes | See Plans |
Data as of 01/01/22. Offers and availability may vary by location and are subject to change.
GUSTO Payroll
Gusto Pros and Cons
| PROS | CONS |
| --- | --- |
| Exceptional user experience | No time tracking features are included with the Core plan |
| Simple, intuitive payroll processing, even for novices | Sometimes the screens load slowly |
| Contractor-only version |   |
| customizable reports |   |
| Comprehensive mobile access |   |
Gusto currently processes payroll for over 100,000 US businesses. Some companies have local workforces, while others are remote and employ people from all 50 states.
Gusto simplifies managing dispersed workers with an engaging user interface.
It makes payroll, HR, and benefits simple for employees and administrators.
Gusto is somewhat similar to OnPay. They focus on the user experience and make complicated topics easy to understand and manage.
With a playful approach to design, they make it enjoyable.
Gusto is a bit different from OnPay in the way they approach this, while also including core functionality required by larger businesses.
Gusto Reviews on TrustRadius
In early 2022, Gusto has an average score of 7.5 out of 10 on the TrustRadius website with 171 customer reviews. Gusto's unique combination of simplicity and robust functionality is the reason I chose it to be our #1 pick and why it's great for remote teams.
Gusto Strengths
These are the top areas where Gusto shines:
It's easy to use: Onboarding new employees and managing remote workers can be difficult. Gusto makes it simple for a new company to start up, and it is also easy for employees to learn the ropes.
Streamlining your onboarding and hiring processes: This is crucial if you want to grow your business. Gusto makes it easy to hire new employees in an automated way. Gusto is great for remote employees.
Built-in time management tool in higher tiers:

This feature is available to employees who need to track their time. You can subscribe to Gusto at a higher level and get this feature. You can also skip the integration with third-party tools, unlike OnPay which only allows integrations and has no native time tracking functionality.
Gusto's simple and clean design is very user-friendly
With simple checklists and templates for basic tasks like offer letters, onboarding new staff is easy with digital signatures.
Gusto makes it so simple for employers to make in-person staff onboarding a thing of the past for even localized workers.
Remote workers also appreciate the ease of onboarding new employees. An automated email series can be sent to guide the employee through the onboarding process. This allows employees to work with smaller chunks of information rather than experiencing data overload on their first day at work.
Gusto is easy to understand for anyone on staff, even those with limited tech skills, which saves time and helps solve common issues.
Gusto offers unlimited payroll runs and flexibility for running your payroll monthly.
There are no predetermined payroll cycles and you won't be charged extra for processing more payroll.
Gusto allows you to adjust your payroll processing needs as they change or when you have to deal with a specific situation.
Gusto offers automated payroll. This feature is especially useful for businesses that have static payrolls such as an all-salaried staff.
After you have set up your initial payroll information you can make it run automatically for every pay cycle. If you need to make a change, this feature can be turned on or off using a simple toggle switch.
Gusto also makes it simple to submit local taxes withholdings if your business is one of the subject areas.
Gusto Weaknesses
Gusto is a great product, but there are some flaws that need to be noted.
Gusto's customer service is a mess. Although they may respond quickly to your initial call, customers consistently stated that it can take several calls over days or weeks to resolve the problem.
Integrations can be difficult: Gusto claims it "plays nicely with your favorite software" but the user experience is a completely different story. Users had difficulties integrating Gusto with popular accounting programs like FreshBooks, Sage, and Xero.
There are no PTO requests (on the basic plan) or approved-PTO sync: Gusto users must subscribe to a higher-tier plan to get the same PTO functionality as OnPay.
We interviewed users who were unanimous in their disapproval of Gusto's customer service. Gusto customer service representatives are accessible Monday through Friday during extended business hours. However, they seem unequipped to answer user questions.
Many users also complained about long wait times and the need to make several calls over many days or weeks in order to resolve their questions.
This is a problem if you're a startup that doesn't have a dedicated HR department but needs more support.
Gusto's performance in this area is not great. Gusto has built a strong, one-stop shop that provides HR and payroll services. However, this comes with a price. Gusto encourages you to switch to Gusto and one of its preferred brokers, according to many of the users we interviewed.
Gusto's HSA/FSA benefits are also not available in all 50 states.

Payroll and 401(k), while available throughout the United States, are not available in all 38 states.

HSAs or FSAs are available only in 38 states plus DC.
This will be a problem if your employees or business are located in one of 12 states that are not yet covered.
Gusto relies on an optimized website instead of a mobile app. This is not a major issue, but it does make me curious about why a product that places so much emphasis on user experience has neglected this feature.
Gusto offers a limited employee-facing app called Gusto Wallet. The app allows employees to view their pay information and tax documents. All other tasks must be completed in Gusto's web version.
Gusto's inability to integrate with third-party software, especially accounting software, is the most surprising thing on this list. Gusto was not able to be connected with Xero by one of our interviewees.
He eventually gave up and left Gusto for a different service. He noted that although they said it would sync between them, they didn't play well together.
Gusto Pricing
The pricing for Gusto includes a monthly base price plus a per-employee charge:
Core: $39/month + $6/employee
Complete: $39/month + $12/employee
Concierge: $149/month + $12/employee
Select: custom pricing
Gusto uses a traditional pricing approach, similar to ADP Paychex and QuickBooks Payroll. In stark contrast to a single-price model, Gusto offers multiple tiers.
Gusto has three levels: Core, Complete, and Concierge. Each tier has a flat monthly cost and a per-employee rate. You can also choose a Select option that allows you to customize the price and other details.
Core - $39 per month plus $6 per employee per month. The Core Plan includes employee self-service, worker's compensation administration, and health benefits, as well as PTO policies. This basic tier does not include PTO and time tracking, unlike OnPay.
Complete - $39/month plus $12 per employee This tier includes all Core features plus employee offers, onboarding, time tracking, and time-off requests. It also offers surveys and an employee directory.
Concierge - $149/month plus $12 for each employee per month All Core and Concierge features included. Also includes access to HR professionals certified and an HR resource center.
Gusto allows you to add additional services to any package, regardless of what it is.
Plans with 401(k).
529 College Savings Plans
HSAs and FSAs are not available in all states.
Workers' compensation
Gusto offers an exclusive contractor-only option to companies without W-2 employees. The cost is $6 per person and comes with limited services such as:
Unlimited contractor payments in all 50 States
4-day direct deposit
1099-NECs
Reporting on new hires is required
Gusto gives you a 30-day free trial so that you can get a feel for it without making any financial commitments.
Gusto is a great choice for HR professionals and progressive business owners who manage a diverse workforce. Compare Gusto with Zenefits and for more information read Gusto vs TriNet and our article on how Gusto compares with SurePayroll
---
Paychex Payroll
Paychex Payroll Pros and Cons
| PROS | CONS |
| --- | --- |
| Powerful real-time analytics | Hidden fees for setup & EOY tax docs |
| Payroll automation features | Mixed reviews from users regarding support |
| Direct deposit, paper checks, and paycards |   |
| Salary, hourly, and contract workers |   |
| PTO and benefits management |   |
Paychex is of our favorites. Paychex has been around for decades, and generations have seen its logo on paycheck stubs.
Paychex's 50-year history has seen it grow to offer a complete suite of payroll, HR, and time tracking services.
This solid service offering speaks volumes about the market Paychex serves. They will accept small businesses with less than 10 employees. However, they are more interested in larger companies with many employees and dedicated HR staff.
Paychex is different from Gusto in that it does not focus on the user's aesthetics or hand-holding. They offer services that are tailored to companies with complicated payroll and HR requirements.
Paychex's Strengths
Paychex offers advanced customer service: This company can provide 24/7 customer support. Paychex also provides a dedicated payroll specialist to each customer at the higher subscription levels. This specialist acts as the point of contact for all customer queries.
Paychex has a wealth of knowledge in payroll tax law: With all the resources available to them, you would expect them confidently manage tax laws at any level, including local. They do. ADP, Paychex's heavyweight counterpart, can't do the same.
Paychex offers integrated time tracking services: Paychex is focused on making it simple to track employee time regardless of the tier of service purchased. The Time Clock feature works in the same way as a punch in/punch out system.
Paychex Flex Time is a cloud-based solution that allows for more flexible time and attendance. Both time management options transmit data seamlessly to payroll and HR systems.
Paychex is also a top-rated company when it comes to accurately processing taxes. Paychex is a long-standing company that can accurately process taxes.
Paychex places a strong emphasis on mobile payroll in two ways. Paychex offers a mobile app for administrators, which is different from Gusto. Administrators can process payroll anywhere, anytime.
Paychex also offers time tracking options for mobile and local workforces.
Paychex users from online reviews have many positive comments about reporting, which is an essential component of any payroll service. Users loved the Employee Earnings Report and Payroll Journal.
Users were impressed with the ease of custom reporting. This feature is unique among all customized reporting products on my list.
Paychex's Weaknesses
Paychex does an excellent job overall but there are some areas that could be improved in order to remove some of the recurring complaints.
The user interface is complex: Although the design is simpler than OnPay and Gusto, Paychex complicates it with too many options. Again, this is a sign that their target audience is not the "hand-holding" type but seasoned HR professionals. Paychex is easy for experienced HR professionals, but it can be difficult for users who are less familiar.
Paychex has many integrations that are difficult to integrate. Paychex offers more than 100 third-party integrations. This makes Paychex compatible with most other tools you may already be using. Many users have found it difficult to get the two tools to work together.
Paychex keeps pricing a secret. Paychex, unlike any other service on the list, makes it difficult to find pricing and packages. They want you to sign-up for a complimentary consultation to receive a customized quote.
There are two types of people when it comes to learning new payroll software: those who have a lot of knowledge and are willing to do the research on their own; and those who don't know much about payroll but want personalized attention.
The administrator interface can still be confusing, even though it is very basic. While experienced HR professionals will enjoy the ride, someone who doesn't have any HR or payroll knowledge may feel overwhelmed and intimidated by all the options. Although it is possible, it will take several payroll cycles before you feel comfortable with the process.
I was surprised by online user complaints about the difficulty of some integrations, especially with time tracking software. Paychex customers may find additional work due to difficult integrations.
Paychex's online price information sharing is unclear. Like a lot of online payroll services, the published prices are a gauge, to get an idea of the range. Contacting the company and answering a few questions can give you a clearer idea of the prices.
Paychex Pricing
Paychex pricing information is like looking for the Holy Grail. Although it might be out there, it can be very difficult to find. It's amazing to feel like you did something special when you finally find it.
This approach is completely different from Gusto, OnPay, and QuickBooks which all place their pricing front-and-center.
Flex Essentials - $39 per month + $5 per employee. It covers the essentials. This service is less expensive than OnPay or Gusto but offers more services.
Flex Select - Custom quote only All the Flex Essentials services plus a dedicated payroll specialist and mobile app for payroll administrators. Access to e-learning services and additional employee pay options.
Flex Pro - Custom quote only All the Essentials and Select services, plus some additional services that are usually only required by larger companies. You will need to upgrade to this tier in order to receive basic services such as accounting integrations or garnishments. These services are offered at a lower price point by other top five tiers.
Paychex offers a 30-day free trial. However, Paychex occasionally has specials that give you three months for free. You'll need to do some searching to find them.
Paychex pricing is not perfect.
Numerous user reviews have shown that prices can rise quickly, especially when a la carte options are added.
Many people abandon the service because of rising prices.
Paychex is a powerful tool for HR professionals and payroll staff. However, it will not be enough for those who don't have a payroll background.
---
QuickBooks Payroll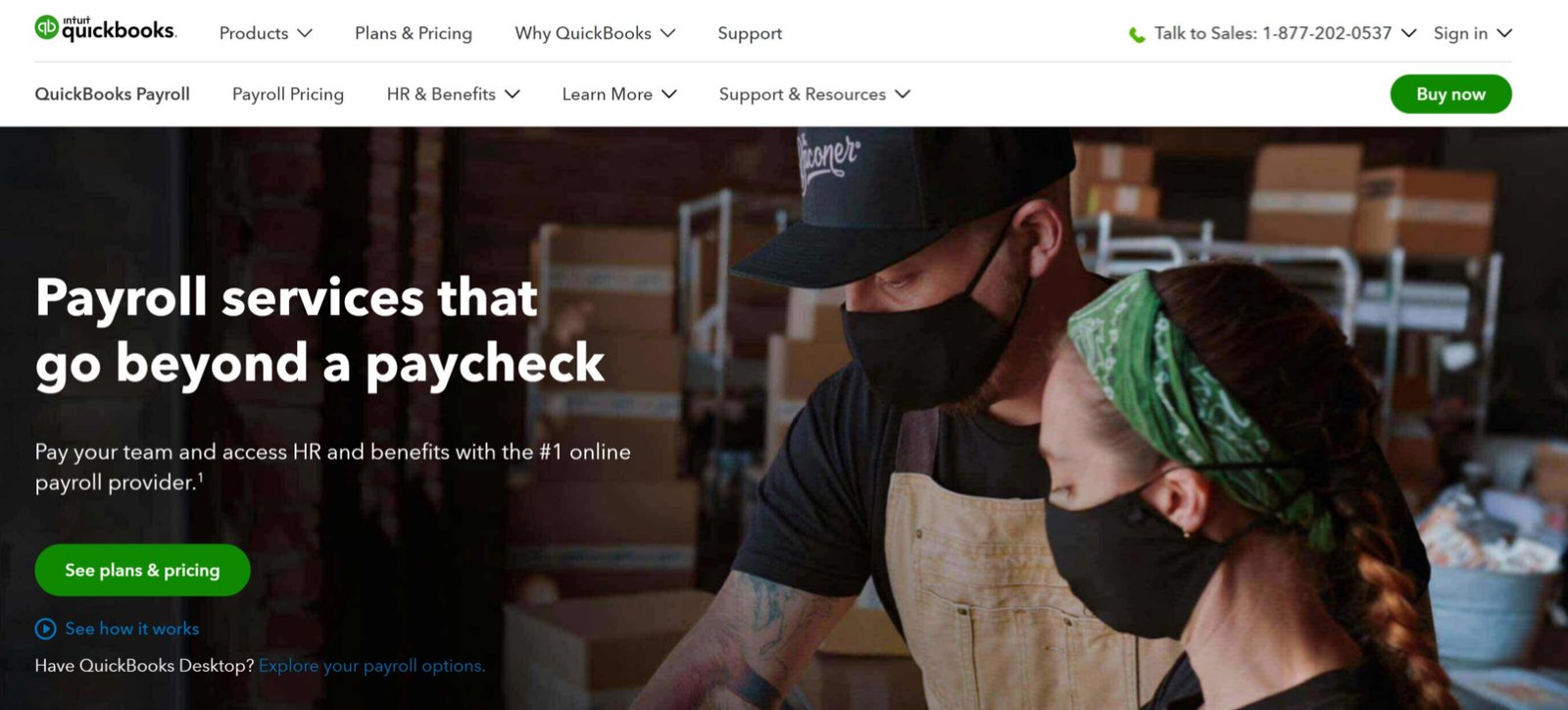 QuickBooks Payroll Pros and Cons
| PROS | CONS |
| --- | --- |
| Smooth payroll process | Expensive |
| Excellent tax knowledge, flexible payroll, and tax handling | Could use more online help |
| Deep integration with QuickBooks Online and QuickBooks Time | Mobile app missing some functions |
| East custom reporting |   |
| New Payroll Tax Center |   |
It is impossible to underestimate the power of a brand, and QuickBooks is a well-known name in accounting software.
This company has built a reputation for being reliable and simple to use over the years. QuickBooks Payroll is also a product of this reputation.
It is obvious that QuickBooks Payroll is a great option for those who already use QuickBooks. With just one click, you can integrate both from QuickBooks accounting software.
But QuickBooks Payroll is also perfect for any small business that wants a standalone, trimmed-down product for payroll management--something that's easy to use and gets the job done without unnecessary bells and whistles.
QuickBooks offers a small package of payroll services at an affordable price. It is best suited to individuals and small businesses that value cost over additional functionality they don't require.
Where QuickBooks Payroll Excels
QuickBooks Payroll has many great features for solopreneurs and business owners who are responsible for managing small teams.
QuickBooks Payroll is very intuitive. It makes it simple for people without a payroll background to get paid. The new Payroll Tax Center Dashboard makes it easier to use the service.
Tax penalty protection: QuickBooks Payroll is unique among the products I have reviewed. It offers monetary protection up to $25,000 per annum to pay tax penalties and interest. This type of insurance is not available to small businesses, but it can help them avoid financial ruin.
Time tracking simplified: QuickBooks Time lets users track their time via a website or mobile app. The data is then automatically fed back into QuickBooks Payroll.
All of the users that we interviewed used QuickBooks Payroll with QuickBooks. All users agreed that QuickBooks Payroll helped them save significant time each month. It also reduced expenses.
One user shared that they used to spend at least an hour each month processing payroll before using QuickBooks Payroll. Their processing time has decreased to minutes since converting.
And, as another interviewee noted, "It's saving me money from having to pay my accountant/bookkeeper."
QuickBooks Payroll's tax penalty coverage can save users who are willing to pay more every month. Things can quickly get complicated when you're on the IRS radar. It can be worth paying more for a higher-tier package if you know your payroll software is there for you.
Pre-built reports were also praised in both the reviews and conversations we had with users. Although 20 pre-built reports might not seem like much, they are a great compromise for users who have simpler needs.
It's also a big win to track time. You can track hours accurately with the QuickBooks Time mobile app on iOS and Android, regardless of where an employee is working. The app even includes geofencing technology, which is a unique feature among our top five products.
QuickBooks Time is also easy to use and versatile. One user even adopted it internally to manage client billable hours.
One user who spoke to us said that QuickBooks Time works for them in a way it wasn't intended for. We are a marketing agency and have many customers. So we track how much time we spend on each account and day. This is internal tracking to ensure we aren't over-serving or under-serving clients.
QuickBooks Time can be purchased as an a-la-carte service at the lowest QuickBooks Payroll subscription tier and is included at higher tiers.
What QuickBooks Payroll could improve
QuickBooks Payroll can be used for many purposes, but not all.
Integrations are limited: QuickBooks Online does not allow for integration with third-party tools. Intuit products cannot be integrated with yours.
We were disappointed in the customer service at QuickBooks. They are slow to respond, slow to follow-up, and difficult to reach.
There are very few HR tools. QuickBooks Payroll is a laggard, especially when compared with what the top five offer. This is a problem for users who need both payroll and human resources.

QuickBooks Payroll's biggest problem is its inability to be used for accounting purposes by anyone who isn't already using it or is willing to do so. Users can't use the 650+ integrations that QuickBooks Payroll boasts about.

QuickBooks Payroll cannot be integrated with any other accounting software. This is a major limitation for anyone who wants to do more than basic payroll.
Numerous reviews have repeatedly criticized QuickBooks Payroll's customer service, pointing out that they are slow to respond and have long wait times.
Users often turn to third-party resources when they have unexpected problems. This was something one interviewee first-hand.
Many users have reported significant problems with IRS tax-related issues or employees not being paid. These complaints date back to 2016. These unexpected problems can prove to be frustrating for payroll managers who are not experienced.
Another problem is the lack of HR tools.
QuickBooks Payroll's top-tier plan is not affordable, so you can only capture a portion of these services.
For some businesses, tax calculations can also be a problem. For workers performing services in multiple states, QuickBooks Payroll requires manual entry.
This is true even for employees who move frequently. QuickBooks Payroll can only track two states. QuickBooks Payroll may not be able to track your multi-state workforce.
For most solopreneurs and small businesses, this is unlikely to be an issue. This is an example of why QuickBooks Payroll isn't ideal for large companies with many employees.
Pricing for QuickBooks Payroll
QuickBooks Payroll has some of the lowest pricing, with 50% off the first three months. After the three-month discount, OnPay is less expensive than OnPay.
QuickBooks Payroll's affordability makes it a great choice for small businesses and individuals who only need to manage small payrolls, but don't want to spend extra money.
QuickBooks Payroll provides clear pricing on its website, in line with its target audience of individuals and small businesses. With just a few clicks, anyone can easily understand the options and begin service.
Core - $45/mo plus $4/employee. This plan is the entry-level one and includes auto payroll, 1099 E-file and Pay, product support, and next-day direct deposits.
Premium - $75/mo plus $8/employee. All Core offerings plus same-day direct deposit and expert payroll review. Mobile time tracking
Elite - $125/mo plus $10/employee. All Premium and Core offerings plus expert setup, mobile tracking, 24/7 support, tax penalty defense, and HR advisory services
QuickBooks Payroll offers several a la carte services including:
Plans with 401(k).
Health benefits
App for time tracking
Administration of worker's compensation (for higher tiers only).
HR Support Center (only for higher tiers)
QuickBooks Payroll offers a free 30-day trial and special pricing for the first three months.
Bottom line: QuickBooks Payroll is an excellent option for small-business owners with less than 10 employees or solopreneurs who want simple payroll services.
---
OnPay Payroll and HR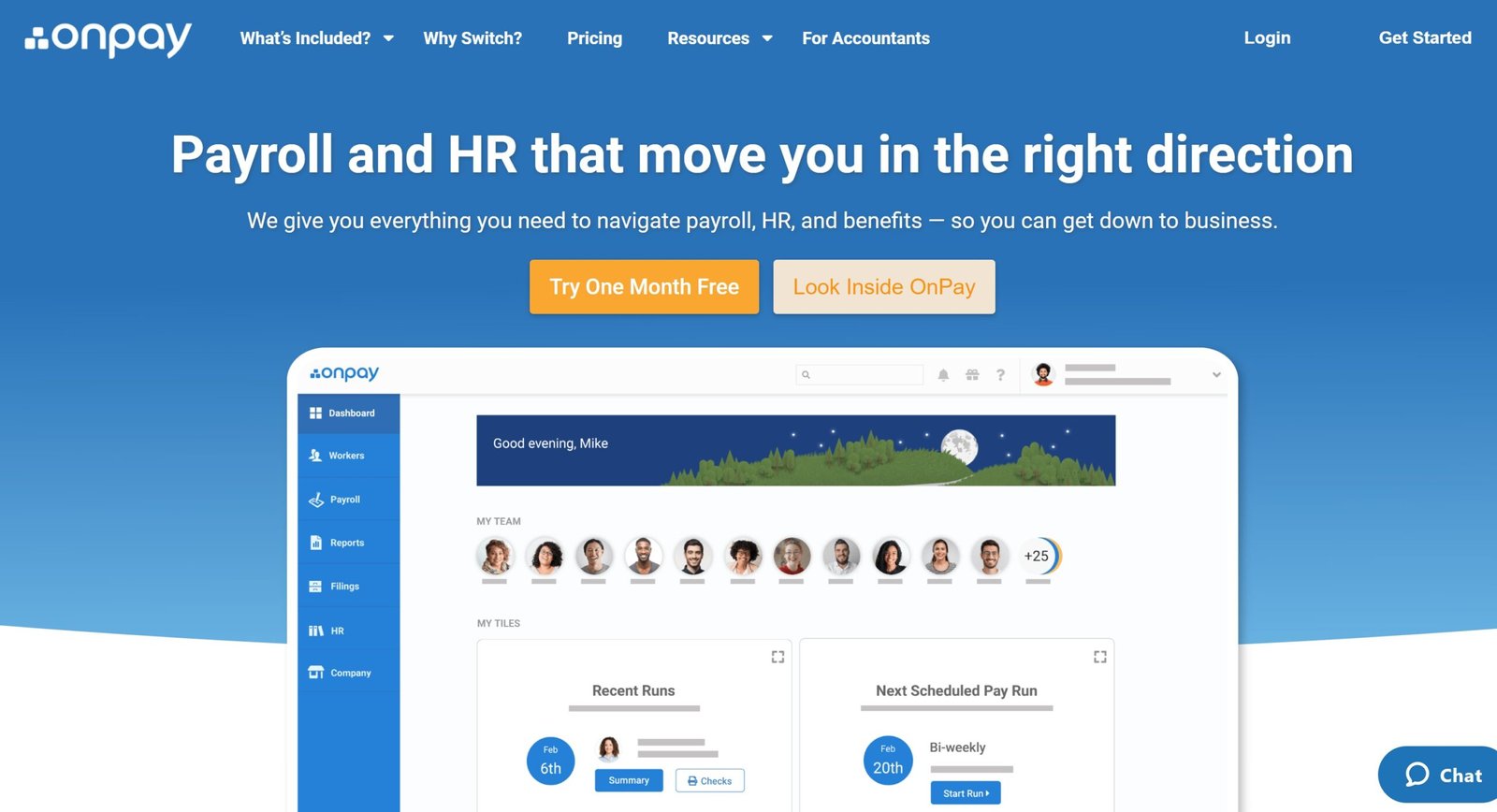 OnPay Pros and Cons
| PROS | CONS |
| --- | --- |
| Fast payroll processing | Mobile version missing some functions |
| Unlimited payrolls, flexible frequency |   |
| Top-quality customer service |   |
| Great user experience |   |
| New time tracking features |   |
OnPay was created as an internal solution to simplify one family's payroll. OnPay has been around a decade and is still one of the most respected payroll services in the world.
OnPay was born out of this desire to simplify the complex world of payroll.
Is there no dedicated HR or payroll person in your company? No problem. No matter your level of experience, OnPay can help you master payroll management.
Where OnPay excels
OnPay is ideal for inexperienced payroll users because it delivers in many key areas.
Simple payroll management: OnPay is a simple tool that anyone can use. To run payroll successfully each month, you don't need to be an experienced HR professional.
OnPay makes it easy to access and onboard employees. Most common tasks, such as reviewing payroll documents and self-onboarding, can be completed easily via the website. This reduces frustration and saves time.
Stellar customer service: OnPay is focused on simplifying payroll for all, so it makes perfect sense that they are devoted to helping customers. OnPay responds quickly to issues and resolves them efficiently, unlike other companies on the list.
We spoke with many users who loved how easy OnPay was to use, particularly those without any HR or payroll experience.
One user who spoke to us said that it was easy for someone who isn't necessarily an accountant to use this system, similar to when a business owner will be doing this stuff.
OnPay is also highly rated on the side of employee use. We found that employees find it easy to use and navigate the platform in all reviews. They can self-onboard and print their paystubs.
This is an enormous benefit for small businesses that don't have dedicated HR teams, as it removes many of the repetitive questions or tasks usually associated with these activities.
OnPay includes the essential HR tools that small businesses need, such as automated onboarding workflows and customized PTO tracking. It also provides reporting for compliance with new hires.
OnPay can seamlessly integrate with select third-party apps to manage your accounting, time management, and compliance. OnPay has the smallest number of third-party integrations among my top five products.
OnPay will guide you through the process of connecting two tools from its current integration library.
The small clinic's business manager stated that OnPay was integrated with Deputy, a time management software. It's very simple.
OnPay's reporting functionality is another area that shines, particularly its pre-built reports. We heard from many users that OnPay reports were easy to find, especially the year-end reports.
OnPay's Report Designer makes it easy to create customized reports when needed. The drag-and-drop interface allows you to add or delete up to 50 data points and adjust date ranges. You can also set filters and create custom views for each user.
OnPay allows you to customize your payroll cycle. OnPay allows you to run unlimited payroll cycles each month, unlike other options on my list.
This is especially important for small businesses.
OnPay does a great job of eliminating the guesswork from payroll.
What can OnPay do to improve?
OnPay is not an ideal online payroll service. OnPay's goal to make payroll as simple as possible creates gaps in functionality. These gaps may not be a problem depending on your specific needs.
There is no automatic payroll option. OnPay allows you to run unlimited payroll cycles per month. However, there is no "set-it-and-forget-it" feature. Payroll approval must be done manually every cycle, even though the data isn't changing from cycle to cycle. This is possible with all five of the top products.
Some functionality can be difficult to master. Despite the simplicity of the software, many users find it too complex, especially when they are trying to set up their startup or extract specific information.
Integrations are not available: While OnPay can integrate with third-party tools that are listed on its website, these options are very limited. At last count, there were only 20 third-party programs. The other products in this list offer far greater integration options.
A notable flaw is the inability of a payroll administrator to set up payroll once and have it run continuously. Each time you run a Payroll Cycle with OnPay, you will need to manually go through two screens as well as a confirmation page.
For small businesses with fewer employees or a fluctuating payroll, this is not a major problem. This can quickly become a burden for companies with many salaried employees. Gusto, Paychex, and ADP also offer this convenience.
OnPay tries to make it easy, but there are certain aspects that users may find difficult or frustrating.
One interviewee mentioned that they were trying to find individual information about 401(k). "I need to go into my 401(k), listing and unclick everyone that I don't want. I would rather just click the person I wish to run the report.
OnPay users have also reported difficulty with the onboarding process for more complicated situations. One user we spoke to said that it was difficult to set up benefit accrual for different types of compensation. Another user had difficulty getting long-term employees on the right benefit accrual schedule. This was due to OnPay's "a lot of back and forth" required.
There is also the absence of a mobile app that can be used by employees or administrators. OnPay claims that its website allows users "just one bar to reception" for payroll. However, a well-designed mobile app is more intuitive and simpler. Both Paychex, as well as ADP, offer robust mobile apps.
Businesses that are located in areas with municipal taxes face a slightly different problem. OnPay cannot handle local taxes. If your business is subject to them, you will need a payroll service that can help you. This service is offered by all the other options on my list.
OnPay is a little behind the curve with less than 20 third-party integrations. This is a significant gap from its competitors. This leaves OnPay users new to the service with a significant gap in their ability to use tools such as time management, accounting, and 401(k), which aren't listed.
OnPay Pricing
Don't worry about complicated pricing tiers or customized quotes. OnPay charges one monthly fee for all services. This makes it one of the most affordable options I have.
They also get rave reviews from users about their pricing approach. The small-sized health clinic's business manager says, "It is an incredible value for small businesses like ours."
OnPay is only $36 per month and $4 per person per year. That's it. No contracts. No hidden fees. No uncertainty.
OnPay even has a calculator that allows you to see how much you will pay without having to speak to any sales representative.
OnPay's pricing features include the following:
30-day trial for free
You will be covered for migration costs to your former payroll provider
Cancel anytime, no contract
OnPay's simple interface, solid customer support, and affordable pricing will appeal to small business owners and managers who don't have payroll knowledge.
---
#6 Justworks
| PROS | CONS |
| --- | --- |
| Benefits Management | Limited third-party integrations |
| Employee Self Service |   |
| Direct Deposit |   |
| Justworks can be used in all 50 states |   |
Justworks, a professional employer organization (PEO), will manage your payroll for you. PEOs have the disadvantage that your employees become employees of the PEO, so you are less in control of what happens. Justworks is our top-rated outsourcing payroll service due to its simplicity, pricing, and the variety of HR functions it can outsource with payroll.
Here is a detailed description of Justworks' payroll service:
Pricing: Prices range from $39 to $49 per person per month depending on how many people you have
Easy to use: It's the easiest because you don't have to do much other than point your employees at Justworks to sign up.
Tax Services: We handle all W2 and 1099 files and employer payroll tax filings
Year-End Fees - Issues all year-end W2s, 1099s online, included with the price
Accounting Integrations: QuickBooks, Xero, and other API options
Justworks is known for its excellent customer service. Support is available via email, phone, Slack, and chat 24/7. You can also find helpful articles and other content to help your employees with any problems they might be having with the service. Read how Justworks compares with Gusto
---
Wave Payroll
| PROS | CONS |
| --- | --- |
| Complete integration with Accounting by Wave | Only one payroll report is available |
| Easy setup | No mobile apps |
| Ability to print checks in-house | Full-service payroll limited to 14 states |
Wave Payroll is the best pricing option because it has a flat rate that changes depending on where you are in the country, rather than increasing the cost by adding features. Wave Payroll also includes free accounting and billing software, which you can combine with it. This makes it an even more affordable option. Wave provides a simple payroll program that you can use for free for 30 days. Only 14 states have the option to receive free tax filings.
Here is a detailed explanation of Wave's payroll services:
Pricing: $35 per month in the 14 States they File Taxes in, $20 per Month in All Other States, plus $6 per Employee or Independent Contractor per Month
Wave Accounting Software is very easy to use.
Tax Services: Only available in 14 states, but includes California, New York, Texas, and Texas.
Year-End Fees - Issue year-end W2s or 1099s in 14 States, which are included in the price
Accounting Integrations: Wave Accounting and QuickBooks
Wave's customer service ratings online are average. Wave is not regarded as a very helpful team by many users who call them. However, most of the reviews are related to Wave's payments product. Customers can submit support tickets, chatbots, live chat, or submit support tickets. They also have a Help Center that includes tutorials and articles.
---
ADP Payroll
| PROS | CONS |
| --- | --- |
| Scalable with several plan options | Pricing isn't transparent. |
| Robust reporting, including customization | Confusing onboarding process |
| Lots of HR add-ons | Several fees, including for setup |
| Strong brand name and reputation |   |
|   |   |
ADP is the dominant name in the payroll industry and has been around for more than 70 years. ADP offers comprehensive payroll, HR, and human capital management services all under one roof.
ADP is my top-five favorite product. It offers every possible payroll-related service that a business might need. ADP probably offers everything you need to manage or track payroll and HR within your company.
ADP is the perfect fit for companies that have significant workforce growth plans. ADP will not allow your business to outgrow it.
ADP Payroll Excels You can be a giant in the payroll services industry by consistently delivering big wins. This is where ADP excels.
Flexible payroll processing: ADP allows you to easily segment and run payroll for any group, set custom payment dates, and manage custom fields without limitations.
ADP is my top choice in this area among the five I have listed. Mobile apps galore! ADP has apps for Android and iOS on both the employee and administrator sides.
Administrators can manage their payroll and HR from anywhere and on any device. Employees have access to the information they require on-demand.
Integrations are practically limitless: ADP lists hundreds of third-party tools that it integrates with. These tools range from simple accounting software to sophisticated enterprise resource planning tools.
This is the leader in its field. ADP is a tool that supports your business at all stages of its growth.
This is evident in the flexibility offered by payroll automation. ADP can handle complex payroll requirements, even if your payroll plan is simple today.
ADP makes it easy to onboard new employees. The interface isn't flashy and fun like Gusto, but it is simple. It does the job.
Both employees and administrators find it easy to use. We had no issues. "I honestly didn't get one email," one administrator stated, in regards to how employees can be enrolled on ADP once her company has switched from Paychex.
ADP's mobile apps are another area that stands out. Separate apps are available for employees and administrators. ADP Mobile Solutions focuses on functionality and makes it easy for everyone. This is also a standout product among all the ones I have covered.
ADP's reporting has been rated by users as excellent, just like the other products in my list. ADP's built-in reports are some of the most thorough among all the providers I have reviewed.
It excels in extracting data for complex purposes such as audits. This ease was evident in a bank audit response. One interviewee stated that it was easy to collect the data and send it to the bank.
ADP's integrations are also extremely functional. ADP offers hundreds of third-party tools you can use to integrate with their payroll service if you don't find the right product from ADP.
The list is so long that you are likely to find a tool that is not on it.
Where ADP Payroll could be improved
ADP lacks guidance during onboarding. Despite its powerful functionality, ADP is not the most straightforward option for a company to join. The software is not easy to use and provides little support during onboarding. This is a common complaint from users.
The custom reports can be difficult to use. While ADP's pre-built reports have been well received, the custom reports are a different story. Many users complain about non-intuitive fields and slow system performance. They also report receiving results that are not what they expected.
Secret pricing: ADP makes it mandatory that you speak with a sales representative to receive a personalized quote. ADP, however, is not like Paychex, which offers pricing information online for the most basic package.
ADP is not for people who like to be guided through the onboarding process. Many ADP users felt independent, unlike the OnPay or Gusto handholding.
One user said that she was not given any guidance regarding how to implement the system, referring to her initial onboarding experience.
For seasoned HR professionals, this issue is not likely to be a problem. However, for those with little experience in payroll, it could prove to be a major obstacle. For a more stress-free onboarding experience, novices might prefer Gusto or OnPay.
ADP's unexpected weakness in taxation is another. In the last 12 months, multiple reviews claimed that ADP failed to make a law change or comply with compliance rules. This caused an issue. These complaints were echoed by both former and current ADP users.
In our reviews and interviews, we frequently heard about the difficulties in using custom reports. Sometimes, customers were motivated to switch payroll services because of the difficulties.
ADP also provides the most pricing information than any other product on this list. ADP doesn't have pricing information online and requires you to speak with a sales representative to create a package that suits your needs. This is a vastly different approach to how QuickBooks, Gusto, and OnPay present their services.
ADP is something you should consider if you are interested in it. A sales representative will be necessary, and ADP, like Paychex, has a reputation of being pushy. ADP users are also very vocal about their dislike of overselling.
ADP Pricing
ADP is similar to Paychex. You can give them your contact information and get things moving. This alone may turn off small businesses that want simple and straightforward payroll services at a fair price.
This is what you should expect if you are a payroll or HR manager for a larger company. Negotiating for procured service is part of your job. ADP lists small businesses as their target audience, but this indicates that they are really interested in mid-to enterprise customers.
ADP still makes every effort to attract businesses of any size by offering two levels of service. Each tier has different packages.
RUN is their product that targets businesses with fewer than 50 employees.
We have gathered some basic information about Run so that you don't need to go through ADP's website or give out your contact information.
There are four levels of RUN with more services at each level.
RUN Essential - $59/month plus $4 per person per month. Includes payroll processing, reporting, direct deposit
All RUN Enhanced, Run Complete, and Run HR Pro pricing is subject to consultation.
ADP Workforce now is available to companies with 50 employees or more.
ADP now offers page packages for its workforce.
Workforce Now includes all the RUN features plus compliance reports, customized service and custom implementation, and country-based recordkeeping. Consultation is required to determine the price.
Bottom line: ADP can be a great choice for companies that have dedicated payroll teams who are experienced and won't need any handholding, no matter how large the company grows. SurePayroll did not make our list this year but visit our review on SurePayroll for more information.
FAQ Payroll services
What is the difference between full-service and self-service payroll?
Self-service payroll is in-house payroll. The software might be used to simplify direct deposit and run the numbers, but in the end, you are responsible for compliance with payroll tax and making sure that employees are paid correctly.
Contrary to this, if your company offers full-service payroll, at least some of your payroll processing can be outsourced to another company.
Although full-service payroll is more expensive than self-service, it can save you time and could result in savings. A full-service payroll company is responsible for withholding the correct amount of taxes. It's not your problem if there are issues with local or federal taxes.
Do you want to use a payroll company or an accountant?
Payroll services tend to be cheaper in general, especially if you choose the self-service option. Payroll companies often combine payroll with HR administration, time tracking, and employee benefits, which are not covered by an accountant.
Full-time, in-house accounting is more expensive than payroll software. It can also handle much more tasks than payroll software. Accounting can be a great tool to help you analyze your company's finances, file taxes accurately and quickly, create financial statements and help you see the future of your business.
Remember that the question doesn't have to be either/or. Self-service payroll is possible most of the year. Tax season requires that you hire an accountant only for a few hours per week.
Which payroll provider is best?
Every business is different and it can be difficult to choose the right payroll service provider. We do have some favorites. Gusto is a full-service provider of payroll software with additional employee benefits. If you don't feel it's right to you, QuickBooks Payroll or OnPay offer similar services at a lower price. Paychex and ADP both offer in-house software as well as fully outsourced PEO services.
Review Criteria
We surveyed 10 top-rated payroll companies to find the best for small businesses. We compared their strengths and weaknesses in these key areas.
Payroll features include automatic payroll runs, direct deposits, and payroll tax administration.
Features such as workers' compensation insurance, administration of health benefits, and employee benefits are all HR features.
Scalability refers to the number of plans offered by each provider
Pricing includes the number of features included in each price point
Trustpilot and Trustradius customer reviews and reputations