Find The Best LLC Service For You And Your Business
We evaluated 7 LLC formation services and ranked them based on pricing, time to completion, customer satisfaction, ease of use, support, and pricing. 
For entrepreneurs interested in forming an LLC (Limited Liability Company) S-Corp or Corporation, there are 3 main options to take
Option one – Do it yourself by researching the requirements in your state and filing the proper documents, and hope you do everything correctly.
Option two – Hire an attorney to do much of the work for you.
Option three – Use one affordable online document filing service to get you through the process.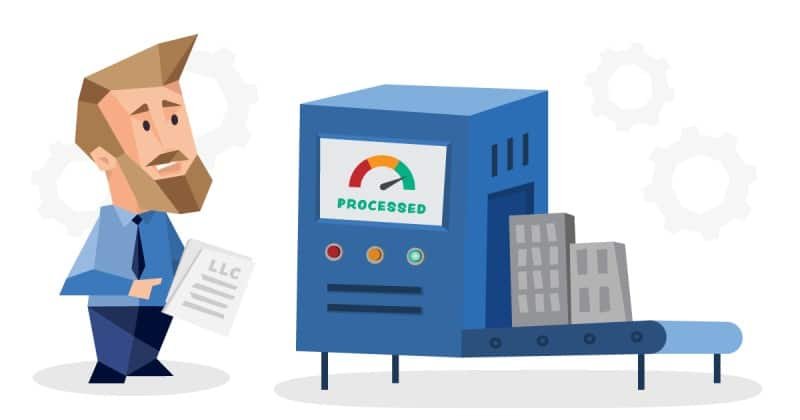 Our Top 7 LLC Filing Service Picks
Price Comparison Table: Their Popular Plans

(LLC Formation With One Year of Registered Agent Service)
Top LLC Formation Services for 2022
Business Formation &
One Year of Registered Agent Service

#1 Northwest Registered Agent
Editor's Choice!

Editor's Choice Best LLC Service 2022
Better Business Bureau Rating "A-"
LARGEST REGISTERED AGENT SERVICE in the U.S.
Family Owned and Operated
Does Not Sell Customer Data
'Privacy by Default'

$225  $39

We negotiated discounts for our readers!

#2 Incfile  
Editor's Choice!

https://bestllcfilingservices.com/FreeLLC

Affordable LLC Services
Texas Based Company
LLC Formations in 50 States
Strong Brand Name
Pioneer in Online Legal Services

3 Pricing Packages
Each Includes:
LLC Formation & Registered Agent

Silver: $0
Gold: $199
Platinum: $299

#3 Swyft Filings   
$299

#4 ZenBusiness   

$299

$324

#6 Rocket Lawyer
$329

#7 BetterLegal


$299

#8 LegalZoom

Strong Brand Name
Online Customer Reviews Are Weak
Formations, Registered Agent Services, and Needed Add-ons Are Very Pricey

$428
---
How to Create an LLC: 9 Steps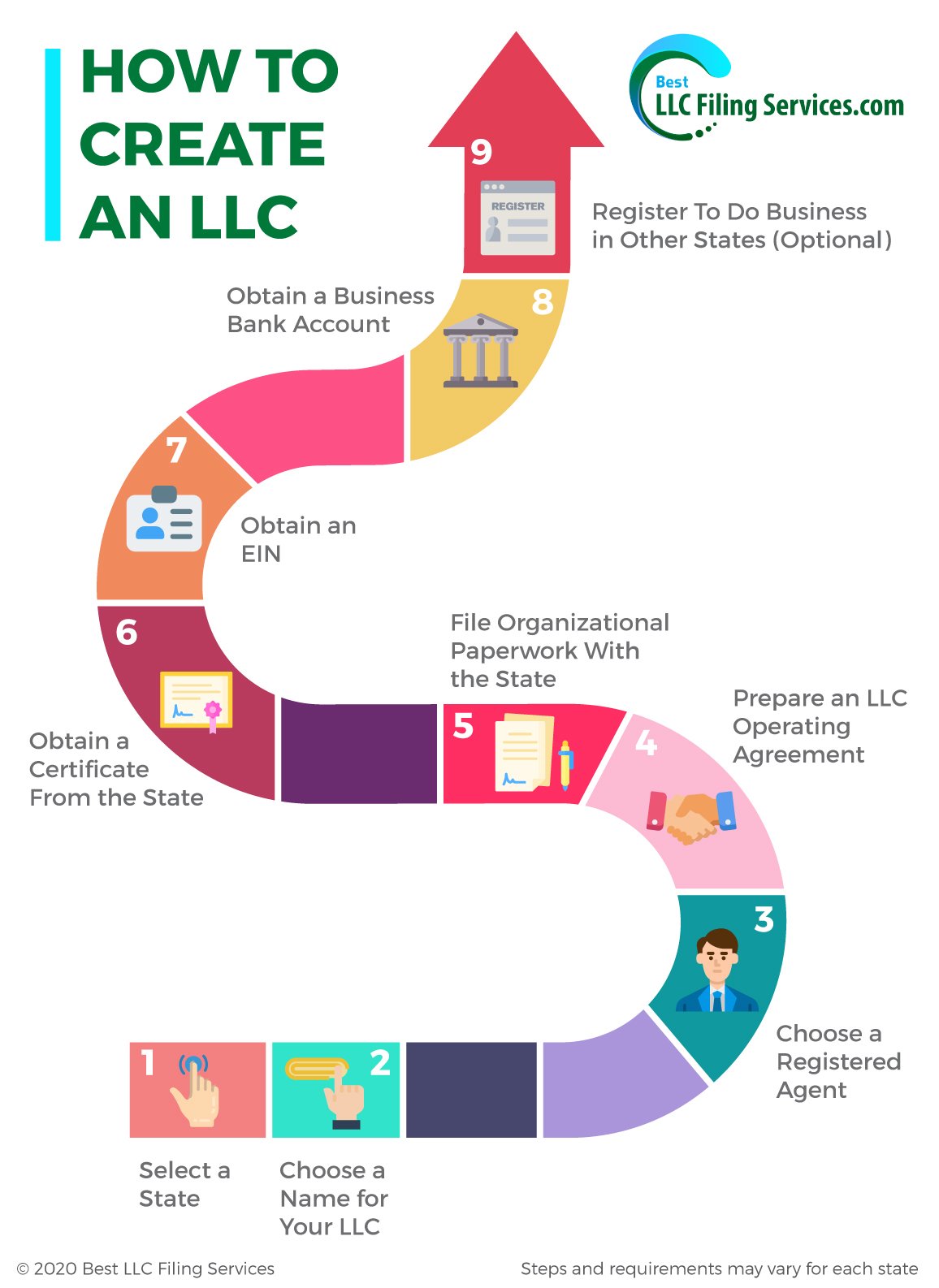 ---
Best LLC Service of 2022 (Our #1 Pick)
#1 Northwest Registered Agent  (LLC Industry Leader & Great Customer Service)
Online incorporations and LLC formations

The largest registered agent service in the U.S.

Their slogan is 'Privacy by Default'
Northwest Registered Agent Customer Reviews
| | | | | |
| --- | --- | --- | --- | --- |
|   | Rating | Number of Reviews | Source | Updated |
| Google  | 4.6 stars | 350 reviews | Google reviews | Aug, 2022 |
| Better Business Bureau | 4.3 stars | 90 reviews | BBB reviews | Aug, 2022 |
| Yelp | 4 stars | 49 reviews | Yelp reviews | Aug, 2022 |
| Birdseye | 4.4 stars | 451 reviews | Birdeye reviews | Aug, 2022 |
Special Pricing for Our Visitors!  Just $39!
Special Pricing for Our Visitors!
https://www.northwestregisteredagent.com
$225  Just $39 + state fee
Monthly Options Available!
The ONLY LLC Service With Monthly Plans!
California: LLC Formation + Registered Agent + State Fee = $37/mo. 😲
$37 Gets You Out The Door With A Newly Formed Business in California or Georgia! 😲
https://northwestregisteredagent.com
California LLC $37/mo
Texas LLC $54/mo
Georgia LLC $37/mo
---
For those interested in using a filing service to form an LLC, or incorporate as an LLC, this is a review and comparison of our picks for the best LLC filing services for business formations and incorporations in 2022.
LegalZoom vs Northwest Registered Agent
|   | LegalZoom | Northwest Registered Agent | Notes |
| --- | --- | --- | --- |
| LLC price: | $79 + state fee | $39 + state fee | Northwest: Formation + one-year registered agent service = $39 |
| Price for a Registered Agent  | $249 a year | First-year free, then $125/year | Many LegalZoom customers feel that this service can be difficult to cancel. |
| Approval time: | 30 days (unless you pay more) | 3-5 business days (in most states) | Northwest is 3 weeks on average faster |
| Google reviews: | LegalZoom has 3.7 stars | Northwest has 4.5 stars | Northwest gets better reviews |
| Customer support: | It is not easy to get in touch with them. They may try to sell more products. | Industry experts willing to share their knowledge. Friendly. No sales pitches. | Northwest offers better customer service. And no "pushy" salespeople. |
| Data privacy: | LegalZoom sells customer information. | Northwest does not sell any customer information. |   |
7 Best LLC Services (Reviewed)
We know it can be hard to pick the best LLC service for your business. This section lays out our 7 favorite LLC formation services on the market today.
We contacted and tested each company's customer service and support levels on our list by going over every detail and verifying their published prices and processing times.
Since finishing our comparison, we can now give you insights into key areas such as pricing, features, processing time, and help and support.
Northwest Registered Agent

Northwest Registered Agent

Headquarters: Spokane, WA
One Of The Few LLC Websites With Offices In All 50 States!
Form An LLC Online With Northwest Registered Agent LLC Services

From their website,
At Northwest Registered Agent, you'll find an in-depth assortment of business services, free legal forms, and how-to guides, each one created with the single purpose of helping people start and operate businesses.

That's what we believe a registered agent should be—a real business solution that makes doing business easier and better.

Whether you're seeking registered agent service in any US jurisdiction, want to start a company, looking for a free LLC operating agreement, want simple instructions on how file an annual report, or even want to do something obscure like learn how to reinstate a corporation, Northwest Registered Agent is here to guide you.

Northwest Registered Agent is our #1 pick LLC formation service. One of the most familiar names in terms of registered agent services and formation services, Northwest Registered Agent has become the leader in registered agent services.
Northwest Registered Agent BBB reviews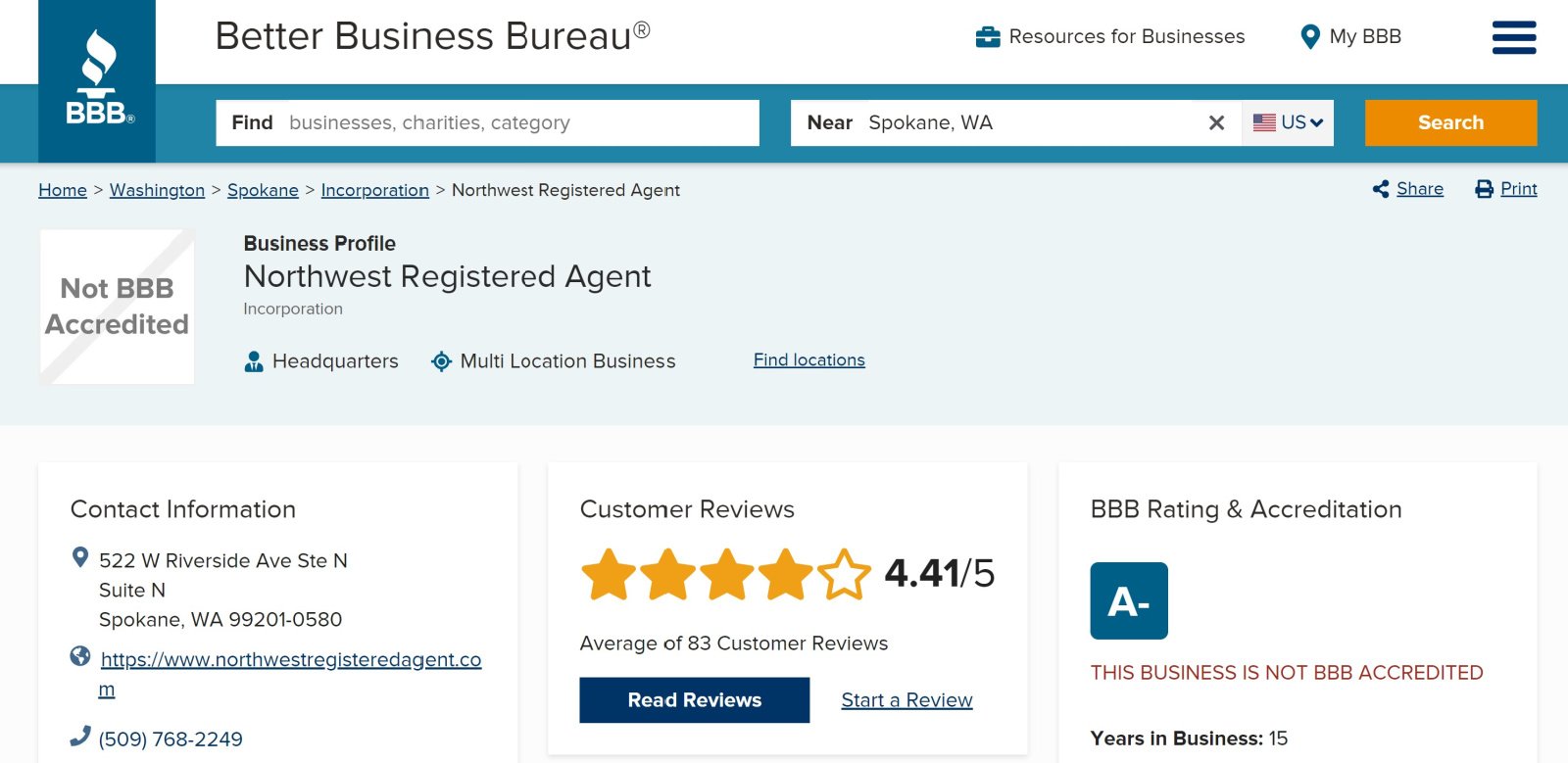 For over two decades, the company has been well-known for its high-quality customer service, reasonable pricing options, and a lack of pushy sales.
Monthly Plans Available – Skip The State Fee
Pricing: Northwest Registered Agent offers two primary services, LLC formation, and registered agent services. As the name implies, they are primarily known for their registered agent services. However, they also have an LLC formation service, which many take advantage of.
Monthly Plan: Northwest pays your state fee upfront and spreads it out into monthly payments. The Texas formation fee is $300, but for just $54 a month, you get a business formation and registered agent services for one year.

This is mostly because those who start a business and need LLC formation will probably need a registered agent.
Registered Agent:
Keep in mind that registered agents and LLC formation are not combined; they are separate services. With this purchase, your business will have a registered agent required by law in all 50 states. This means that the state has a legal way of contacting you for sending forms, notices, and the like. You can act as your own agent, but that can be problematic.
LLC Formation service:
LLC Formation + Registered Agent = $39 plus the state fee
This service is a one-time fee, which means that all aspects of LLC formation filing are performed with just one payment.
Keep in mind that this service also includes a free year of registered agent services. But after that, it is $125 per year.
This means that you enjoy a significant discount for your first year of registered agent services if you include it with your LLC formation service.
Each plan comes with personalized customer support.
Northwest Registered Agent offers one advantage if you use their registered agent services because your personal information is private. This means that your business address for receiving notices and junk mail is through Northwest Registered Agent and not your home address.
This can be most advantageous for many types of businesses.
If you need to form an LLC this year and/or need a good registered agent service, we think they are the best LLC formation service available for 2022.
After testing and comparing the best services and options right now, we have concluded that Northwest Registered Agent is the top LLC service available in 2022.
Northwest provides unique and personalized customer support by 'Corporate Guides'. 
They have offices in 50 states
Create an LLC online with Northwest

Incfile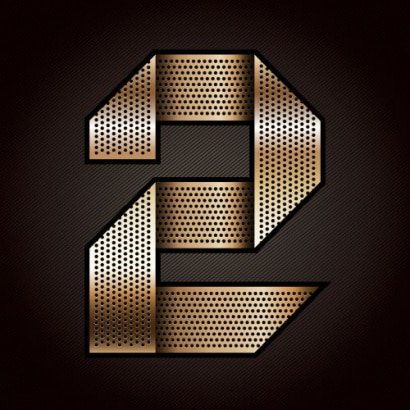 Incfile:

20 Years In Online LLC Formation Services.
500,000+ Formations
Texas Company Providing LLC Services In Each Of The 50 States


Great Value!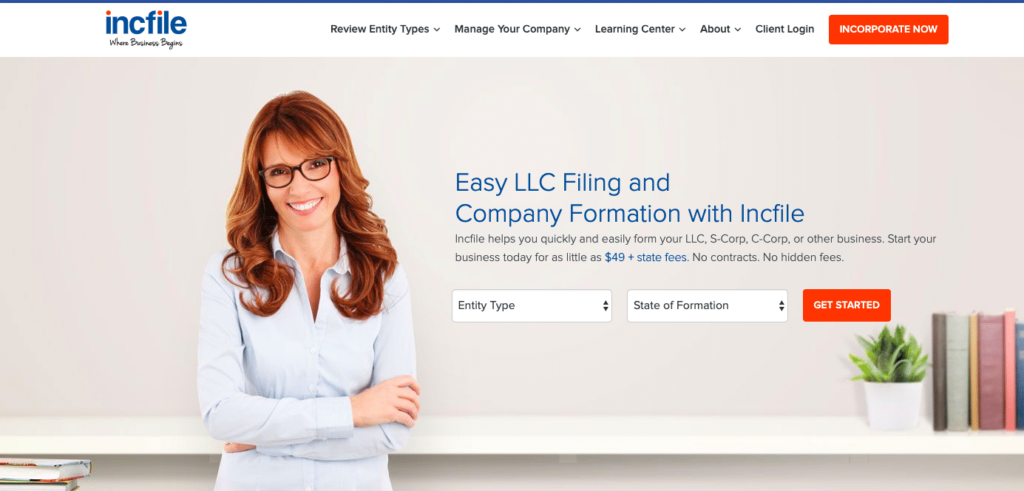 Rates: Popular Plan, $199 + state fee.
Sign-Up Process To Create An LLC: Select state and formation type.
Experience: 500,000+ Businesses formed since 2004.
---
LLC Formation Pricing
Incfile has been one of the top LLC services available online for the past 20 years straight. IncFile was called one of the best entrepreneurial businesses in the USA by Entrepreneur Magazine this past year. The expectations people have of this company are regularly met. The lack of state fees is a great starting point, and things get even better from there.
Whether you are forming a non-profit, corporation, S-corporation, or LLC, IncFile can help you. Each plan comes with a complimentary consultation for business taxes, digital order tracking, registered agent services (free for the first year), article filing, and name verification.
Further, they offer a lifetime promise for customer support, processing within one business day, and alerts for life. That way, you won't have to worry about missing filing dates. 
Incfile BBB Reviews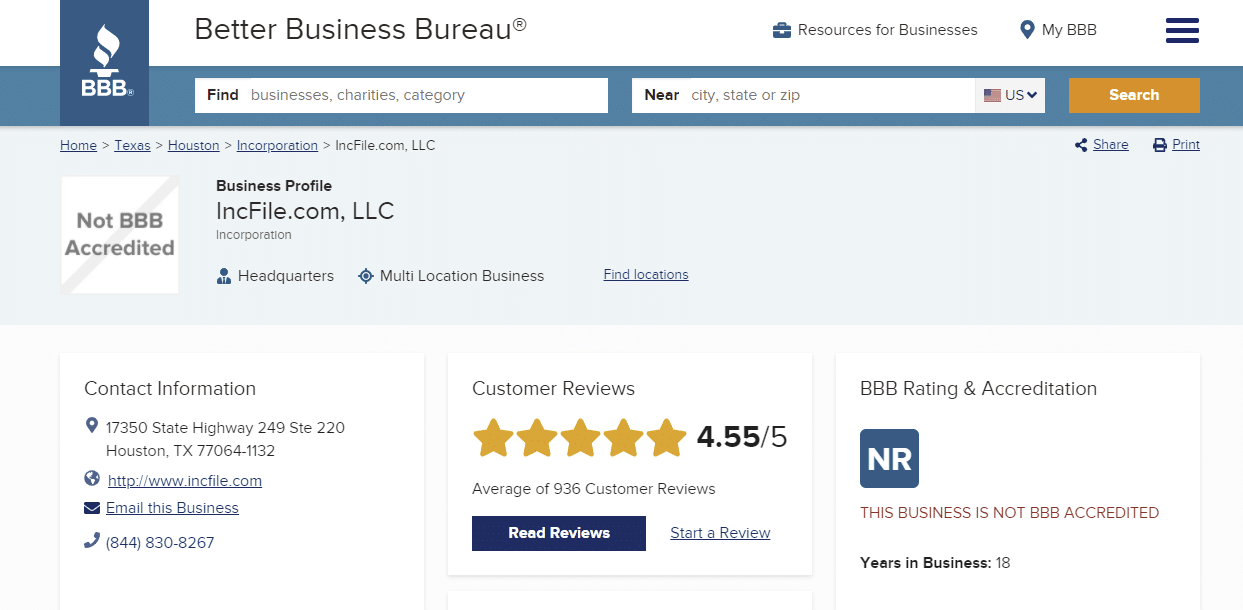 If this is all new to you, IncFile will provide you with a business checklist that you can use to navigate your way through the process. They also offer startup guides and a list of requirements necessary for a business license.
Advantages
Experience with 500,000+ formations since 2004

Very Competitive rates. Probably the best formation rates available right now

Over 20,000 positive and verified reviews
Disadvantages
Once the paperwork is sent, changes or cancellations are not possible.

No Ongoing Legal Services.
This transparent service helps you understand what is happening when your deadlines are and when you can expect certain things to occur. 
Swyft Filings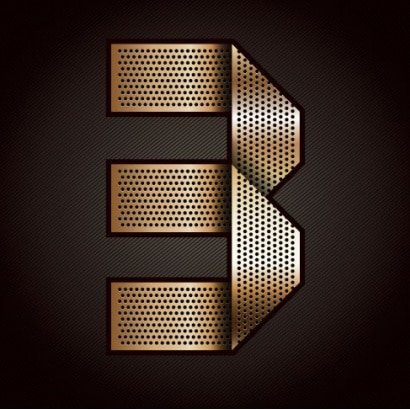 Swyft Filings
Headquarters: Houston, Texas
Another Texas LLC Formation Service Offering Tremendous Value

Want to create an LLC online quickly? Swyft Filings is the one for you. While Swyft Filings is relatively new, formed in 2012, they have carved a niche in the online LLC formation service niche.
They have largely done so by creating a simple set of services with three pricing packages. Plus, they offer a 100% satisfaction guarantee and focus on providing reliable customer service.
The emphasis of Swyft Filings is to provide fast, proper service when it comes to LLC formation. This means that their customer service operations are geared towards that endeavor.
Pricing: You'll find three basic pricing packages, Basic, Standard, and Premium.
Basic: $49, plus state fee
Preparation and filing of Articles of Organization
Lifetime customer support
Name Availability verification
12-month Free domain name
ComplianceGuard alerts
30-minute Business tax consultation
Standard: $149, plus the state fee
All from Basic package, plus the following;
EIN or Federal Tax ID number
LLC operating agreement
Organizational minutes
Banking resolution
Premium: $299, plus the state fee
All from the Standard package, plus the following;
Business website
90 days of hosting
Digital corporation kit
Each LLC formation plan comes with high-quality customer support.
You can upgrade to different packages if you choose, depending on the needs of your business. This means that you can select what works best for you at a price that fits your budget. If you need to form an LLC this year and/or need a good registered agent service, we think they are one of the best LLC services available for 2022.
Swyft Filings LLC Formation and Incorporation Service
Customer Support by Phone or Chat: Monday – Friday 9 am – 6 pm
Based: Houston, Texas
Create an LLC with Swyft Filings LLC Formation Services

ZenBusiness
Headquarters: Austin, Texas
Great LLC Website For Online Formations In 2022
ZenBusiness Has Completed Over 100,000+ Business Formations In The Past Year!
File & Form an LLC Online With ZenBusiness!
ZenBusiness is one of our favorite LLC formation services in 2022. Created by Ross Buhrdorf, former HomeAway CTO, ZenBusiness started in large part as an alternative to LegalZoom.
The goal of ZenBusiness was to be the best in business formations, offering many services that helped people with all types of legal matters for their business.
LLC formation has become one of its prime services. ZenBusiness has exploited a gap left by LegalZoom, which other companies in the field are now taking advantage of.
From their website,
Who is ZenBusiness? We are a small business that is excited about helping other entrepreneurs realize their dreams of creating and growing a successful business. By making business formation easy and affordable, we hope to foster a small business community where owners can connect on a local and national level and help each other grow.
Based in Austin, Texas, ZenBusiness also offers a worry-free compliance guarantee with their Pro and Premium LLC formation plans.
A nice feature for business owners is knowing ZenBusiness will take care of every legal form and annual report as part of their services.
And if they miss something that causes a fine, they will pay it.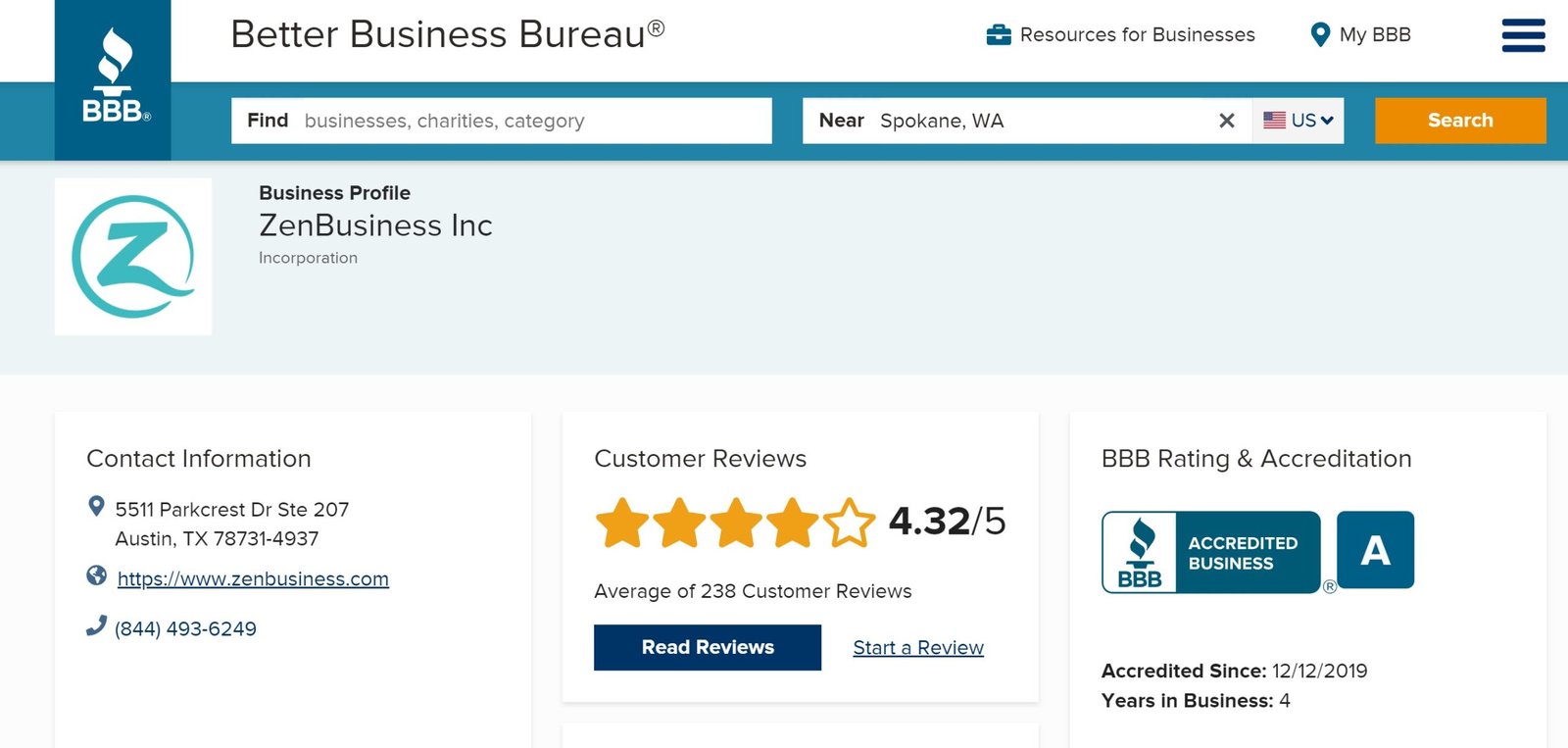 ZenBusiness LLC Service Price Comparison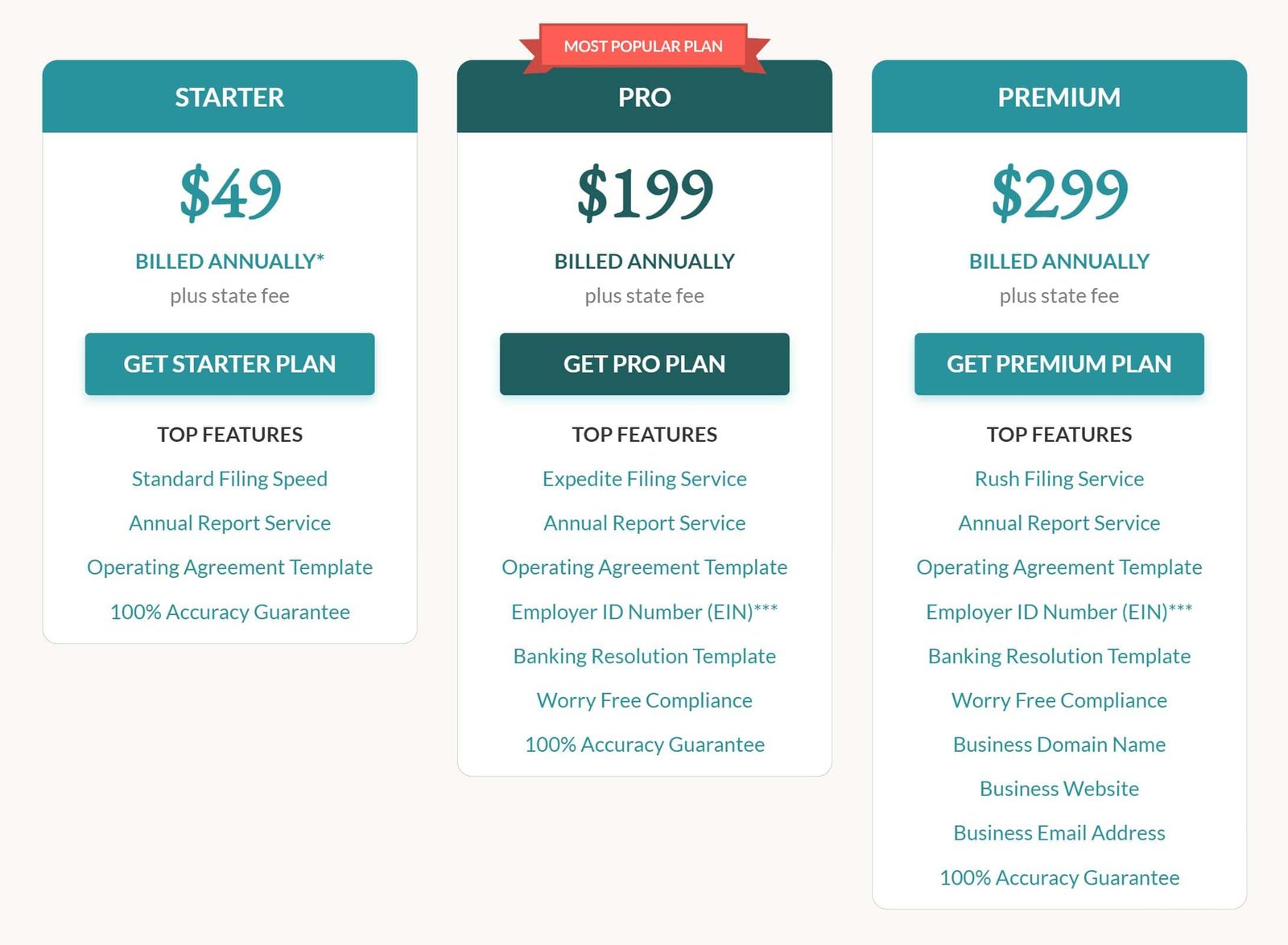 ZenBusiness Has An 'A La Carte' Option
| | |
| --- | --- |
| Service | Pricing |
| Registered Agent Service | $119 per year |
| Worry-Free Guarantee | $129 per year |
| Employer ID Number (EIN) | $70 one-time charge |
| Business Filing | $49 |
Pricing: ZenBusiness offers three different pricing packages for creating an LLC.
Starter Plan: $49 per year plus the state fee
Standard filing service
LLC Formation in 1-3 weeks
Name availability search
State filing plus verification
Articles of organization
Personalized dashboard
Registered Agent Service
Operating agreement plus bylaws
Phone and chat support
Pro Plan: $199 per year plus the state fee
All Starter services, plus
LLC Formation in 5-8 business days
Worry-free guarantee
Employer ID Number or EIN
Expedited Filing
Premium Plan: $299 per year, plus the state fee
All of the Pro services, plus
Rush filing service
LLC Formation in 1-3 business days
A business domain name, website, & email address
Domain name privacy
Formation in 3 to 5 business days
Each plan comes with extended customer support hours 7 days a week
ZenBusiness PBC (Public Benefit Corporation) was founded to help those who wanted to create an LLC easily.  For those who want to start small, you can upgrade to bigger packages if you desire.
The reputation that ZenBusiness has built up over the years is considerable. 
We think their worry-free compliance guarantee sets them apart from other LLC formation services, and we aren't the only ones who think they are one of the best LLC services online today; just check out their user reviews on Trustpilot.
If you need to form an LLC this year and/or need a good registered agent service, we think ZenBusiness is one of the best LLC services available. 
ZenBusiness Website Builder
Business Website and Hosting
The ZenBusiness 'Premium Plan' Includes a Business Website, Domain Name, and Website Dashboard
A website can also be added to the Pro Plan or Starter Plan
Website $100/year
Domain Name $25/year
ZenBusiness offers all customers a personalized dashboard to set up and customize their domain name and website at any time from a computer or mobile device.
The ZenBusiness website builder comes with several templates to choose the style and design you want, hosting, a personal domain name, and business email.
✅ Set up your domain name
✅ Select a website template
✅ Customize your content and designs
✅ Generate new leads and customers
✅ Take payment from your website
---
ZenBusiness LLC Formation and Incorporation Service
Customer Support: Phone or Chat, Monday – Friday, 8 am – 8 pm Central time, or Sunday from 10 am – 7 pm Central time.
Form A New Company With ZenBusiness LLC Services
Inc Authority
Inc Authority
Headquarters: Reno, NV
Inc Authority offers a basic LLC setup service for FREE; just pay the required state fees. It's a friendly way to get you in the door and let you experience their LLC formation service before adding additional features.
If you need to form an LLC this year and/or need a good registered agent service, we think Inc Authority is one of the best LLC services available for 2022.
Customer support is available 5 days a week by phone or email.
Why Free Business Formation?
From their website, Inc Authority explains why they provide a FREE but limited business formation service.
WHY ARE WE GIVING AWAY FREE* CORPS AND LLCS?

AT INCAUTHORITY.COM, WE WANT TO EARN YOUR TRUST AND THEN YOUR BUSINESS FOR LIFE.

By giving away FREE* corporations and LLCs, it means you will have more money in your pocket to make your business succeed.

When you incorporate with IncAuthority.com, our staff is here to support you in creating your business and protecting your assets. Count on IncAuthority.com to help you grow your business and protect your family's future.
Inc Authority LLC Formation and Incorporation Service
Customer Support: By Phone or Chat, Mon-Fri: 8 am-5 pm PST
Create an LLC Online with Inc Authority LLC Services
Rocket Lawyer
Rocket Lawyer
Headquarters: San Francisco, CA
Rocket Lawyer Is An LLC Formation Service That Also Provides Legal Services
Form A New Business With Rocket Lawyer LLC Services
Founded in 2008, Rocket Lawyer is one of the more popular online legal technology companies on the list.
Designed to help small to medium-size businesses and individuals, the company's purpose is to provide online legal services that include everything from incorporation to legal documents to estate plans and more.
Although the company covers a broad range of interests regarding legal documents and assistance, entrepreneurs and those just starting up small to medium-size businesses are the main targets.
Initially, the company charged for all its services individually but added a monthly subscription fee to cover most of their offer, which helped grow their business exponentially.
Pricing: There is only one monthly pricing service, which makes Rocket Lawyer different than most in the field.
Premium LLC Formation Service: $39.95 per month, plus the state fee
Each plan comes with personalized customer support.
If you are not a premium member, you will have to pay for each service they provide. Premium membership includes the following;
Access to Legal Documents
Attorney Services: Ask questions, get 30-minute consultation, access to documents
Business Incorporation Filing: Free for the first incorporation, 25% off for future incorporations
You can hire Rocket Lawyer as a registered agent for 25% off their standard fee. Plus, you can hire an attorney for 40% off their usual price.
Keep in mind that if you only need a specific service from Rocket Lawyer, such as an LLC formation, it is a one-time fee. However, you might want to consider the premium service as it offers plenty of features for a comparable price to similar services provided by different companies.
Otherwise, you can pay a one-time fee for the various services if you choose not to go Premium. If you need to form an LLC this year and/or need a good registered agent service, we think Rocket Lawyer is one of the better LLC services available but not near the top of our list for 2022.
Rocket Lawyer LLC Formation and Incorporation Service
Customer Support: Phone Support Monday-Friday, 6 am-6 pm
BetterLegal
BetterLegal
Fast & Inexpensive LLC Formation Service
If you want straight talk, no upsells, and a quick business formation, BetterLegal is the one for you. There are no confusing packages here. BetterLegal has one formation package that gets the job done.
On their website, they claim to set up your business in 10 minutes, get your paperwork filed the same day, "so you'll have your business within 2 business days," "and receive your documents in 3 business days."
BetterLegal is headquartered in Austin, Texas, and has been in business since 2016. Their Trustpilot reviews go back almost 3 years and have a combined rating of "Excellent."
BetterLegal LLC Formation Price & Plan
BetterLegal charges a flat fee of $299 (+ state fee) for LLC and Corporation formations. This price includes preparing and filing the Certificate of Formation, an Operating Agreement, and an Employer Identification Number (EIN). They can set you up with a registered agent for $10. per month or $90/year.
BetterLegal's Trustpilot reviews are great and have an A+ rating from the Better Business Bureau.
In this writing, the BetterLegal website does not show customer support hours or phone access, only email and physical address.
To contact BetterLegal, email them at email@betterlegal.com or email a letter at 1003 Rio Grande St, Austin, Texas 78701.
LegalZoom
#8 LegalZoom
LegalZoom is on our list due to their strong brand name, but their LLC formation prices with registered agent service and needed add-ons are very pricey. LegalZoom is the most expensive formation service that I know of in 2022.
You are paying for brand recognition. LegalZoom's online customer reviews also need improvement.
Let's compare LegalZoom vs ZenBusiness.
LegalZoom vs ZenBusiness: Price Comparison Table
|   | ZenBusiness | LegalZoom |
| --- | --- | --- |
| Basic Formation | $49 | $79 |
| Registered Agent  | $99/yr | $249/yr |
| Formation with Registered Agent Service | $148 | $328 |
LegalZoom vs ZenBusiness: LLC Formation Packages With Plans and Features
Expedited Filing, Formation, 1-Year Registered Agent, Operating Agreement, Employer Identification Number (EIN), State Compliance 
LegalZoom Express Gold vs ZenBusiness Premium Plan 
---
LegalZoom Express Gold Plan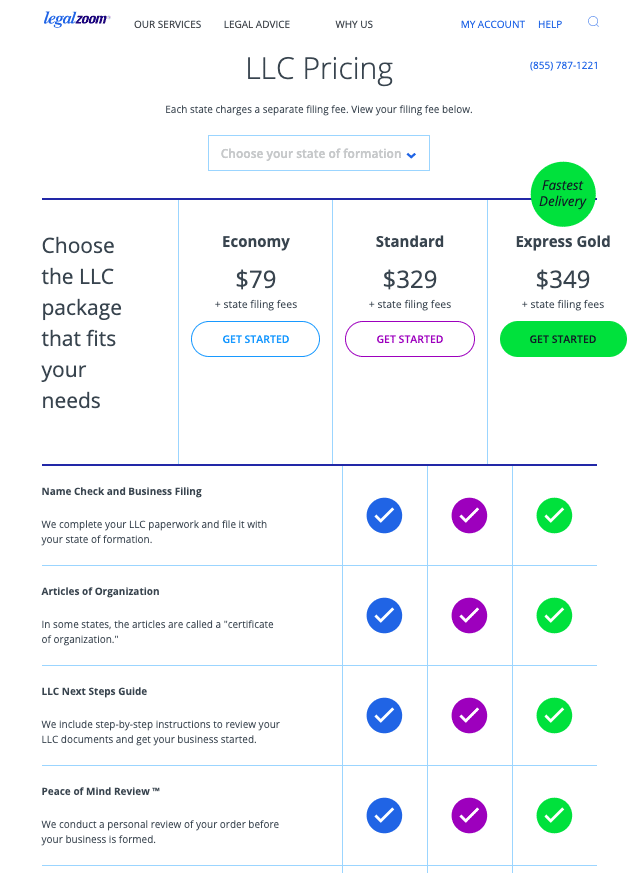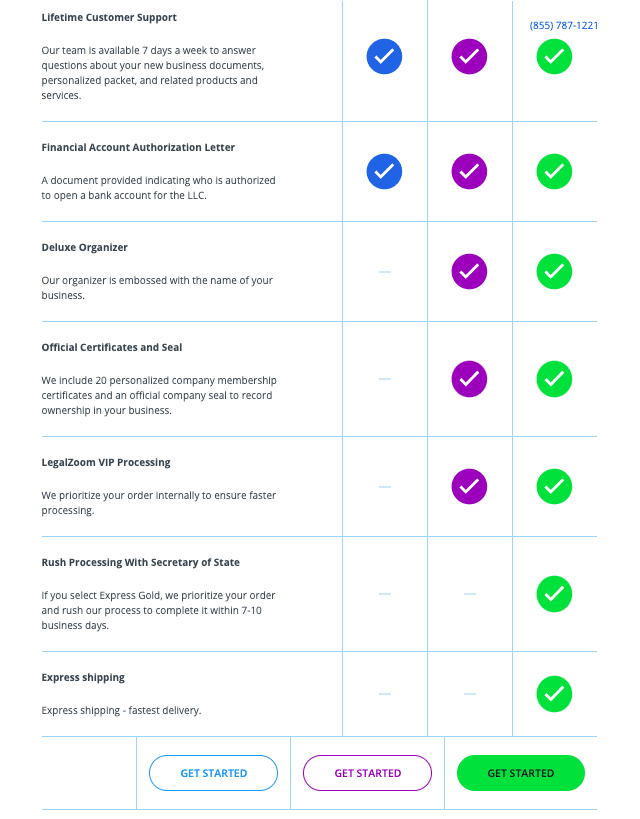 What About These Services?
Registered Agent Service?
Operating Agreement with EIN?
Ongoing Compliance Assistance?
Not Included with the $349 Plan? 
These are the prices and features LegalZoom displayed on its website after I began the process and selected the state of Texas.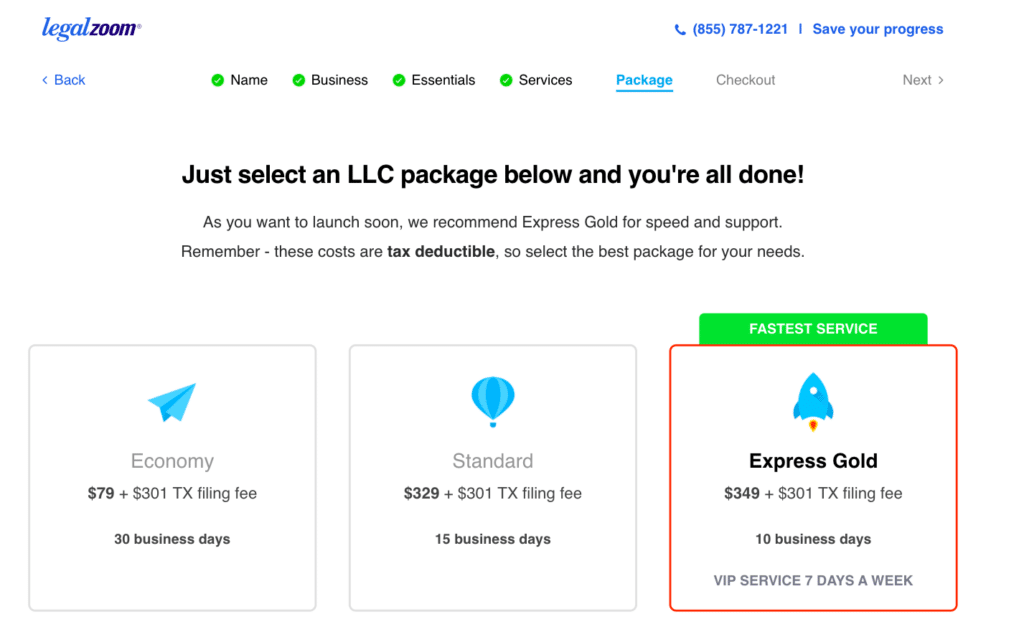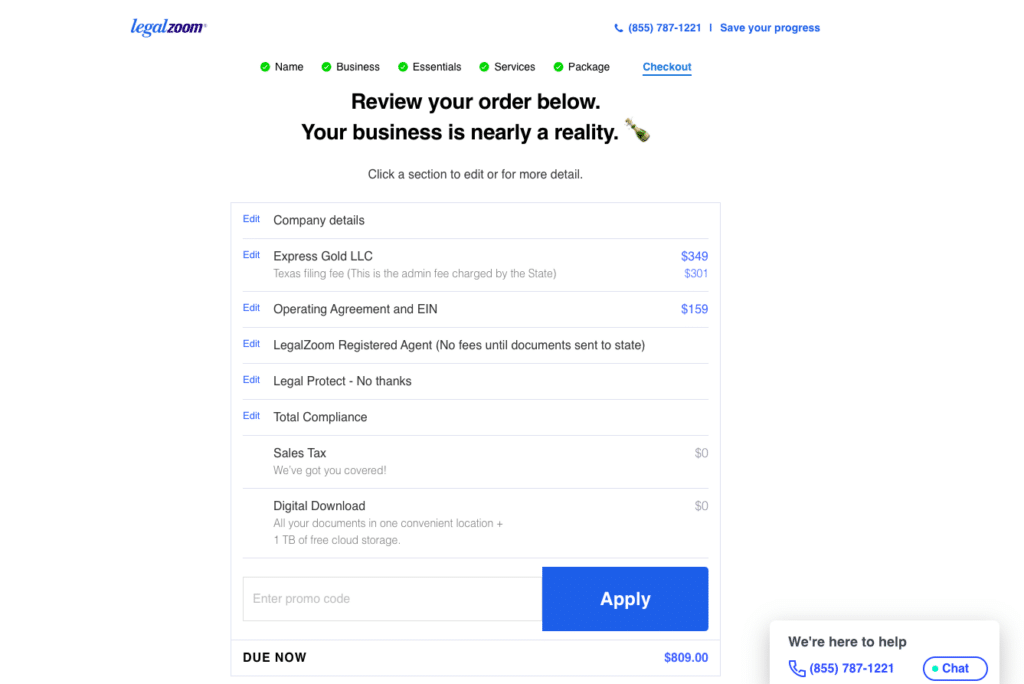 $349 Express Gold processing 10 business days
$249 Registered Agent 1 year (Charged when documents sent to state) 
$159 Operating Agreement and EIN
$280 Total Compliance

= $1037 + state fee, taxes…  LegalZoom Express Gold LLC
LegalZoom's Express Gold plan seems to charge extra for Registered Agent Service, Operating Agreement with EIN, and "Total Compliance." Still, it was not easy to find any details about these services.
LegalZoom has a "Compliance Calendar" feature to remind customers of due dates, compliance, and requirements. They charge $69 per year. I have recently read that this was replacing "Total Compliance." Still, on July 12, 2020, LegalZoom continued to attempt to charge me $280. for "Total Compliance" as I was attempting to order the "Express Gold Plan" for an LLC in Texas.
Other LLC Services
LLC Services That Are Not On Our Top List for 2022
---
Incorporate.com
Incorporate began as an incorporation service, but today provides a wide range of business creation-related services. We cannot recommend them due to their high prices.
We didn't like the following:
Full formations cost a lot – An Incorporate.com complete LLC registration (i.e. an LLC formation that includes a registered agents service and an operating agreement) will set you back more than $400, not counting the state fees. It is a simple fact that there are much cheaper options available.
---
Nolo
Nolo is in legal services for more years than any other website. It hasn't produced the highest quality LLC formation service. Nolo has slow turnaround times and charges excessively for services offered to partners.
We didn't like these things:
Dependence on costly partner services Nolo is, in contrast to other services we suggest, heavily relies on third parties to provide many of its formation services. Adding insult to injury, Nolo marks up the costs of these services for no reason.
---
BizFilings
Even though it's a highly-specialized service with over two years of expertise, BizFilings failed to impress us due to a myriad of reasons that include their overall cost as well as their processing speed and their method of registering customers in their registered agent service, which has no option to opt-out when signing up online.
What we didn't like:
Pricing – The base BizFilings service costs $99, and the higher tiers are $229, $359, and $359 respectively. This is because they don't provide sufficient value to justify these high prices. Additionally, their registered agent service costs $199 per year that's significantly more than the norm.
---
Harbor Compliance
Harbor Compliance provides a variety of business and corporate compliance services for corporate and business compliance. Harbor Compliance also offers a limited LLC creation service, which we cannot recommend because of their inflexible pricing and expensive price.
Things we didn't like:
The most expensive formations. Unlike the majority of LLC formation services, Harbor Compliance has only one pricing tier which costs $399. This is a ridiculous price considering you can get the same service from other companies for a fraction of the cost.
---
Business Structures Compared
Corporations, S-Corps, Non-Profits, LLCs, and Sole Proprietorships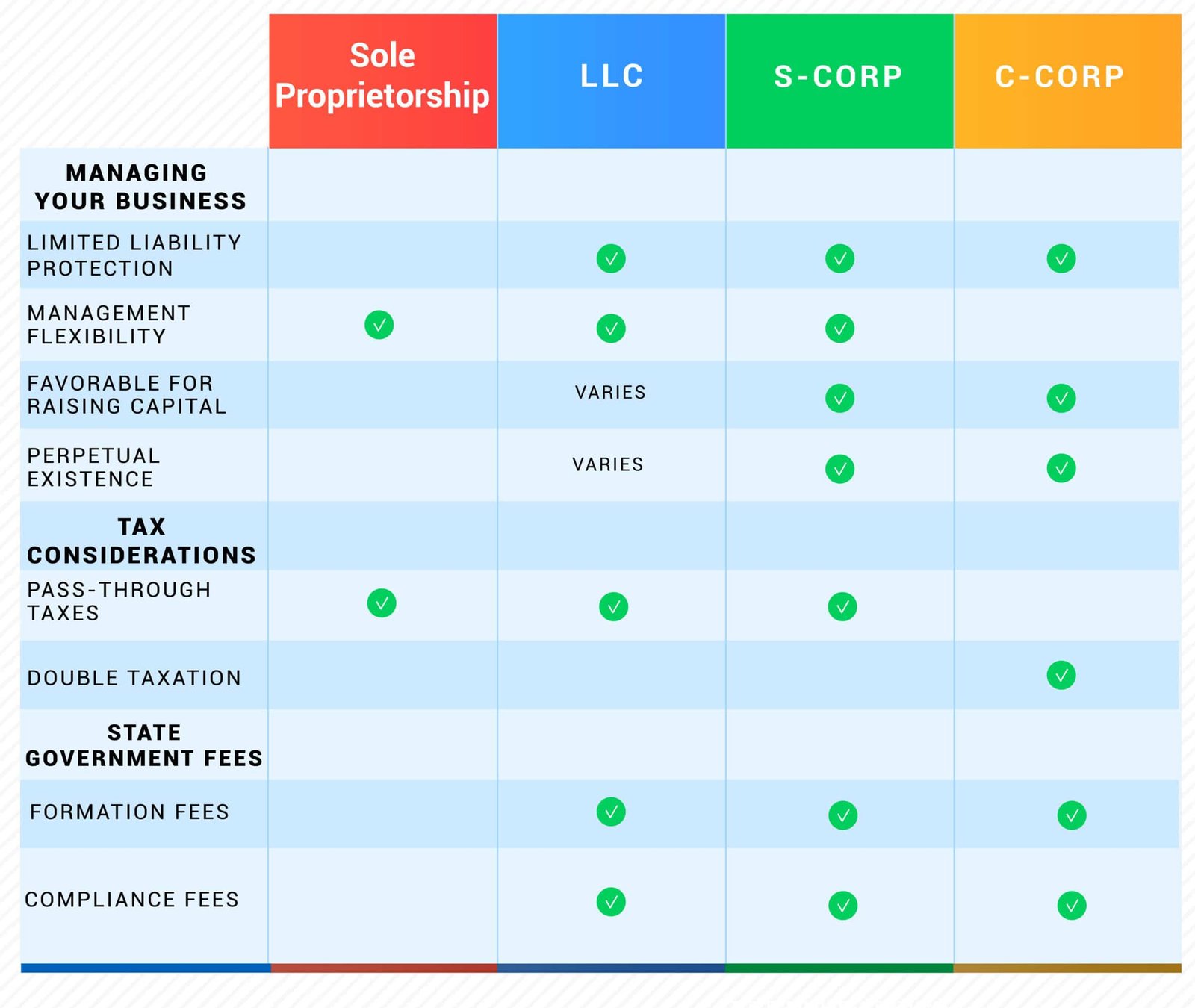 If you get hit by the idea of starting your own business, you'll need to choose which kind of business structure your company should use. Which business structure is right for you can depend on how you plan on operating the business.
Different business types can affect how you handle taxes and liabilities that can affect you and your company as a whole.
Each kind of business structure has its pros and cons. You should assess your options and choose the right one that suits your vision and dreams.
Once you've picked a business structure that you're happy with, you can make it a part of the business plan.
What exactly are Corporations?
The first thing to know about corporations is that there are a few different subtypes. A corporation owned by shareholders is called a C Corporation. The shareholders choose who they feel would be a suitable board of directors to manage and oversee the business.
The board of directors has to make decisions that benefit their corporation and match the ideals and ideas of the shareholders.
The main benefit of choosing a corporation is that owners have limited liability for company debt. Corporations can also enjoy lower tax rates as profits are shared.
It's also quite simple to transfer the ownership of a corporation if it comes down to that.
The key downside is that there's much paperwork involved, and running the business is generally more expensive.
It can also take longer to come to a unanimous decision because there are so many people on the board of directors, and all of them (or at least most) have to agree.
What are S-Corporations?
S-Corporations have different financial processes. They distribute the income of the business to the shareholders for taxation. One key benefit for shareholders with an S Corporation is the single layer of tax.
There are still drawbacks to having an S Corporation, however. For a start, the laws around these corporations can be challenging to understand and navigate. Owning an S Corporation is likely to involve working with an attorney or an accountant. There could also be stock restrictions in place. Another downside is that officers and shareholders may be limited to "reasonable" salaries.
What is a Non-Profit?
Non-profit businesses are formed to serve some benefit to the public. This can include community foundations and private foundations. Non-profit organizations are tax-exempt as laid out by Internal Revenue Code Section 501(c)(3). Non-profit organizations can be made for all kinds of missions, but they are some human service organizations.
Their tax-exempt status is the obvious benefit of owning a non-profit business. Any founders or directors of a non-profit organization also make the most of limited liability for any company debt.
The downsides of this kind of business are that there's much paperwork involved in launching and operating a non-profit organization.
They also have high costs, and the public will always scrutinize the income and expenses to ensure a non-profit appropriately handle their money.
What are Sole Proprietorships?
A sole proprietorship is easily one of the simplest business types. This kind of business sees one person write out a business plan and then form, own, manage, and control their business. A
s the name implies, you are in charge of everything, and all the profits are yours. That also means that any losses are also your responsibility.
The advantages of operating a sole proprietorship are that they are easy to manage, make decisions easier, and have a lot of flexibility. The downside is that you are wholly liable for any business financial problems. You also have to pay personal taxes on the net profits of the business.
What are General Partnerships?
General partnership businesses are companies owned by two people (or more). This kind of business structure allows for partners to provide funding to start up the company. All partners are responsible for managing the company. Partners may choose to create an agreement that outlines their specific role for the company.
It's easier to start a general partnership than other types of business. They have fewer start-up costs as multiple people provide financing. As is the case with a sole proprietorship, the partners in a general partnership are responsible for any business debts. Partnerships can also reach an impasse or fall apart if the people involved don't work well together.
What is an LLC?
An LLC is a "limited liability company." These are a combination of a corporation and a partnership that operates as a single legal entity. The people involved with an LLC have the same single taxation enjoyed by partners of a partnership.
Forming an LLC is an attractive choice for entrepreneurs because individual members have a limited liability over business debts. These companies can also be created without the endless paperwork required for a corporation. The downside to starting an LLC is that it can be more expensive than sole proprietorships or a partnership.
An LLC or Limited Liability Company is a business formation created back in the 1970s as an alternative to a corporation. It is described as a cross between a sole proprietorship, partnership, and corporation. The basic premise behind an LLC is that the member or members of the LLC cannot be held personally responsible for tax debts, company liabilities.
Even if the business is forced to file bankruptcy, the members are shielded from spending their own money to cover any debts or payments. LLCs are not subject to corporate tax; owners simply list the profits and losses on their personal income taxes.
Each state has its own regulations on business formations; for info on starting an LLC in Texas, visit our article on forming an LLC in Texas.
All LLC businesses are viewed in two different ways as legal entities and tax entities. Each of them is handled uniquely to ensure that both parts are taken care of. As a legal entity, this is how the courts and different levels of government view a company.
The tax entity part of a business is how the government sees it and how the tax bill is determined. Here are some details to better describe both legal entities and tax entities
Tax Entity
Setting up your business as an LLC, even if you are a single individual, has its distinct advantages, and how it is taxed is one of them. You can set up an LLC as a single person (sole proprietorship) or multiple-member (partnership) and then taxed accordingly.
The IRS offers an additional option, making it possible to request a designated S-Corporation or C-Corporation. Just by simply filling out more paperwork, while you can choose the option of an S-Corporation or C-Corporation as an LLC, it is made difficult and cumbersome by strict guidelines to qualify for.
If you decide to look into the S-Corporation or C-Corporation option, you must file the paperwork to be designated an S-Corporation by filing an IRS form 2553. If your business qualifies, it will be taxed accordingly. If you file an IRS form 8832 and qualify, it will be taxed as a C-Corporation.
As a C-Corporation, there is an additional amount of taxation or double taxation called the corporate tax. This type of tax does not get levied against an S-Corporation.
Establishing your business as an LLC helps you to shield yourself from paying a corporate tax on profits. It is seen by the IRS as a pass-through entity for tax purposes; therefore, you as the owner are considered self-employed.
As such, you only pay individual tax, and in the case of a multi-member LLC, each person would be taxed separately. Regarding taxation, you must weigh all of your options and consider them very carefully before deciding that involves taxes.
---
How To Form An LLC
A few business entities and structures, including Corporations, S-Corps,  and Limited Liability Companies (LLCs). If you are interested in forming an LLC or want to know how to create an LLC, follow these easy steps.
Step One: Name the LLC
The first thing to do when forming your LLC is to give it a name. It should comply with the State rules regarding company names. You can find those rules on the Secretary of State website for your state. While the rules can vary between states, here are some principle guidelines;
The name will be unique and different from other LLCs operating within the state. You should have no problem checking the state database for your name. It's also possible to reserve a name so no one else can claim it. However, this reservation costs a fee and is only available for a limited time. This does help ensure that your company can use the desired name once all the paperwork has been filed. Once again, though, a reserved name can't breach another business's trademark.
Most 50 states require the company name to include "LLC," "L.L.C.," or a similar moniker. Which terms and abbreviations are considered appropriate can vary by state. You can find the rules for your state on the state website.
The company name can't include terms such as "insurance," "corporation," and "bank." Once again, different states can have their own rules on this.
Step Two: Choose a Registered Agent
All states require an LLC to have a registered agent for the service of process. That means an agent has to work with your LLC and physically accept the legal papers on your behalf if they are issued. There's no need for this agent to be a person, however. It could be any state resident where you do business or a business entity registered to do business in the state. What matters is that the agency/resident has a physical address within the state of operation.
Step Three: File Articles of Organization
You're now ready for the third step, filing paperwork with the state to legally recognize the LLC and begin operation. This is sometimes referred to as "filing articles of organization" and is called "certificate of formation," depending on the state. The process doesn't change much between states and names, however. You have to supply information about the LLC to the state and pay the filing fee. You will generally be asked for necessary information, such as the LLC's name, address, and ownership.
This is also when you provide the registered agent for the business. This is the person/entity responsible for accepting legal paperwork should your company be used. The fees for filing this paperwork are nominal, but they can vary between states.
Step Four: Create the Operating Agreement
While an operating agreement isn't always required by law, it serves the same purpose as a corporate entity's bylaws or partnership agreement. They outline the rules of ownership and operation of the business. Here's what should be in this operating agreement;
What percentage of the business each member holds
The voting power, rights, and responsibilities of each member
How the company allocates profits/losses
The means of management and the rules outlining meetings and votes
"Buy-Sell" provisions outline the procedure to be followed if a member wants to sell their interest becomes disabled or passes away.
Step Five: Apply for EIN and Review the Tax Requirements
Your LLC requires an IRS Employee Identification Number (EIN) unless you are a single-member LLC and have no employees. It is simple enough to obtain this EIN. Just complete the form on the IRS website.
Many limited liability companies and corporates have to register with their Comptroller of Public Accounts. Many states also require that LLCs file annual reports with their Secretary of State.
There may be other requirements you need to adhere to, such as filing annual franchise tax reports. Ensure to check the Comptroller of Public Accounts website for your state to stay updated on the latest requirements.
Other Considerations
Notice of Intent, Business License, Business Bank Account, and Business Credit Card
Notice of Intent
While the notice of intent isn't a requirement for all states, some will require that you publish a notice in the local newspaper stating that you intend to form a company.
You need to do this several times across several weeks to obtain an "affidavit of publication" through the filing office for your state. Check with the rules on LLC formation for your state to see if you have to do this.
Business Licenses
You will be required to obtain a state or local license to legally operate in some industries, such as a liquor license. The kind of business you run and where you are working will determine whether you need a permit or not. Check with the Department of Licensing and Regulation for your state to see what licenses you need.
LLC Formation Services FAQ
What does LLC stand for?
LLC stands for limited liability company. An LLC is a business entity. There are various reasons a business may choose to be an LLC, including reduced liability exposure. The rules regarding LLCs are different in each state, but most states require an LLC to include the words limited liability company, LLC, or L.L.C. at the end of the company name.
What does the LLC filing process entail?
Using an LLC service online removes a lot of the hassles that come with forming a business. With such services, you simply need to list your company's name, where it's located, and the industry it operates in. You'll also have to provide some information about yourself, as well as your business' registered agent.
Are online LLC filing services officially recognized?
They sure are. Several reputable organizations are providing LLC online formation services, most of which are on the list above.
Although we have opinions about who provides the best features and pricing, all LLC filing services we talk about here are completely trustworthy and legitimate.
Will my privacy protection be greater if I use an online LLC service?
In some regards, utilizing an LLC service protects your privacy, particularly if you opt to have the company act as a registered agent.
Here's the reason – if you play double duty as a registered agent, your personal mailing address will usually become a public record.
Using a registered agent offers you privacy, as you can use the agent's business address rather than your own. In doing so, you will also reduce the amount of junk mail you receive.
Do online LLC filing services come with any risks?
Actually, the opposite would be true – having an LLC formed by yourself comes with risks. When an LLC filing service is used, you can comfort knowing that the company will be correctly formed.
These specialists form countless LLCs every day and have the experience and knowledge to file a business entity compliantly.
Is the cost of LLC registration in my state included with LLC formation service rates?
It is not. There are various LLC formation costs in every state. Therefore, the fee charged by your state will need to be added to the price points listed. In several states, $40 is the cost. In other states, though, the fee might be hundreds of dollars.
Is the formation service provided by IncFile truly free?
Surprisingly, it is. At one time, the company charged just under $50 for a base package. They have since refined things so that the LLC formation process can be done for free. The only thing you'll need to cover is the filing fee charged by the state.
Aside from that, the package comes with all the features you expect, such as registered agent service, next-day processing, and lifetime alerts. IncFile has two other company formation packages that come with quicker processing times and more features. These packages are priced at $149 and $299.
How can I get an LLC set up on my own?
There are a few steps to take if you wish to form an LLC by yourself. The most crucial aspect of this whole process is the preparation and filing of the Articles of Organization – a document that formalizes your LLC in the state you do business in.
The required information differs per state, but generally, you have to present them with fundamental details about you and the company. You'll also have to name your company, have a registered agent designated, get an EIN (federal tax identification number), create an operating agreement, and much more.
What is the cost of getting an attorney to launch my LLC?
Based on your LLC's nature – in addition to any legal requirements requested by the state – there are many variables to consider. For the most part, having an LLC formed by an attorney will probably cost a minimum of $1000. You might end up paying up to $3000, if not more.
Should a name be reserved before I use an online service to launch an LLC?
It is worth having the name of an LLC reserved in advance if you find yourself in a couple of situations. The first one would be if you aren't prepared to have your LLC formed, yet you'd like to ensure that the name you choose isn't taken when you're ready to proceed. Alabama and other states will ask you to reserve a company name before the start of forming an LLC. Advance name reservations are necessary for most entrepreneurs and start-ups.
Is an Employee Identification Number (EIN) worth the extra money?
This question comes down to personal preference. The IRS allows you to obtain an EIN at no cost. You simply need to fill out a form to get one. Having said that, it may be more convenient for an LLC service to obtain one for you since they have the necessary information to get one already. Further, it's convenient to keep your LLC documentation and your EIN confirmation together.
What do registered agents do?
Registered agents are needed to have an LLC formed. An agent can be a business entity or person responsible for acquiring essential government documentation.
For instance, if a lawsuit is filed against your company, the state will issue a Service of Process to whomever your registered agent is. The agent then informs you about what they received before forwarding it to you.
Although you have the right to take on the role of a registered agent, you are highly encouraged to use a professional service instead. This service can safeguard your privacy, keep you abreast of important deliveries, and minimize junk mail.
However, some LLC services, such as IncFile, Northwest Registered Agent, and ZenBusiness, do not charge you for this service during your first year with them. In your second year and every year after, you can expect to pay between $99 and $125 for this service, which can be canceled anytime.
Can an LLC be the perfect business entity?
One company's needs aren't the same as another's. As such, we can't make blanket statements like these.
An LLC serves as a flawless business entity for several small businesses and organizations. However, for more complex or larger companies, a corporation may provide benefits that LLCs can't.
We are generally lenient towards LLCs than general partnerships and sole proprietorships since the latter two do not have any personal asset protection.
Does a filing service require you to use their registered agent service?
Every LLC (or other business entity) functioning in the United States is required by law to have a registered agent. While it is feasible to act as your own registered agent, there are various reasons why you should not. When incorporating a new LLC, we believe that using a registered agent service is vital.
Almost every provider we looked at offered new LLC owners a registered agent service. Some businesses provide this service in-house, while others contract it out to third-party vendors.
A registered agent service is included by default with some of the organizations we looked at, and a few won't allow you opt-out at all. If you have a preferred registered agent service provider, check to see if your formation provider offers an opt-out option for its registered agent service.
What is the best LLC service?
Our #1 top-rated LLC formation service is Northwest Registered Agent. They provide a good mix of low prices, quick service, and high client satisfaction. You can learn more about why Northwest Registered Agent is ranked first in our rankings by visiting their website with the links above.
What is the cheapest service for forming an LLC?
For individuals who value cost-effectiveness, Northwest Registered Agent. For $39 plus state filing fees, they provide a fantastic basic LLC formation service. One year of registered agent service is included in this discount package.
Isn't it true that I don't need an attorney to incorporate an LLC?
No, an attorney is not required to incorporate an LLC. LLC formation services may perform the same thing, and they're usually faster and less expensive. If your LLC formation is extremely complicated or uncommon, you may need to consult with an attorney.
Is it possible to register a limited liability company (LLC) online?
Yes, you can register a limited liability company (LLC) online. Almost all LLC formation services allow you to finish the process entirely in your online browser. You can form an LLC and obtain your formation document in as little as one day, depending on the online LLC provider you use and the state where you are creating.
How much does it cost to form a limited liability company (LLC)?
It is dependent on the condition in which you are forming. In order to file the documentation required to form a new LLC, all states charge a processing fee. The majority of LLC creation firms require a service cost, however, others offer simple online business forms for as little as $0 plus state expenses.
What are the benefits of formation services?
LLC Formations services are businesses that specialize in assisting new business owners in forming their limited liability corporations (LLCs) with the appropriate state authorities. They know how to manage the various state bureaucracies to prevent having your filings denied, and they can assist you in forming a new LLC for your existing firm or startup as swiftly as feasible. The companies we looked at aren't law firms, so they can't give legal advice.
Where can I register my limited liability company (LLC) online?
For online LLC formation service, we recommend Northwest Registered Agent or Incfile. Other businesses, such as ZenBusiness and Swyft Filings, also received great marks. For additional information, see our article above.
Are online LLC filing services recognized by the state?
LLC filing services collaborate with state Secretary of State offices to prepare and file the documentation needed to establish a new limited liability company. Your LLC will be officially recognized by the state if your filing is successful, just as if you had filed it yourself.
What are the advantages of forming my limited liability company (LLC) online?
Online filing eliminates the time and effort of negotiating your state's bureaucracy and the possibility of a filing being rejected due to errors. LLC formation services are familiar with the procedures required to form new LLCs and can typically complete the process more quickly than individuals.
What is the best method for forming a limited liability company (LLC)?
The best option to construct a basic LLC is to use an online LLC formation provider. In this post, we've analyzed several of the top LLC formation services in order to help you find the best fit for your LLC. If the establishment of your LLC is extremely complicated or uncommon, you may need to talk with an attorney about your business needs.
What is the formation procedure?
Depending on the stage of formation, the specific method differs. Generally, it entails filing a paper with the Secretary of State's office, commonly referred to as Articles of Organization. You can employ one of our recommended LLC creation firms to handle the complete business filing procedure if you prefer to avoid interacting with state authorities.

Which state is the best for forming an LLC?
Choosing your native state is frequently the best option. Many people feel that forming an LLC in a "business-friendly" state is always a good idea (e.g. Delaware). However, if you file in a state other than the one where you operate, you may be required to register your LLC as a foreign LLC in your home state, which may result in additional fees and taxes.

What is the difference between a limited liability company (LLC) and a corporation?
LLCs have fewer administrative and record-keeping obligations than corporations, making them more flexible. LLCs also have certain useful extra features, such as the ability to avoid double taxation because they are pass-through entities. Small firms often benefit from LLCs. LLCs account for 90 percent of all new enterprises.
Corporations have their own tax advantages, and shareholders rather than members own them. Many business formation providers will provide both LLC formation and incorporation services.
---
Pros and Cons of Online LLC Services
Pros
Whether you understand the legalities involved with launching an LLC or not, it won't matter. Online LLC services help you save effort and time by handling such processes on your behalf.
Many LLC filing services give users a dashboard to update you on relevant government deadlines and remind you to file documentation on time.
If you would like to ask a question or have concerns, LLC websites display several email and phone support systems you can reach out to. On the other hand, if you do this process yourself, you'll need to directly get in touch with the state you're doing business with. Getting a reply will take a lot longer.
Each of these online incorporation services can help you save a lot of money (in contrast to having an attorney hired to get your LLC formed).
Cons
If you're able to, some money can be saved by launching an LLC by yourself.
Alternatively, an attorney can bring specialized insights to the table, something you won't receive from your average internet incorporation service.
Your LLC will eventually flourish, catapulting your success and lining up your pockets. If that happens three weeks or three years from now, it doesn't matter – you have the drive to execute your vision.
You're going to need to spend some money along the way, and having an LLC formed will be one of those expenses.
Upfront expenses to launch an LLC are not steep but based on your region, they can certainly take a toll on your bank account. Each state of the country has procedures of its own when it comes to forming an LLC. They might set you back 50 bucks or hundreds of dollars.
Don't let start-up costs creep up on you. Familiarize yourself with the required fees charged by your state.
Use this guide to navigate your way through formation costs in your state. Use it as a reference for ongoing compliance costs, yearly reports, and franchise taxes. That way, you'll know what kind of costs to expect to start and maintain an LLC. In doing so, you will be able to move ahead progressively.
What kind of LLC filing service fees can I expect?
There's nothing you can do about fees for LLC formation. Every state charges one, whether you're doing things on your own or with help. While taking the DIY approach may be cheaper and will also exhaust your time.
If your schedule is hectic, but your budget is somewhat flexible, consider hiring an attorney or paying for an online formation service to deal with the LLC particulars on your behalf. Be mindful that these options will simplify things for you, but they come with extra costs, the most expensive of which will probably be hiring an attorney.
No matter what state you're in, the main cost that comes with launching an LLC is the Articles of Organization filing fee. Several states refer to this documentation as the Certificate of Formation. Despite the name differences, the same result is accomplished by both of these forms.
Nebraska, New York, and Arizona will also ask you to publish evidence of the formation of an LLC in a regional publication. Your company will not become official until an ad is published in a pre-approved newspaper.
New York residents will have to cover the standard fees charged by a newspaper, in addition to $50. Only the publication's ad costs will need to be paid for in Nebraska and Arizona.
In several states, only the start-up cost needs to be paid for. As such, once your formation documentation has been filed, you will be able to move ahead with whatever step comes next. Remain alert, though, since you'll need to monitor specific maintenance fees, some of which will be ongoing.
What is the cost of maintaining an LLC?
Much like with your automobile, an LLC will operate seamlessly for a long time if it is maintained right. Several states charge maintenance or reporting fees to maintain the good standing of your business.
The most typical of these fees is the one charged to file a yearly report – a document that provides the state with updated information about your business. Some states also impose a franchise tax – a yearly fee raised against your business's net worth.
Every 12 months, your LLC may modify its contact info or structure. These maintenance documents help the state remain informed. If your registered agent has changed, if you moved, if you've renamed your LLC, or any other significant alterations have happened, they need to be reported. Note: you must still file this document even if no changes have been made.
Be mindful that tax requirements and reporting differ per state. Therefore, it is prudent to review the following list to determine the budget for every year.
Should I use an online LLC filing service to create a new business entity?
If your budget has some flexibility, and you wish to get filed the first time correctly around, think about hiring an LLC filing service to have your business formed and maintained.
Companies like these specialize in LLC formation – to the point where the work involved is second nature for them. LLC creation services can streamline and simplify this process.
Some LLC filing services handle annual maintenance filings (such as yearly reports) and serve as registered agents. This removes the burden of Service of Process, due dates, and similar duties.
Now that some extra lines have been added to your budget for LLC formation, you are prepared to deal with the expenses that come with getting a business started. Fortunately, you won't have to break the bank to have a business entity formed and maintained. There is only a handful of fees to concern yourself with.
The pressure associated with making payments like these is sufficient. By delegating these responsibilities to an online LLC filing service, you can bypass having it compounded with due dates and deadlines. You can do these things by yourself, too!
Because formation necessities can differ substantially for each state, it is prudent to review our comprehensive guides, which are state-specific. In doing so, you will have the ability to handle the process of formation confidently.
Should I Form  An LLC For An Online Business?
In most cases, this is up to the business owner to decide. Depending on the state you do business in, there may be business permits and licenses required for certain businesses. Usually, forming an LLC or incorporating a business is not a requirement for an online business.
Can Non-Residents Own An LLC Or Corporation?
A non-resident can own an LLC or C Corporation in the U.S., but a non-resident cannot be an S Corporation's shareholder (owner). This is what Incfile has written on the subject; it's from their website.
There are no citizenship or residence requirements for ownership of a C Corporation or an LLC. The S Corporation however does not allow nonresident aliens to be shareholders (owner), but any US citizen or resident alien may be a shareholder (owner). You would, of course, require an in-state street address for the state to forward official legal and tax correspondence including service of process, known as the registered agent address, but neither residency nor citizenship is required for ownership of a C Corporation or an LLC.
---