We evaluated 8 top-rated LLC formation services and ranked them based on pricing, time to completion, customer satisfaction, ease of use, support, and pricing.
Starting Prices
---
For entrepreneurs interested in forming an LLC (Limited Liability Company) S-Corp or Corporation, there are 3 main options to take
Option one – Do it yourself by researching the requirements in your state and filing the proper documents, and hope you do everything correctly.
Option two – Hire an attorney to do much of the work for you.
Option three – Use one affordable online document filing service to get you through the process.
---
Google Reviews: Northwest Registered Agent
 Our Top 8 LLC Filing Service Picks
Price Comparison Table: Their Popular Plans
(LLC Formation With One Year of Registered Agent Service)
Top LLC Formation Services for 2023
Business Formation & One Year of Registered Agent Service

#1 Northwest Registered Agent Editor's Choice!

Privacy by Default

Editor's Choice Best LLC Service 2023
Better Business Bureau Rating "A-"
2nd Largest Registered Agent in the U.S.
Family Owned and Operated
Does Not Sell Customer Data
'Privacy by Default'




$225  $39 We negotiated discounts for our readers!

#2 ZenBusiness  Editor's Choice!

Starter Plan $0 (Registered agent extra $199)

Good Pricing
Quick Turnaround Time
Rated 4.8/5 by Trustpilot
Extended Support Hours
Worry-Free Compliance Guarantee

#3 Incfile Editor's Choice!

 

Affordable LLC Services
Texas Based Company
LLC Formations in 50 States
Strong Brand Name
Pioneer in Online Legal Services

3 Pricing Packages

Each Includes: LLC Formation & Registered Agent

Silver: $0
Gold: $199
Platinum: $299

#4 Swyft Filings   
$199
#5 Inc Authority
$324
#6 Rocket Lawyer
$329
#7 BetterLegal
$299
#8 LegalZoom

Strong Brand Name
Online Customer Reviews Are Weak
Formations, Registered Agent Services, and Needed Add-ons Are Very Pricey

$299
---
How to Create an LLC: 9 Steps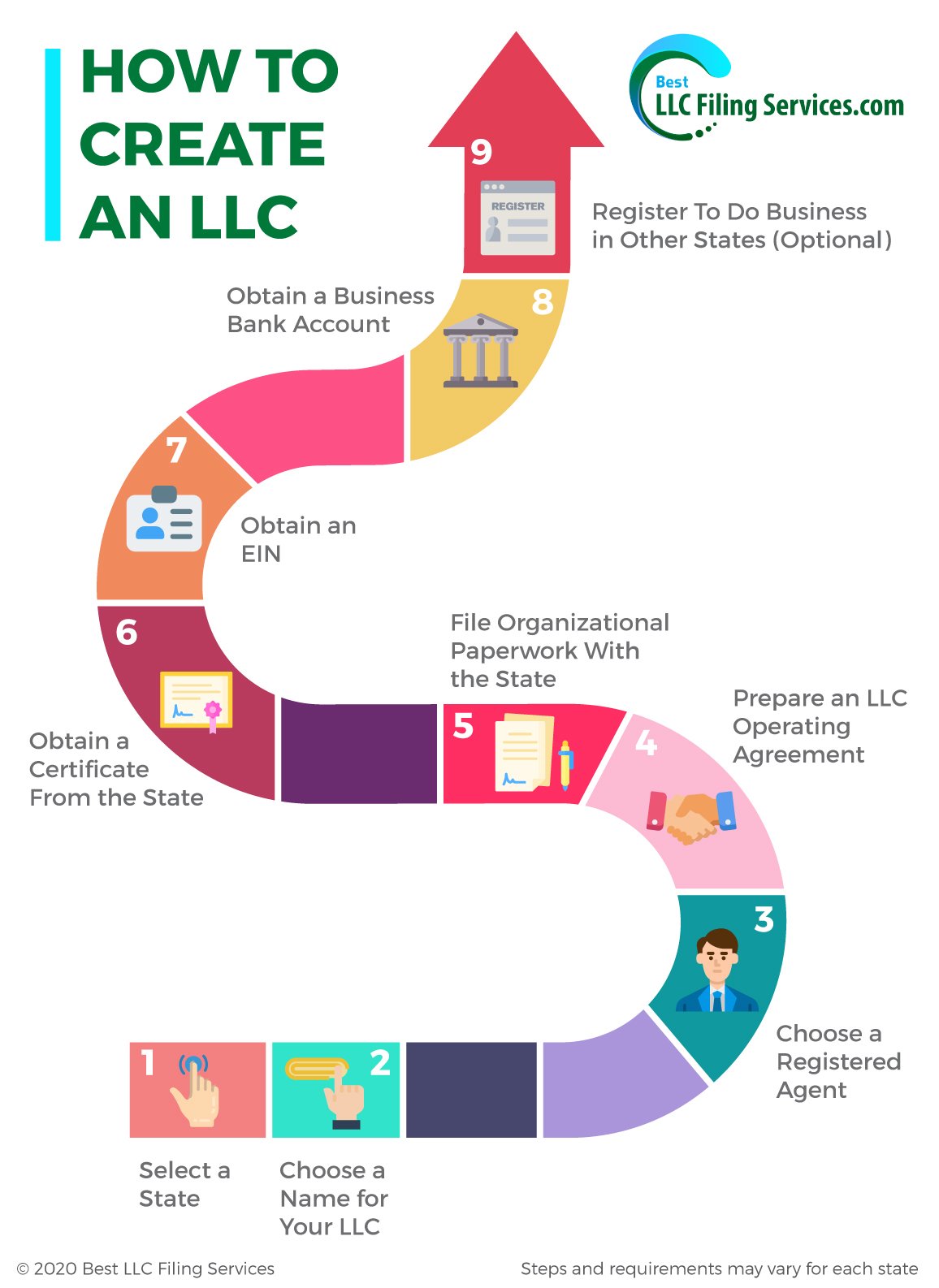 ---
LLC – From the IRS Website
A Limited Liability Company (LLC) is a business structure allowed by state statute. Each state may use different regulations, you should check with your state if you are interested in starting a Limited Liability Company.

Owners of an LLC are called members. Most states do not restrict ownership, so members may include individuals, corporations, other LLCs and foreign entities. There is no maximum number of members. Most states also permit "single-member" LLCs, those having only one owner.
Best LLC Service of 2023
Northwest Registered Agent  (LLC Industry Leader & Great Customer Service)
Online incorporations and LLC formations

The largest registered agent service in the U.S.

Their slogan is 'Privacy by Default'
Northwest Registered Agent Customer Reviews
Special Pricing for Our Visitors!  Just $39!
Special Pricing for Our Visitors! https://www.northwestregisteredagent.com $225  Just $39 + state fee
Monthly Options are Available!
The ONLY LLC Service With Monthly Plans!
California: LLC Formation + Registered Agent + State Fee = $37/mo. 😲 $37 Gets You Out The Door With A Newly Formed Business in California or Georgia! 😲 https://northwestregisteredagent.com
California LLC $37/mo
Texas LLC $54/mo
Georgia LLC $37/mo
---
For those interested in using a filing service to form an LLC, or incorporate as an LLC, this is a review and comparison of our picks for the best LLC filing services for business formations and incorporations in 2023.
LegalZoom vs Northwest Registered Agent
|   | LegalZoom | Northwest Registered Agent |
| --- | --- | --- |
| LLC price: | $79 + state fee | $39 + state fee |
| Price for a Registered Agent  | $249 a year | First-year free, then $125/year |
| Approval time: | 30 days (unless you pay more) | 3-5 business days (in most states) |
| Google reviews: | LegalZoom has 3.7 stars | Northwest has 4.5 stars |
| Customer support: | It is not easy to get in touch with them. They may try to sell more products. | Industry experts willing to share their knowledge. Friendly. No sales pitches. |
| Data privacy: | LegalZoom sells customer information. | Northwest does not sell any customer information. |
 Best LLC Services (Reviewed)
We know it can be hard to pick the best LLC service for your business. This section lays out our favorite LLC formation services on the market today.
We contacted and tested each company's customer service and support levels on our list by going over every detail and verifying their published prices and processing times.
Since finishing our comparison, we can now give you insights into key areas such as pricing, features, processing time, and help and support.
Northwest Registered Agent
Northwest Registered Agent

Headquarters: Spokane, WA
One Of The Few LLC Websites With Offices In All 50 States!
Form An LLC Online With Northwest Registered Agent LLC Services

From their website,
At Northwest Registered Agent, you'll find an in-depth assortment of business services, free legal forms, and how-to guides, each one created with the single purpose of helping people start and operate businesses. That's what we believe a registered agent should be—a real business solution that makes doing business easier and better. Whether you're seeking registered agent service in any US jurisdiction, want to start a company, looking for a free LLC operating agreement, want simple instructions on how file an annual report, or even want to do something obscure like learn how to reinstate a corporation, Northwest Registered Agent is here to guide you.

Northwest Registered Agent is our #1 pick LLC formation service. One of the most familiar names in terms of registered agent services and formation services, Northwest Registered Agent has become the leader in registered agent services.
Northwest Registered Agent BBB reviews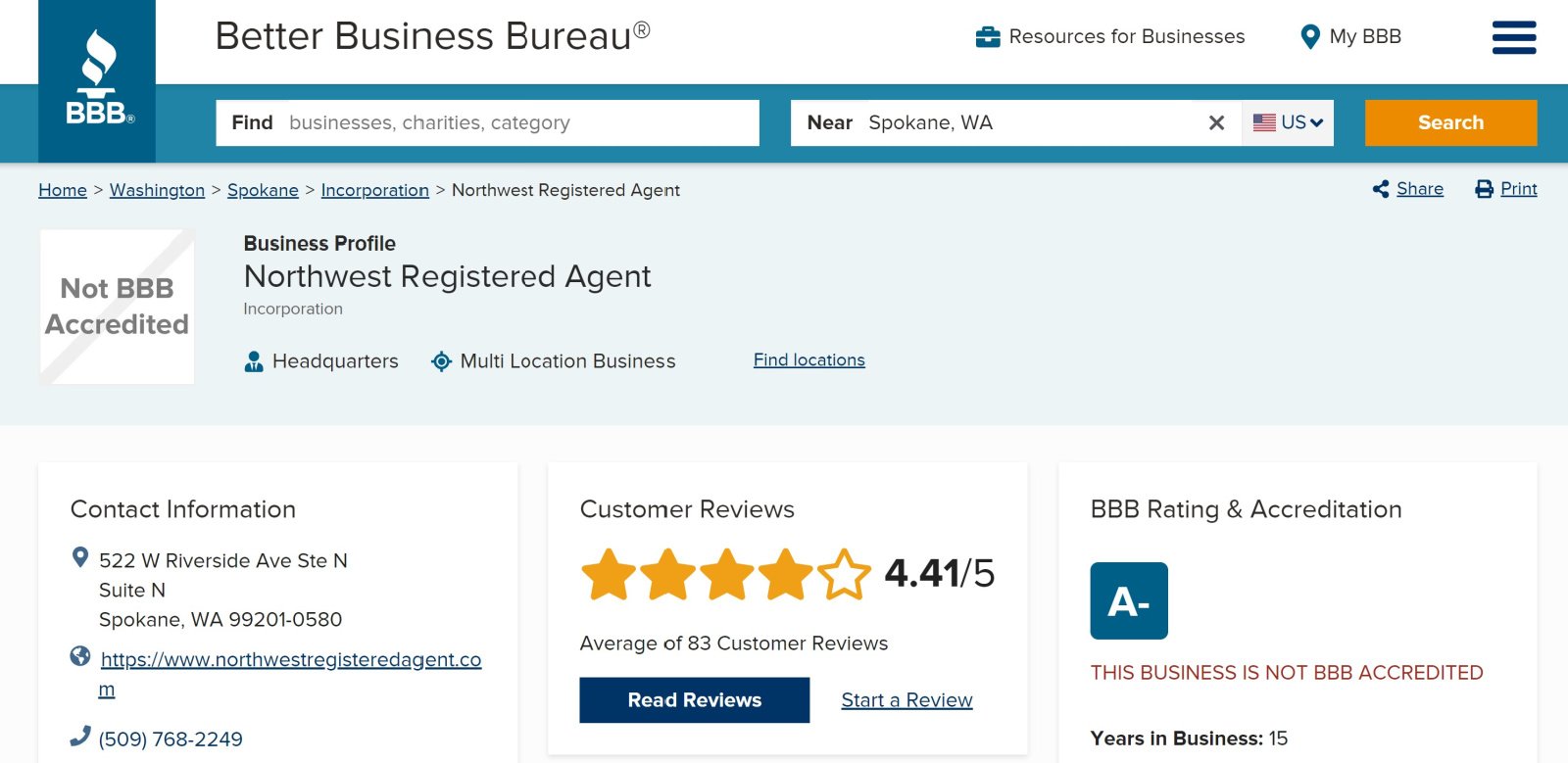 The company has been well-known for its high-quality customer service, reasonable pricing options, and a lack of pushy sales for over two decades. Monthly Plans Available – Skip The State Fee
Pricing: Northwest Registered Agent offers two primary services, LLC formation and registered agent services. As the name implies, they are primarily known for their registered agent services. However, they also have an LLC formation service, which many take advantage of.
Monthly Plan: Northwest pays your state fee upfront and spreads it out into monthly payments. The Texas formation fee is $300, but for just $54 a month, you get a business formation and registered agent services for one year.

This is mostly because those who start a business and need LLC formation will probably need a registered agent.
Registered Agent:
Keep in mind that registered agents and LLC formation are not combined; they are separate services. With this purchase, your business will have a registered agent required by law in all 50 states. This means that the state has a legal way of contacting you for sending forms, notices, and the like. You can act as your own agent, but that can be problematic.
LLC Formation service:
LLC Formation + Registered Agent = $39 plus the state fee
This service is a one-time fee, which means that all aspects of LLC formation filing are performed with just one payment.
Keep in mind that this service also includes a free year of registered agent services. But after that, it is $125 per year.
This means that you enjoy a significant discount for your first year of registered agent services if you include it with your LLC formation service.
Each plan comes with personalized customer support.
Northwest Registered Agent offers one advantage if you use their registered agent services because your personal information is private. This means that your business address for receiving notices and junk mail is through Northwest Registered Agent and not your home address.
This can be most advantageous for many types of businesses.
If you need to form an LLC this year and/or need a good registered agent service, we think they are the best LLC formation service available for 2023.
After testing and comparing the best services and options right now, we have concluded that Northwest Registered Agent is the top LLC service available in 2023.
Northwest provides unique and personalized customer support by 'Corporate Guides'.
They have offices in 50 states
Create an LLC online with Northwest

ZenBusiness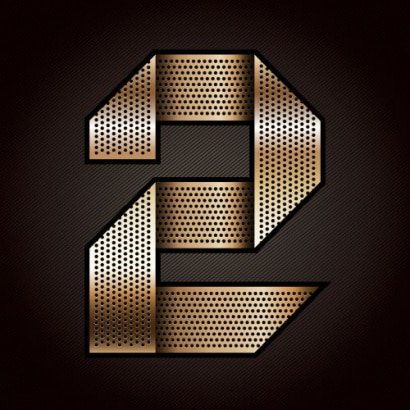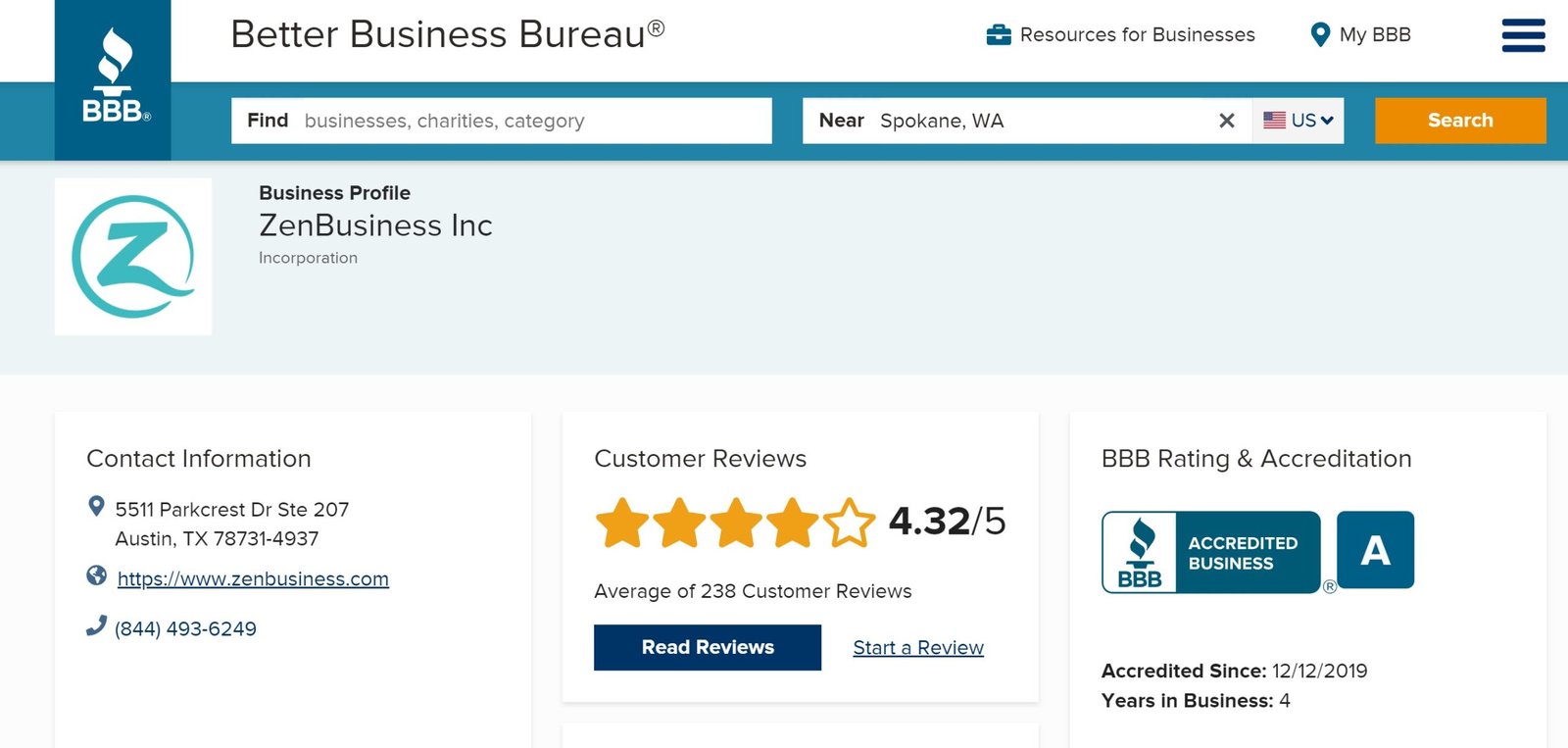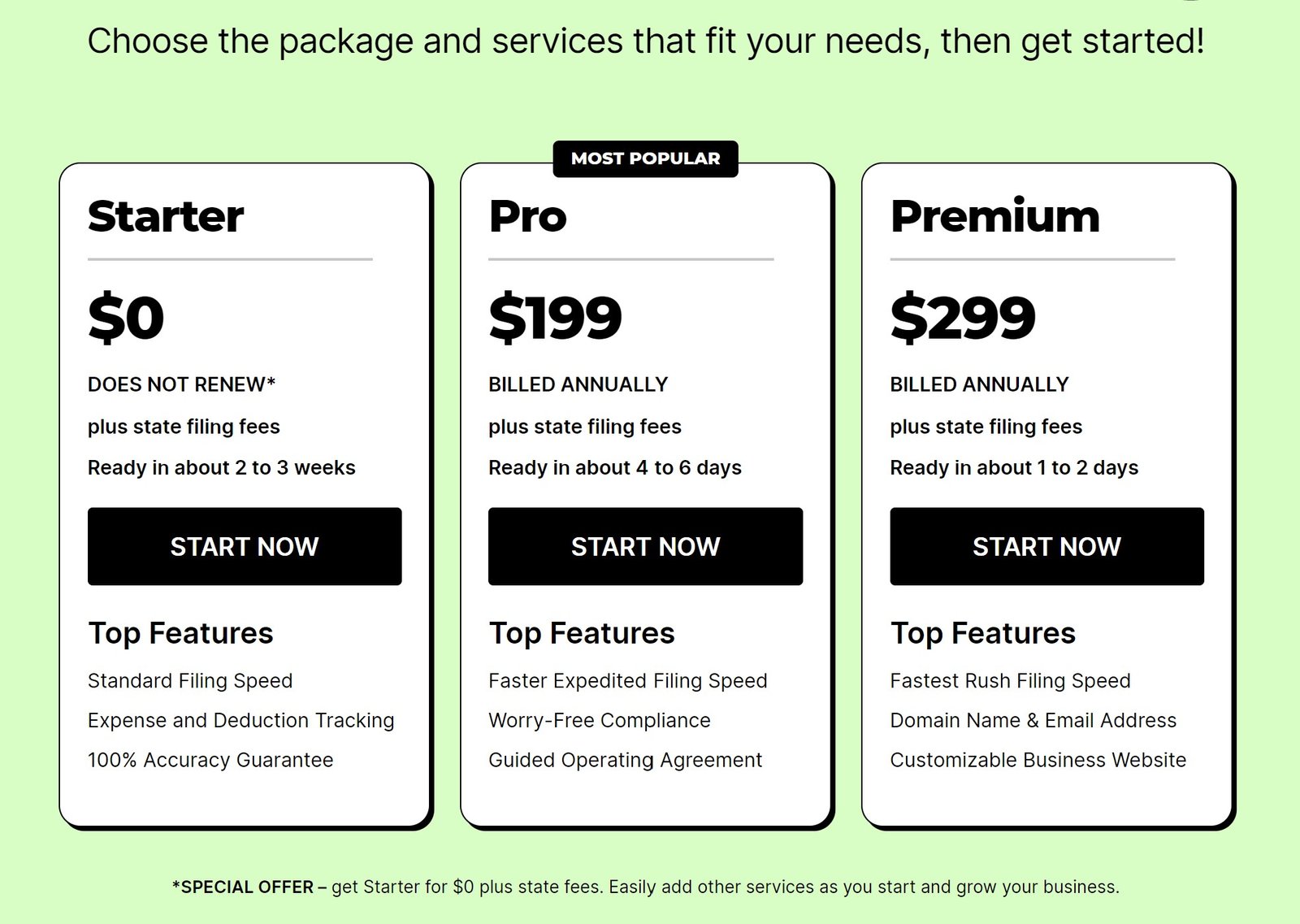 ZenBusiness Has An 'A La Carte' Option
| | |
| --- | --- |
| Service | Pricing |
| Registered Agent Service | $119 per year |
| Worry-Free Guarantee | $129 per year |
| Employer ID Number (EIN) | $70 one-time charge |
| Business Filing | $49 |
Pricing: ZenBusiness offers three different pricing packages for creating an LLC.
Starter Plan: $0 per year
 plus the state fee
Standard filing service
LLC Formation in 1-3 weeks
Name availability search
State filing plus verification
Articles of organization
Personalized dashboard
Registered Agent Service
Operating agreement plus bylaws
Phone and chat support
Pro Plan: $199 per year
 plus the state fee
All Starter services, plus
LLC Formation in 5-8 business days
Worry-free guarantee
Employer ID Number or EIN
Expedited Filing
Premium Plan: $299 per year
, plus the state fee
All of the Pro services, plus
Rush filing service
LLC Formation in 1-3 business days
A business domain name, website, & email address
Domain name privacy
Formation in 3 to 5 business days
Each plan comes with extended customer support hours 7 days a week ZenBusiness PBC (Public Benefit Corporation) was founded to help those who wanted to create an LLC easily. 
✅ Set up your domain name
✅ Select a website template
✅ Customize your content and designs
✅ Generate new leads and customers
✅ Take payment from your website

---
ZenBusiness Customer Support
Phone or Chat: Monday – Friday, 8 am – 8 pm Central time, or Sunday from 10 am – 7 pm Central time.
Form A New Company With ZenBusiness 
Incfile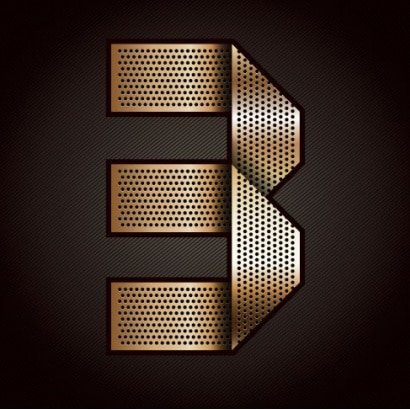 Incfile:

20 Years In Online LLC Formation Services.
500,000+ Formations Texas Company Providing LLC Services In Each Of The 50 States

Great Value!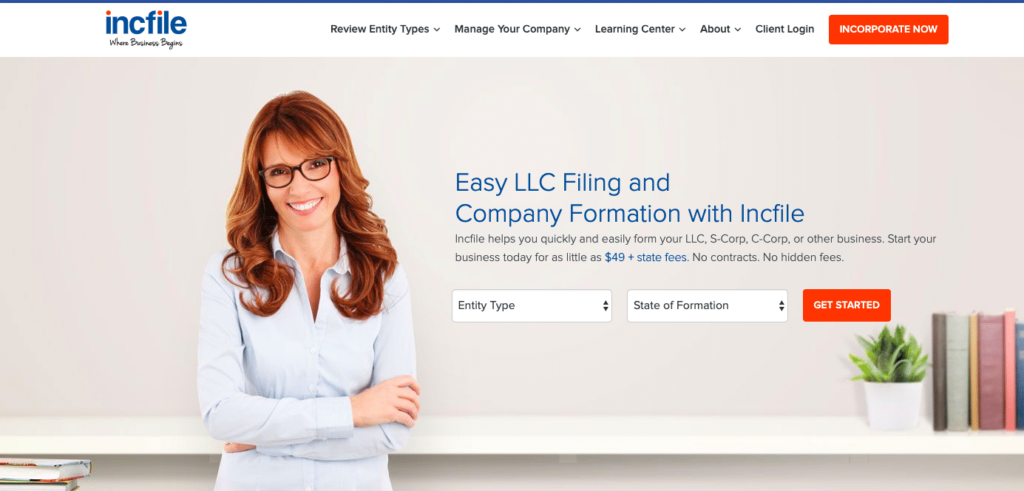 Rates: Popular Plan, $199 + state fee.
Sign-Up Process To Create An LLC: Select state and formation type.
Experience: 500,000+ Businesses formed since 2004.
---
LLC Formation Pricing
Incfile has been one of the top LLC services available online for the past 20 years straight. IncFile was called one of the best entrepreneurial businesses in the USA by Entrepreneur Magazine this past year. The expectations people have of this company are regularly met. The lack of state fees is a great starting point, and things get even better from there.
Whether you are forming a non-profit, corporation, S-corporation, or LLC, IncFile can help you. Each plan comes with a complimentary consultation for business taxes, digital order tracking, registered agent services (free for the first year), article filing, and name verification.
Further, they offer a lifetime promise for customer support, processing within one business day, and alerts for life. That way, you won't have to worry about missing filing dates. 
Incfile BBB Reviews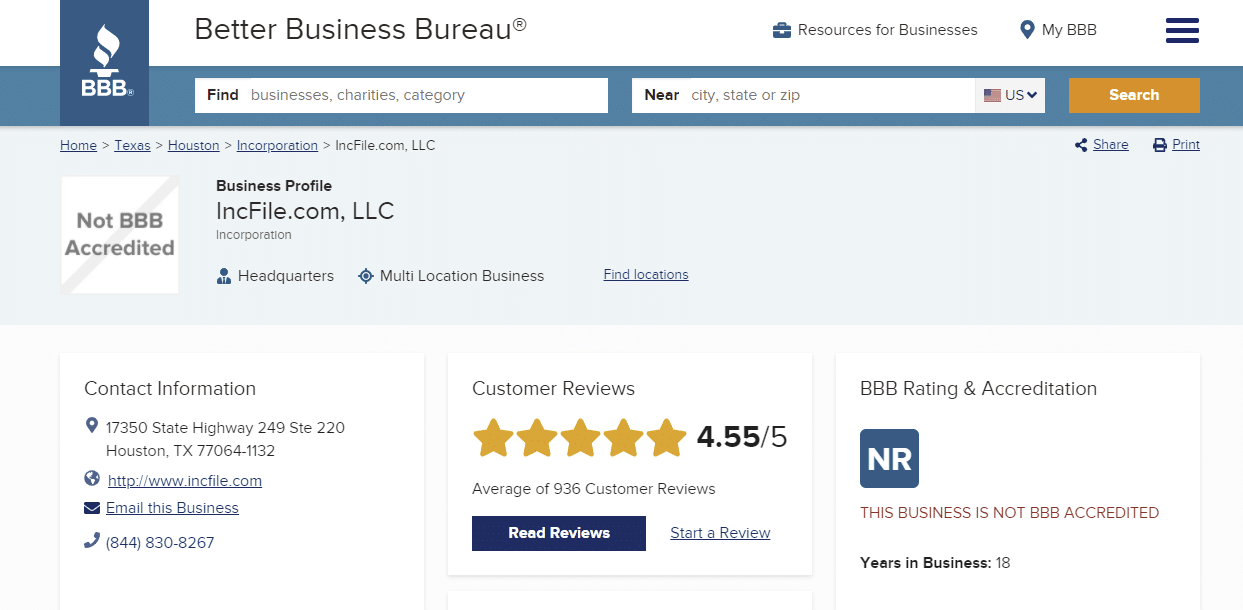 If this is all new to you, IncFile will provide you with a business checklist that you can use to navigate your way through the process. They also offer startup guides and a list of requirements necessary for a business license.
Advantages
Experience with 500,000+ formations since 2004

Very Competitive rates. Probably the best formation rates available right now

Over 20,000 positive and verified reviews
Disadvantages
Once the paperwork is sent, changes or cancellations are not possible.

No Ongoing Legal Services.
This transparent service helps you understand what is happening when your deadlines are and when you can expect certain things to occur. 
Swyft Filings
Swyft Filings
Headquarters: Houston, Texas Another Texas LLC Formation Service Offering Tremendous Value

Want to create an LLC online quickly? Swyft Filings is the one for you. While Swyft Filings is relatively new, formed in 2012, they have carved a niche in the online LLC formation service niche.
They have largely done so by creating a simple set of services with three pricing packages. Plus, they offer a 100% satisfaction guarantee and focus on providing reliable customer service.
The emphasis of Swyft Filings is to provide fast, proper service when it comes to LLC formation. This means that their customer service operations are geared towards that endeavor.
Pricing: You'll find three basic pricing packages, Basic, Standard, and Premium.
Basic: $49, plus state fee
Preparation and filing of Articles of Organization
Lifetime customer support
Name Availability verification
12-month Free domain name
ComplianceGuard alerts
30-minute Business tax consultation
Standard: $149, plus the state fee
All from Basic package, plus the following;
EIN or Federal Tax ID number
LLC operating agreement
Organizational minutes
Banking resolution
Premium: $299, plus the state fee
All from the Standard package, plus the following;
Business website
90 days of hosting
Digital corporation kit
Each LLC formation plan comes with high-quality customer support.
You can upgrade to different packages if you choose, depending on the needs of your business. This means that you can select what works best for you at a price that fits your budget. If you need to form an LLC this year and/or need a good registered agent service, we think they are one of the best LLC services available for 2023.
Swyft Filings LLC Formation and Incorporation Service Customer Support by Phone or Chat: Monday – Friday 9 am – 6 pm Based: Houston, Texas
Create an LLC with Swyft Filings LLC Formation Services

Inc Authority
Inc Authority
Headquarters: Reno, NV
Inc Authority offers a basic LLC setup service for FREE; just pay the required state fees. It's a friendly way to get you in the door and let you experience their LLC formation service before adding additional features.
If you need to form an LLC this year and/or need a good registered agent service, we think Inc Authority is one of the best LLC services available for 2023.
Customer support is available 5 days a week by phone or email.
Why Free Business Formation?
From their website, Inc Authority explains why they provide a FREE but limited business formation service.
WHY ARE WE GIVING AWAY FREE* CORPS AND LLCS? AT INCAUTHORITY.COM, WE WANT TO EARN YOUR TRUST AND THEN YOUR BUSINESS FOR LIFE. By giving away FREE* corporations and LLCs, it means you will have more money in your pocket to make your business succeed. When you incorporate with IncAuthority.com, our staff is here to support you in creating your business and protecting your assets. Count on IncAuthority.com to help you grow your business and protect your family's future.
Inc Authority LLC Formation and Incorporation Service Customer Support: By Phone or Chat, Mon-Fri: 8 am-5 pm PST
Create an LLC Online with Inc Authority LLC Services
Rocket Lawyer
Rocket Lawyer
Headquarters: San Francisco, CA Rocket Lawyer Is An LLC Formation Service That Also Provides Legal Services
Form A New Business With Rocket Lawyer LLC Services
Founded in 2008, Rocket Lawyer is one of the more popular online legal technology companies on the list.
Designed to help small to medium-sized businesses and individuals, the company's purpose is to provide online legal services that include everything from incorporation to legal documents to estate plans and more.
Although the company covers a broad range of interests regarding legal documents and assistance, entrepreneurs and those just starting up small to medium-sized businesses are the main targets.
Initially, the company charged for all its services individually but added a monthly subscription fee to cover most of their offer, which helped grow its business exponentially.
Pricing: There is only one monthly pricing service, which makes Rocket Lawyer different than most in the field.
Premium LLC Formation Service: $39.95 per month, plus the state fee
Each plan comes with personalized customer support.
If you are not a premium member, you will have to pay for each service they provide. Premium membership includes the following;
Access to Legal Documents
Attorney Services: Ask questions, get 30-minute consultation, access to documents
Business Incorporation Filing: Free for the first incorporation, 25% off for future incorporations
You can hire Rocket Lawyer as a registered agent for 25% off their standard fee. Plus, you can hire an attorney for 40% off their usual price.
Keep in mind that if you only need a specific service from Rocket Lawyer, such as an LLC formation, it is a one-time fee. However, you might want to consider the premium service as it offers plenty of features for a comparable price to similar services provided by different companies.
Otherwise, you can pay a one-time fee for the various services if you choose not to go Premium. If you need to form an LLC this year and/or need a good registered agent service, we think Rocket Lawyer is one of the better LLC services available but not near the top of our list for 2023.
Rocket Lawyer LLC Formation and Incorporation Service Customer Support: Phone Support Monday-Friday, 6 am-6 pm
LLC vs Corporation
Business Structures Compared
Corporations, S-Corps, Non-Profits, LLCs, and Sole Proprietorships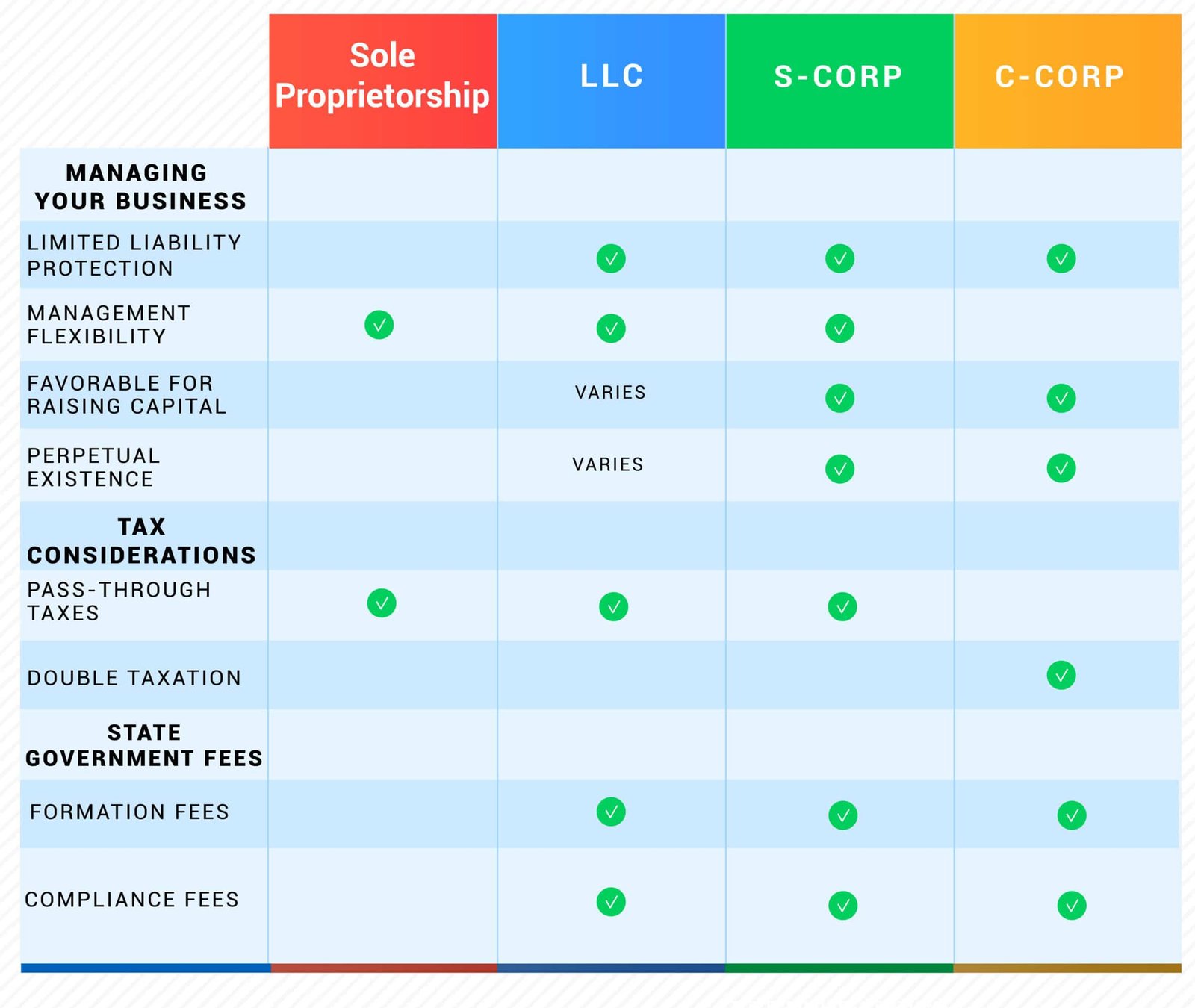 If you get hit by the idea of starting your own business, you'll need to choose which kind of business structure your company should use. Which business structure is right for you depends on how you plan to operate the business.
Different business types can affect how you handle taxes and liabilities that can affect you and your company as a whole.
Each kind of business structure has its pros and cons. You should assess your options and choose the right one that suits your vision and dreams.
Once you've picked a business structure that you're happy with, you can make it a part of the business plan.
What exactly are Corporations?
The first thing to know about corporations is that there are a few different subtypes. A corporation owned by shareholders is called a C Corporation. The shareholders choose who they feel would be a suitable board of directors to manage and oversee the business.
The board of directors has to make decisions that benefit the corporation and match the ideals and ideas of the shareholders.
The main benefit of choosing a corporation is that owners have limited liability for company debt. Corporations can also enjoy lower tax rates as profits are shared.
It's also quite simple to transfer the ownership of a corporation if it comes down to that.
The key downside is that there's much paperwork involved, and running the business is generally more expensive.
It can also take longer to come to a unanimous decision because there are so many people on the board of directors, and all of them (or at least most) have to agree.
What are S-Corporations?
S-Corporations have different financial processes. They distribute the income of the business to the shareholders for taxation. One key benefit for shareholders with an S Corporation is the single layer of tax.
There are still drawbacks to having an S Corporation, however. For a start, the laws around these corporations can be challenging to understand and navigate. Owning an S Corporation is likely to involve working with an attorney or an accountant. There could also be stock restrictions in place. Another downside is that officers and shareholders may be limited to "reasonable" salaries.
What is a Non-Profit?
Non-profit businesses are formed to serve some benefit to the public. This can include community foundations and private foundations. Non-profit organizations are tax-exempt as laid out by Internal Revenue Code Section 501(c)(3). Non-profit organizations can be made for all kinds of missions, but they are some human service organizations.
Their tax-exempt status is the obvious benefit of owning a non-profit business. Any founders or directors of a non-profit organization also make the most of limited liability for any company debt.
The downsides of this kind of business are that there's much paperwork involved in launching and operating a non-profit organization.
They also have high costs, and the public will always scrutinize the income and expenses to ensure a non-profit appropriately handle their money.
What are Sole Proprietorships?
A sole proprietorship is easily one of the simplest business types. This kind of business sees one person write out a business plan and then form, own, manage, and control their business. A
s the name implies, you are in charge of everything, and all the profits are yours. That also means that any losses are also your responsibility.
The advantages of operating a sole proprietorship are that they are easy to manage, make decisions easier, and have a lot of flexibility. The downside is that you are wholly liable for any business financial problems. You also have to pay personal taxes on the business's net profits.
What are General Partnerships?
General partnership businesses are companies owned by two people (or more). This kind of business structure allows partners to provide funding to start the company. All partners are responsible for managing the company. Partners may choose to create an agreement that outlines their specific role for the company.
It's easier to start a general partnership than other types of business. They have fewer start-up costs as multiple people provide financing. As is the case with a sole proprietorship, the partners in a general partnership are responsible for any business debts. Partnerships can also end or fall apart if the people involved don't work well together.
What is an LLC?
An LLC is a "limited liability company." These are a combination of a corporation and a partnership that operates as a single legal entity. The people involved with an LLC have the same single taxation enjoyed by partners of a partnership.
Forming an LLC is an attractive choice for entrepreneurs because individual members have a limited liability over business debts. These companies can also be created without the endless paperwork required for a corporation. The downside to starting an LLC is that it can be more expensive than sole proprietorships or a partnership.
An LLC or Limited Liability Company is a business formation created back in the 1970s as an alternative to a corporation. It is described as a cross between a sole proprietorship, partnership, and corporation. The basic premise behind an LLC is that the member or members of the LLC cannot be held personally responsible for tax debts, company liabilities.
Even if the business is forced to file bankruptcy, the members are shielded from spending their own money to cover any debts or payments. LLCs are not subject to corporate tax; owners simply list the profits and losses on their personal income taxes.
Each state has its own regulations on business formations; for info on starting an LLC in Texas, visit our article on forming an LLC in Texas.
All LLC businesses are viewed in two different ways as legal entities and tax entities. Each of them is handled uniquely to ensure that both parts are taken care of. As a legal entity, this is how the courts and different levels of government view a company.